For an alternative perspective, see the Proportional Chart Maker
Or use our Decoz ColorChartmaker to create your own chart - make as many as you like.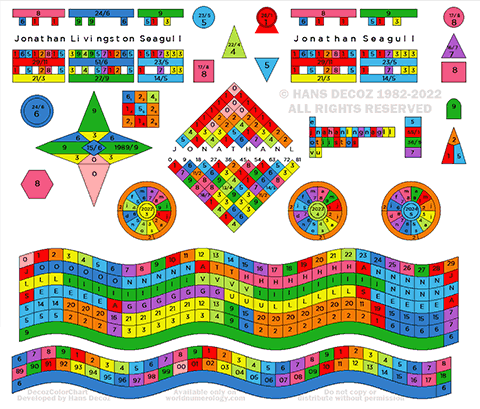 -Ω-
---
This Chart Calculator is included in our World Numerology app.
It also includes two other free charting programs: the Proportional Chart and the Decoz Chart Maker, as well as a free 8-page personal reading.
Free download.
-Ω-
---
Why am I seeing double digit numbers?
Double digit numbers show us what the single digit is based on.
For example, when it says 23/5, it means you have a 5 based on 23 (2+3).  If it says 14/5, the 5 is based on 14 (1+4). However, the single digit is often calculated without being based on a double digit number. In that case you will only see one number listed.
Numerologists always consider the individual numbers of a double-digit number, because varying number combinations add different  meanings to the single digit sum.
-Ω-
---
Click any single digit number to learn it's meaning
1 | 2 | 3 | 4 | 5 | 6 | 7 | 8 | 9
-Ω-
---
Make Numerology Charts for yourself, your friends and family, or anyone else!

Our Chart Calculator lists every number and cycle in your chart, including several unique to Decoz.
The algorithms are based on established Pythagorean numerology and include double-digit numbers, Karmic Debt numbers, and Master numbers wherever appropriate.
-Ω-