Consider his background.
Dutch Numerologist Hans Decoz speaks four languages and studied numerology in all four languages and on three continents before starting his numerology practice in the U.S. in 1981.
While living in Houston, Texas, Hans gave personal consultations to people from every corner of the United States, impressing this wide-strata of individuals with his accurate interpretation of their charts. He also traveled extensively, giving lectures and speaking at conventions.
-Ω-
Find a numerologist, not a corporation.
There are larger Internet companies that offer numerology reports, often without naming their source or by using a fictitious name. Google Hans Decoz… he is everywhere and has been for over 40 years. World Numerology is proud to offer Hans Decoz' unrivaled work!
-Ω-
Master Numerologist Hans Decoz
Hans Decoz was born in Amsterdam in 1949. Art and math were his early interests, as they continue to be today. In 1969, looking for a book on mathematics in a secondhand bookshop near his home, Hans noticed a worn book on the science of Numerology and was immediately intrigued.
During the following years, Hans studied the subject of numerology extensively, using it to better understand his friends and interpret events on the personal and universal plane.
Although it took time to overcome his intense skepticism, Hans found he could not dismiss the consistent link he found between the numbers and the personality, talent, and other traits he knew to be true about his family and friends. Over time, he came to see numerology as another example of the patterns, unity, and coherence of the universe.
After moving to the U.S. IN 1981, Hans began practicing numerology professionally in Houston, Texas. By then he had a deep understanding of the science and what it suggests about life itself. Hans soon had a burgeoning practice, consulting with a broad stratum of Houston residents.
Over the following 10 years, people came from every corner to receive personal consultations and Hans traveled extensively giving lectures, attending conventions, performing hundreds of individual consultations.
-Ω-
Changing the World of Numerology
In 1982, Hans developed the renowned DecozChart, a numerology charting system which displays every number and cycle in an individual's profile. A software version was released in 1987. The Chart's artistically designed layout visually captures the many cycles an individual experiences during any 50-year period. The DecozCharting system is used by professional numerologists worldwide and has had a significant impact on their ability to read numerology charts skillfully, producing accurate algorithms.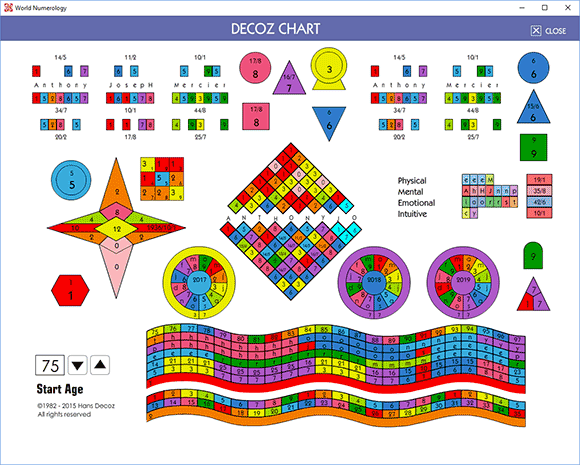 The Decoz Charting system - designed 1983, computerized 1987, most recent upgrade 2016
Creating the First Numerology Report programs
In 1984, Hans bought one of the first desktop computers, a Macintosh, and began working on a numerology software program that would produce the same complex numerology readings he gave during personal consultations.
Hans devoted three years to the creation of this Decoz Desktop Software. Released in 1987, it was the first numerology program capable of producing a truly comprehensive individual report.
Released in 1987, it was the first numerology program capable of producing a truly comprehensive individual report. Over the following 10 years, Decoz continued to work on additional reading types, writing and creating the algorithms for the Relationship Compatibility reports, Talent Profile, Name Analyzer, Inner Reflection Reading,the Diamond, and several others.
-Ω-
Decoz 2.0
In 2013, Hans partnered with World Numerology to create an app that would give instant access to extensive readings on any device. He created new unique readings (not found anywhere in the numerology world), including an extended daily number forecast, unlimited relationship compatibility reports, and many other tools, and raised the bar by adding additional chapters to his earlier reports.
Hans Decoz latest work incorporates the way each number influences and affects the others. This has never been done before, and is unique to Decoz' numerology software and readings.
After three years in development, the World Numerology Collection was launched in March 2016.
-Ω-
The Increasingly Global Popularity of Decoz Numerology Programs
Readings produced with the Decoz Numerology Master Program are available from numerous web sites, as well as hundreds of individual practitioners, and at least three million of Decoz' numerology reports have been sold. However, Hans' dramatically upgraded "Next Generation" numerology readings are only available through our Online Numerology software for professionals, our numerology readings in PDF format, and the World Numerology Collection, an easy-to-use, affordable numerology app that contains all his report types for a single individual and can be installed on any device.
-Ω-
We hope you will enjoy Hans Decoz' next generation profiles, crafted with insight, skill, and a sincere desire to bring you the most in-depth readings possible. We wish you well on your journey.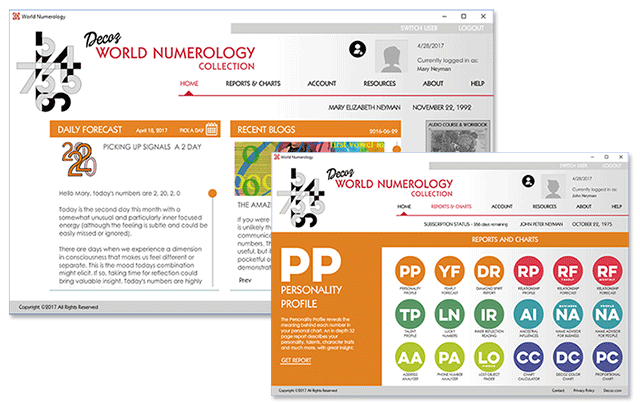 The home and readings page in the app showing all 18 readings and charts included.
-Ω-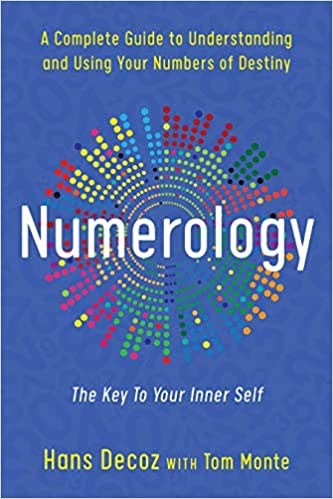 Hans Decoz is the author of "Numerology; Key To Your Inner Self: A Complete Guide to Understanding and Using Your Numbers of Destiny", published by Penguin Putnamy. It has been translated in Russian, French, German, Dutch, Spanish, and Mandarin. A Japanese version should be available soon.
-Ω-
Ever notice how some numbers seem to follow us throughout the course of our lives?
Consider the numbers we choose when buying a lotto ticket--birth dates, anniversaries, ages, and addresses as well as other hopefully lucky numbers. They each have some personal meaning.
Through the centuries, numerologists have been studying the significance of  numbers and perfecting their art in the belief that numbers strongly influence both our behavior and our fate. They have learned that by understanding the meaning of numbers, we can gain greater insight into ourselves.
Find the English version on amazon 4.7 stars, 392 ratings.
-Ω-