A recent picture of numerologist Hans Decoz ;-)
And learn some numerology on the way!
No math required (unless you want to) - just use our Chart Calculator.
You can also download our app, which contains a free 8-page personal reading and three different chart making programs. Upgrading is optional and gives you access to the whole collection of 18 personal readings.





View Reviews (500+ ratings: iPhone 4,4 stars, iPad 4.8 stars, Android 4.4 stars.)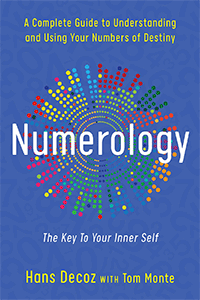 Much of the material here is based on the book Numerology; Key To Your Inner Self: A Complete Guide to Understanding and Using Your Numbers of Destiny, available on amazon.
You may want to read: An Introduction to Numerology for insight into the basics, benefits, and philosophy of this ancient art and science.
We will be using Pythagorean rather than Chaldean numerology.
-Ω-
---
Your date of birth and your name form the basis of your reading
Your date of birth sets everything in motion, placing you on the path you will walk through the course your life. Like any path, it is affected by the weather and changing landscape you travel through – the influences you encounter help shape who you are. Your Life Path number is the most important number in your numerology chart.
The numbers derived from your full name at birth reflect WHO you are as you walk that path. Your inborn talents, characteristics, quirks, strengths and weaknesses are all revealed through the numbers in your name.
The traits and talents you were born with (derived from your birth name), combined with the events and influences you encounter throughout your life (governed by your birth date), make you who you are today. As you can see, the place where a number is found, is therefore extremely important in the delineation of your numerology reading.
-Ω-
Your Date of Birth
All numbers based on your date of birth reflect influences and events related to the momentum, or Path, of Your Life.
Understanding the archetypal meaning of the numbers, and more importantly how and where they influence you, is the most challenging part of the age-old science of numerology.
Throughout the process of calculating your numbers, you will find links to articles relating to that particular area of your chart. You might also want to check out our numerology course which includes numerous audio lectures, in case you want to learn numerology as opposed to just learning your numbers and their meaning. The course is free.
-Ω-
Most numbers you find in your chart are single digit numbers 1 through 9. However, some numbers are special and you may want to read up on those first, in case any of them show up in your chart. Like Master numbers (there are three: 11, 22, and 33), and Karmic Debt numbers (there are four: 13, 14, 16, and 19).
-Ω-
The Most Important Number in Your Chart is Your Life Path number
Also called your Birth Number.
Use our Chart Calculator or:
Reduce each unit (month/day/year) of the birth date to a single-digit or a Master number.
Next we add each of the resulting digits (or Master numbers) together and reduce the total again to a single digit.
Example: October 12, 1936.
October is the 10th month. Reduce 10 to a single digit. 1 + 0 = 1
The day of birth is 12. We reduce 12 to 3 (1 + 2 = 3)
The year of birth is 1936. We reduce 1936 to 1 + 9 + 3 + 6 = 19. 1 + 9 = 10. 1 + 0 = 1. The year 1936 reduces to 1.
We now add the resulting single digits. month = 1, day = 3, year = 1. Total is 5, therefore te Life Path number is 5.
Another example: November 22, 1911
November is the 11th month. The 11 is a Master number and is not reduced.
The 22nd day is also a Master number: 22.
The year 1911 reduces to 12, which reduces to 3. month = 11 day = 22 year = 3
The total = 36. We reduce 36 to 9. The Life Path is 9.
-Ω-
Read your Life Path, then move on to the next step in our Do Your Reading program
-Ω-
The Following Readings Are Included in our App