The transition from one Pinnacle to the next is always strongly felt and takes about two years.
Perhaps the most strongly felt change is the transition from 1st to 2nd Pinnacle. This is usually a difficult transition but once crossed, provides a clearer sense of direction and a firmer sense of identity.
You can learn more about your Period cycles and Pinnacle cycles in our Do Your Own Numerology section.
Ω
ABOUT NUMEROLOGY
Numerology is a language of symbols—the symbolism of numbers. Symbols serve to draw upon themselves the vast amount of knowledge that exists in the archetypal world. Archetypes are unique bundles of information stored in the psyche until we have the means to attract their wealth into our lives. They convey knowledge of things that we previously did not know, or were not conscious of.
The beauty of the use of numbers—as we do in numerology—and human characteristics is that they are naturally and inherently joined. There is nothing arbitrary about joining the number 1 with originality or inventiveness, because 1, no matter what language the number is used in, means the beginning, the origin, the first, the birth. Similarly, you will find that in numerology all single digit numbers have a meaning that relates easily to our perspective of the rhythm of things. They just make sense!
Ω
---
NUMEROLOGY AND RELATIONSHIPS: LIFE PATH'S COMPATIBILITY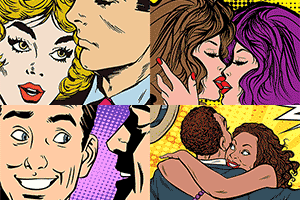 The most important number to consider in relationships, especially romantic relationships, is your Life Path number. However, taking into account the vast collection of numbers in each individual's chart, this is by no means the only number to consider.
Find out now how compatible you are with someone who caught your eye.
Ω