For an alternative perspective, see the Proportional Chart Maker
Ω
Why am I seeing double digit numbers?
Double digit numbers show us what the single digit is based on.
For example, when it says 23/5, it means you have a 5 based on 23 (2+3).  If it says 14/5, the 5 is based on 14 (1+4). However, the single digit is often calculated without being based on a double digit number. In that case you will only see one number listed.
Numerologists always consider the individual numbers of a double-digit number, because varying number combinations add different  meanings to the single digit sum.
Ω
Click any single digit number to learn it's meaning
1 | 2 | 3 | 4 | 5 | 6 | 7 | 8 | 9
---
The World Numerology App
18 Readings & Charts in One App
Free Download
Includes your 8-page Personal Numerology Reading and Daily Forecast.
Make one for your friends too!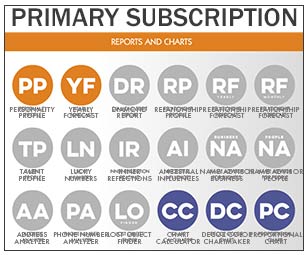 40-page Personality Profile + 20-page Yearly/Monthly Forecast: $19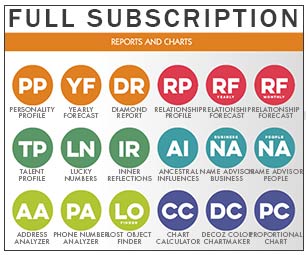 The Complete Collection: 18 Numerology Readings & Charts. $39 (See samples below...)
18 Personal Numerology Readings and Charts in one app - a $200 value if purchased individually!

NOTE: We do not share your email address or personal data with anyone.