Scroll through a sample of the Chart Calculator
Free with download
Numerology the old-fashioned way – a complete listing of each number in your chart.
Make Numerology Charts for yourself, your friends and family, or anyone else!

Our Numerology Chart Calculator lists every number and cycle in your chart, including several unique to Decoz.
The algorithms are based on established Pythagorean numerology and include double-digit numbers, Karmic Debt numbers, and Master numbers.
You can also use the chart calculator right here on our site.
DECOZ® CHART SYSTEM
Used by professionals world-wide.
Free with download

The Decoz Color Chart was first developed by Master Numerologist Hans Decoz in 1982.
This revolutionary charting system artistically displays your most relevant numbers and cycles in one easy-to-oversee chart.
Learn more about this unique numerology chart system.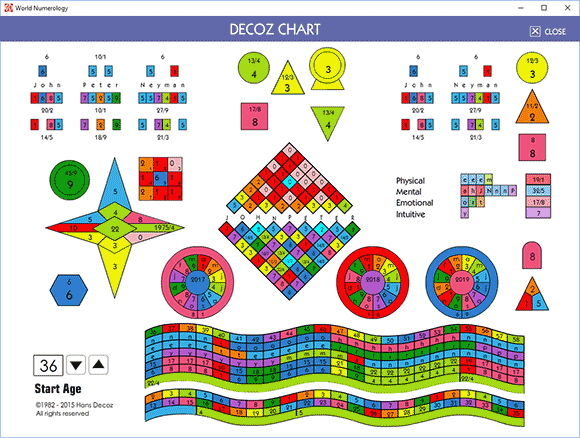 Make as many as you wish.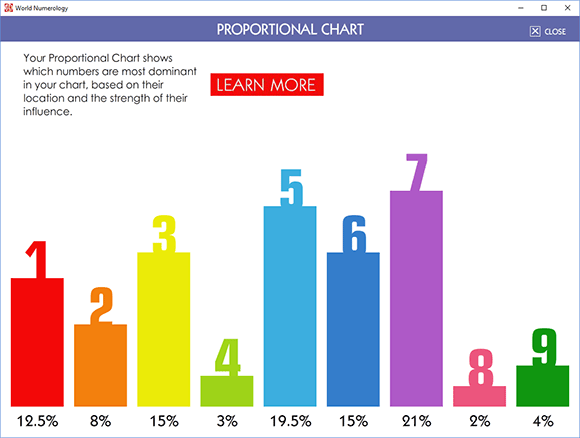 PROPORTIONAL NUMEROLOGY CHART
Free with download

The Proportional Numerology Chart shows the most dominant numbers in your chart based on location and frequency.
Your Life Path number is considered the most important number in your chart but it is NOT always the most dominant number. This chart shows which numbers truly dominate and have the strongest influence on your life. Each number is evaluated based on its strength and position. The Life Path number is given the most weight, closely followed by your name numbers. Less strongly felt aspects, such as your Cornerstone or Rational Thought number are given considerably less value.
You can also access our Proportional Chart Maker on our site.
-Ω-
---
NUMEROLOGY READINGS & CHARTS INCLUDED IN THE APP
-Ω-