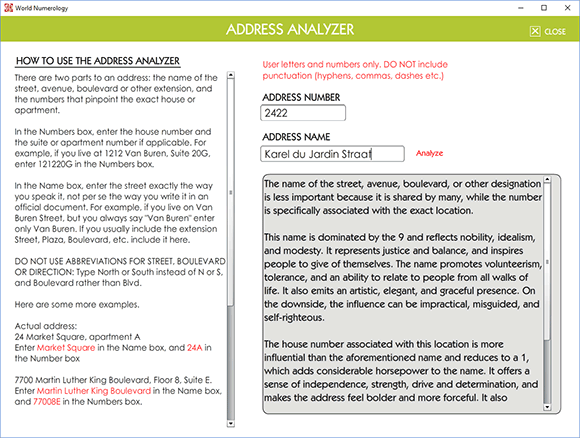 When we use numerology to analyze something, the first thing we look at is how closely is it connected to you.
For example, a house number is more important than the street name, because it is exclusive to you home, while the street name is shared with others.
The Address Analyzer looks at both the number and the name of the location but gives more weight to the number.
Use it as often as you wish - for your friends or anyone else.
Included in the Full Subscription - use as often as you wish, for friends or co-workers
Numerology can offer insight into the influence of your home address
The numbers and the street name in your address help determine the energy that affects you and the people you live with.
-Ω-
One of the less important, but sometimes telling numbers, is your house number.
It foretells the kind of events and experiences, both positive and negative, that you will likely encounter during your stay in that house.
Although no one number is better than another, you may want to avoid house numbers that reduce to a Karmic Debt number, such as 13, 14, 16, and 19. (See Karmic Debt Numbers for more about this subject.)
A house with a Karmic Debt number will undoubtedly attract the attributes of that number to the people who inhabit it.
You would welcome a house that carries a Karmic Debt only if you are consciously and willingly looking for a breakdown of the old you; are aspiring to a path of deep soul-searching (16); or you feel a need to be alone and learn to find the strength inside of you to deal with life's challenges without the help and support of others (19).
-Ω-
Numerology can tell you which numbers in your address you should avoid .
You can learn how to calculate your own house number and street address, however, the World Numerology App can do it for you - for as many addresses as you wish. (It also analyzes phone numbers.)
-Ω-
---
NUMEROLOGY READINGS & CHARTS INCLUDED IN THE APP
-Ω-