Phone Number Analyzer
Does your phone number support what you want and where you aim to go?
It is helpful to view all the numbers associated with you, your home, and business. Many service providers allow you to choose your own phone number, this can help you find the number that most closely expresses the energy you wish to integrate.
Included in the Full Subscription - use as often as you wish, for friends or co-workers.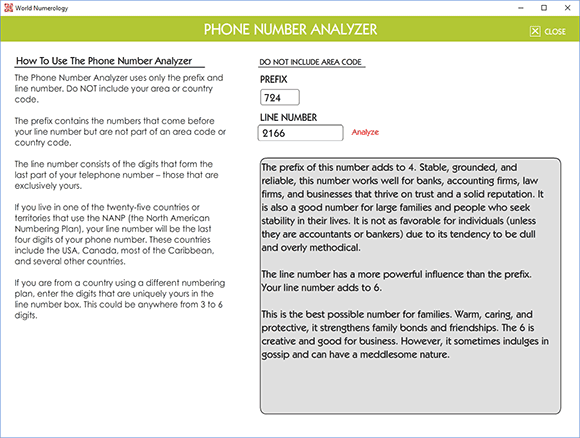 The Phone Number Analyzer uses only the prefix and line number.
Do NOT include your area or country code.
The prefix contains the numbers that come before your line number but are not part of an area code or country code.
Your phone's line number consists of the digits that form the last part of your telephone number – those that are exclusively yours, and you can often choose this number.
If you live in one of the twenty-five countries or territories that use the NANP (the North American Numbering Plan), your line number will be the last four digits of your phone number. These countries include the USA, Canada, most of the Caribbean, and several other countries.
If you are from a country using a different numbering plan, enter the digits that are uniquely yours in the line number box in our app. This could be anywhere from 3 to 6 digits.
-Ω-
-Ω-
---
NUMEROLOGY READINGS & CHARTS INCLUDED IN THE APP
-Ω-