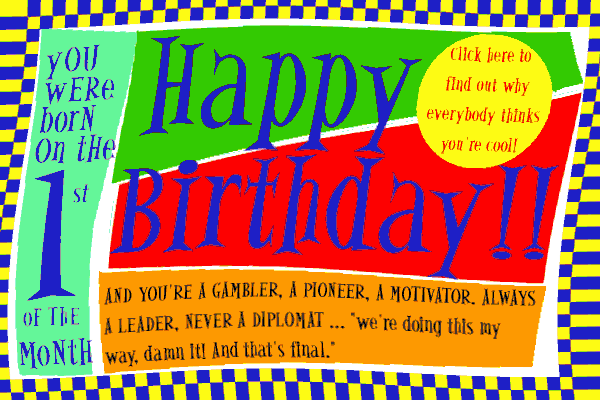 You are a pioneer, a gambler, and an initiator.
You have a great ambition and a strong drive for success. You are highly independent and dislike the restrictions of having to work with others. You easily become frustrated with the routine.
You are very creative; you possess a keen and rapid mind. You have excellent business instincts and with the appropriate training can run large organizations and big businesses.
---
You use information for a specific purpose. Knowledge is a practical tool in your hands; you dislike information or knowledge for its own sake. You possess a broad vision and a great capacity for motivating others. You have great will power that will be tested, especially during the years 28 to 56. But your opportunity for accomplishment is enormous.
You are generally open to the ideas of others, but you can be extremely stubborn and hardheaded once you become attached to your plans.
Avoid laziness and procrastination.
You are given to anger and frustration, and have a tendency to force the issue at times when things are not developing as rapidly as you would like.
Your determination, will power, and inventiveness are the keys to your success and will likely bring you much personal reward and financial success.
-Ω-
---
Continue to do your own reading with the Expression Number
Or... Find out which number(s) dominate your chart; check out our Free Proportional Numerology Chart
-Ω-
---
Do Your Own Reading
-Ω-