Only after he had overcome his intense skepticism was he able to understand the practice as another example of the patterns, unity, and coherence of the universe.
In 1981, Hans began practicing numerology professionally in Houston, Texas. By then he had a deep understanding of the science and what it suggests about life itself. Hans soon had a burgeoning practice, consulting with a broad stratum of Houston residents.
Numerology in the Digital Age
In 1982, Hans developed the renowned DecozChart, a numerology charting system which artistically displays every number and cycle in an individual's profile. A software version was created in 1987. The Chart's beautifully designed layout is placed on a single page, visually capturing the many cycles an individual experiences during any 50-year period. The DecozCharting system is used by professional numerologists worldwide.
In 1984, Hans bought one of the first desktop computers, a Macintosh, and began working on a numerology software program that would produce a complete numerology report based on his in-depth personal readings.
Hans devoted three years to write the hundreds of text files that populate the Decoz Desktop Software. Released in 1987, it was the first numerology software program capable of calculating a truly comprehensive individual report. The Personality Profile and Yearly Forecast were the first reports released in this format.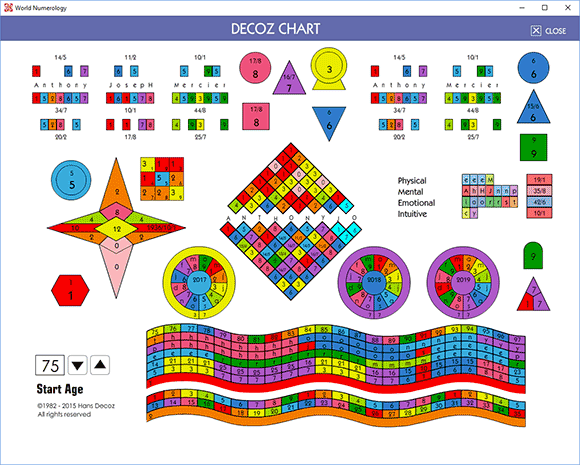 The Decoz Charting system - designed 1983, computerized 1987, most recent upgrade 2016
Writing Hundreds of Texts
Over the following 10 years, Decoz continued to work on other report types, writing text files and creating the algorithms for the Numerology Relationship Compatibility reports, Talent Profile, Name Analyzer, Inner Reflection Reading, the Diamond, and several others.
Reports produced with the Decoz Numerology Master Program are available from numerous web sites, as well as hundreds of individual practitioners. However, Hans' dramatically upgraded "Next Generation" numerology reports are only available through the World Numerology Collection. In addition, certain individual reports can be purchased here, as well as tarot.com and numerology.com.
Decoz 2.0
In 2013, Hans partnered with World Numerology to create an app that allows instant access to personal reports on any device; an extended daily number forecast, unlimited relationship compatibility reports, and many other tools. He proceeded to raise the bar significantly by adding additional chapters to his earlier reports.
His latest work incorporates the way each number influences and affects the others. This has never been done before, and is unique to the World Numerology app.
After three years in development, the World Numerology Collection was launched in March 2016.
We hope you will enjoy Hans Decoz' next generation profiles, crafted with insight, skill, and a sincere desire to bring you the most in-depth readings possible. We wish you well on your journey.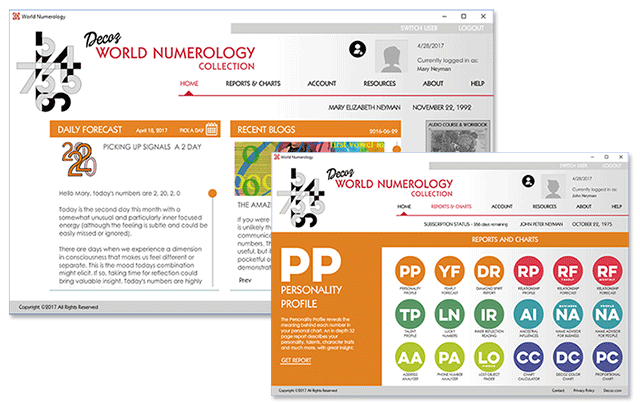 The home and readings page in the app showing all 18 readings and charts included.
---
Books by Hans Decoz
Hans Decoz is the author of "Numerology; Key To Your Inner Self: A Complete Guide to Understanding and Using Your Numbers of Destiny", published in 1994 by Avery Publishing (now Pedigee). It has been translated in Russian, French, German, Dutch, Spanish, and Mandarin. A Japanese version should be available soon.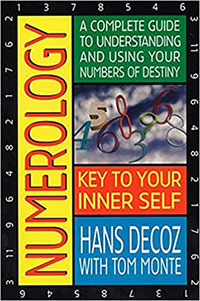 "A Fish Made of Water", a semi-autobiographic novel of his overland hitchhike from Amsterdam to India and his struggle to overcome a heroin addiction in his early twenties.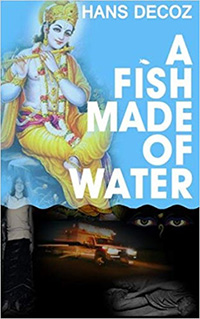 His most recent work: "What Life Is; Dancing On The Edge Of Eternity"