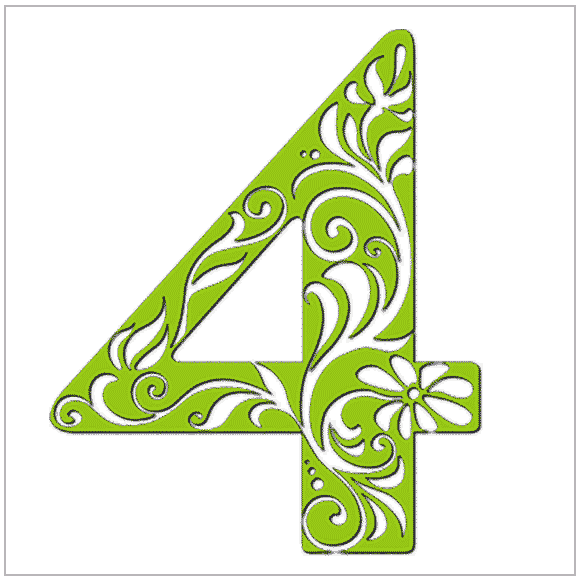 If your Soul Urge is 4, you like to live a stable, well organized life.
You dislike sudden changes. You prefer orderliness in all things. You have a systematic mind that is reflected in everything you do. You can establish and maintain a routine.
You are exacting with details and quite thorough. You like to carefully analyze a problem and then tackle it in a logical and practical approach. You want to be dependable, a rock of strength and an example of discipline for others.
-Ω-
A Soul Urge 4 has a great deal of energy and can accomplish a lot.
Work is central to your life, but you may have a tendency to overdo it; you can easily become a workaholic if you're not careful.
You want a family and you are a good parent. You may carry the discipline and the need for orderliness too far, especially in your family, making children and spouse feel oppressed and limited.
Flexibility is your key to harmony and balance in life. For you, structure is more important than freedom, which you tend to interpret as chaos. But others do not have your need for well defined systems, in fact, they may feel deeply inhibited and uncomfortable with it. The peace you get from orderliness may represent a prison to someone else.
You need and want much love, but you are not very demonstrative.
-Ω-
A Soul Urge 4 can be a little rigid and stubborn.
You are honest and unpretentious. You detest liars and affectations. You can be very determined and tenacious. You are the bedrock of any enterprise.
You have the courage to go into the nitty gritty of a problem and come up with a solution. Try not to lose sight of the larger picture and dream while you plumb the depths of the bottom line.
-Ω-
---
Remember, your Soul Urge (also called Heart's Desire) is a want, a desire. Fulfilling your Soul Urge depends on opportunity, effort, and perhaps luck. We should be grateful even if we only partially fulfill that in-born desire.
-Ω-
---
---
Other Soul Urge numbers:
-Ω-
---
I have used your numerology software program for a number of people here in Australia and England, and have received some wonderful feedback. They love it, and so do I.
So thank you for making this available for people like me.
Yours sincerly,
Brenda Phillips
-Ω-