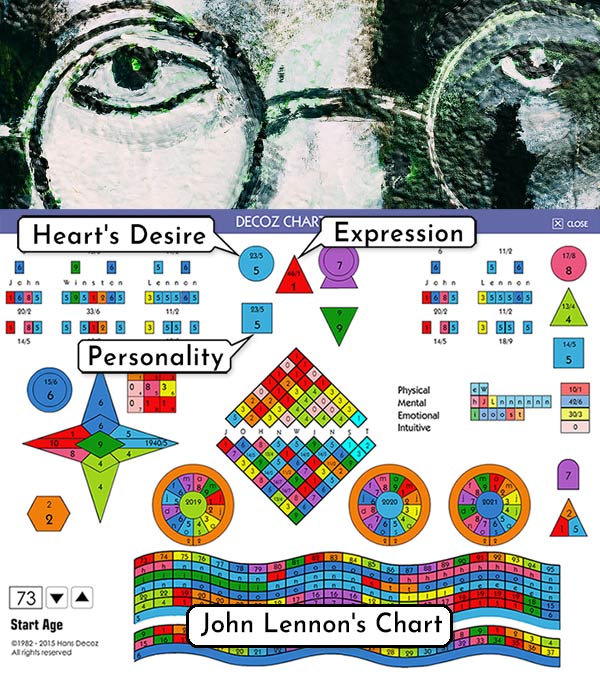 Arguably, the most efficient way to improve the quality of your life is through self-knowledge; the better you understand yourself, what makes you happy, what you are good at or not so good at… the more likely you will make the right choices. It's the reason people spend a fortune on therapists and analysts.
But there are also less conventional methods to help you understand what makes you tick. Although there can potentially be issues that require professional help, taking time for reflection and self-analysis produces self-knowledge and a more confident way forward.
Where am I going with this?
Tools for self-analysis are everywhere, with methods to fit just about anyone. This is the age of computers and Metaphysics, a marriage made in heaven - when used properly.
---
My favorite Metaphysical science is numerology, because it digs deeply into who we are, pointing to areas we can enhance (or need to work on). Central to the analysis of who you are and what are made of, are the five core numbers in your chart: the Life Path, the Birthday number, the Expression, the Heart's Desire (a.k.a. Soul Urge), and the Personality numbers. The first two are based on your date of birth, the other three are based on your full name at birth. Here we will focus on the name numbers, because your name is who you are.
-Ω-
Here's what these numbers can tell you.
Your Expression number shows a kind of dashboard/overview of who you are - your main character traits, talents, and shortcomings. It is a relatively broad brush, but it offers a clear and well-defined picture.
Your Heart's Desire lives up to its name, revealing your deeper yearnings - where you find contentment, what makes you truly happy. Your Heart's Desire drives you; it's your main motivator, whispering in your ear what you most value in this life.
Your Personality number is the "outer" you - think of it as your façade. This number described the way people perceive you when you first meet. It's your protector - the guard at the gate to your deeper, more vulnerable side – your Heart's Desire.
There are a variety of other numbers derived from your name that fill in details and sharpen the view to 'who you are'. These include your Hidden Passion, Karmic Lessons, Cornerstone, and others, but the combined power of your three core name numbers represent the essence of who you are as a person – your numerology DNA. This is beautifully reflected in the calculation methods used to interpret the numbers: your Personality (the sum of the consonants in your name) plus the Heart's Desire (the sum of the vowels) produces the Expression (the sum of all the letters in your full birth name).
-Ω-
How to find your numbers and what they say about you.
Unless you are quite familiar with numerology, calculating your core numbers can be challenging, but if you feel up to the task, you can learn it here in my free numerology course.
-Ω-
But… drumroll, please:
We have a free, user-friendly tool available that will calculate your numbers and their meaning for you. Each core number is described in detail - plus an additional essential chapter explaining how they operate together – the way each number affects the others, which influences their combined effect on you. (No other numerology app or online reading offers this feature. Just saying…)
If you would like to understand your core numbers, check out your free 8-page personal reading (the first part of our 40-page Personality Profile).
Just download the World Numerology app (free), go to the Reports & Charts page and double-click the orange icon (PP) for the Personality Profile. This opens your reading, which analyzes your core name numbers and what they say about you.
View a sample free reading
Happy Learning!
-Ω-