THE EFFECT OF NUMEROLOGY'S AGE-DIGIT CYCLE
Find out what the most important years in your life are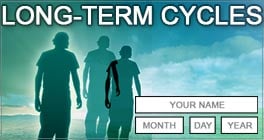 Numerology recognizes two long-term cycles: Period Cycles and Pinnacle Cycles.
The transition from one Pinnacle to the next is always strongly felt and takes about two years. You will experience three such transitions and they are arguably the most important years of your life. You will likely make life-altering decisions, such as marriage, a job or career change, or major changes in your personal makeup during those years.
Learn at what age you experience your most important and pivotal years here...