You will be unusually sensitive throughout 2019, and may wonder at times what happened to the drive and momentum you felt last year. This year requires something else from you now -- a delicate sense of balance and a willingness to go around obstacles, without losing sight of your goal.
You may also experience some emotional depressions and frustrations. The year is marked by struggle, but there are many opportunities to advance your plans. This is a year of slow growth, requiring patience.
Be discriminating in your associations and secretive about your plans.
Don't talk too much about your ideas; be a bit secretive; guard yourself and your ideas. You are somewhat vulnerable this year.
This is a good year to improve yourself through reading and research. Your growing awareness of the less visible and less obvious aspects of life will make you much stronger and better prepared for the future.
You must be wise in all your relationships and associations this year.
You are far more capable of establishing close, even lifelong relationships this year. Because sensitivity and openness are heightened, many people find their "soul mate" in a two year.
May is the pivotal month in the year. You are extremely intuitive and sensitive. You are also self-reflecting and better able to influence your peers and situation through spiritual awareness. July brings a culmination of plans and a distinct step forward. August sees things become more concrete and brings a new beginning. September is emotional, requiring adjustments, tact, and inner resolve. The 2 year is a year of growth and advancement, but through gentle means, and the indirect use of your personal power.
CHECK OUT YOUR MONTHLY FORECAST HERE...
See also: Dualities; insight in overlapping cycles here...
And: The amazing interaction between Essence cycles & Personal Year cycles...
Your Complete Yearly and Monthly Numerology Forecast is included in both the Primary and Full Subscriptions of the World Numerology App.
Download to any device (free), open the app and click Reports & Charts in the menu bar to instantly access your free 8-page Personal Reading.
To upgrade (optional), click any grey icon in the Reports & Charts section of the app.
We offer two subscription options: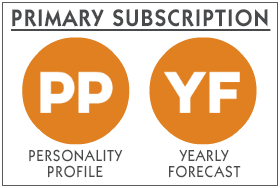 40-Page Personality Profile + 30-page Yearly/Monthly Forecasts: $19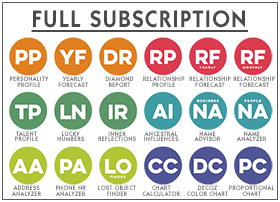 The complete collection: $29 (Reg. $39 - Includes the Primary subscription)
Use discount code 25OFF
* Note: iTunes doesn't use discount codes - iPhone and iPad users install and purchase from our computer version to apply the discount.

Your Yearly Forecast is also available in PDF format delivered by email within 24 hours for the same price ($14.95) but does not include the full Personality Profile included in the app. Learn more...
To view samples and prices of all the readings in the app, click here...