Still, your enthusiasm is contagious, and no obstacle is too great to overcome - or so it feels. It is your challenge for this month to bring in the needed ingredients of discipline and pragmatism.
Unfortunately, you have little patience and would like everything to go much faster. Your mind runs at a high speed, but it is scattering your ideas all over the place, unless you manage to channel it. Fortunately, there is enough brightness and lightness to make it a fun and exciting month. It is actually a very good time to take a break, maybe go on a vacation. If you do, don't forget to bring a notebook to write down the ideas that pop into your head. The expression of having a mind like a popcorn machine is quite fitting for the influence of this month.
Others are attracted to you and temptation is part of this month's game. There is a danger of falling into a trap of irresponsible behavior. Be careful.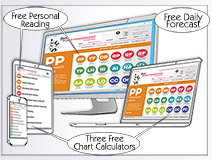 Get your Complete 1-Year Forecast + 12 Monthly Forecasts - 22 pages - available in our Primary Subscription: $19.00 (also includes your 40-Page Personal Numerology Profile)
Or get it in PDF format by email within 24 hours: $14.95 (does not include your Personal Numerology Profile)
There are other numbers that influence your life, such as your address and phone number. Learn more about the Numbers Around You here...
The Previous Month, your Personal Cycle for October was 2
Your intuition and sensitivity are heightened.
You are much more aware of feelings, yours as well as those of others - which is quite a change from last month (although this gentler energy probably started making its presence known about a week before the end of last month).
Under normal circumstances, and if it doesn't affect you personally, you will find it easy to maintain harmony, even in potentially discordant situations. However, on a more personal level, and particularly among your family and friends, this increased sensitivity can cause you to make mountains out of molehills, get jealous when there is no reason for it, or respond excessively to perceived slights. You are also more vulnerable to criticism than usual
You may also realize that you are given more authority or responsibility in your work. Although promotions and financial improvements may not be obvious, this combination often lays the groundwork for future improvements.
Romance and all heart-centered relationships are central to the events of the month. If single, you will meet someone special. If involved, your relationship will likely become stronger and more committed.
Are you in a relationship or hoping for one? Check out your Monthly Relationship Forecast...