Your most powerful asset right now is your inner antenna that is picking up vibrations that escape others.
Your relationship with co-workers is fragile, but this is due largely to your enhanced sensitivity. Don't take your emotions too serious. Increased sensitivity magnifies and exaggerates emotions. If you fixate too much on them, you'll do yourself a disservice. Overlook slights and let things pass without retort. People will come around.
Ω
Romance is still strong, but you must remain realistic.
Last months' excitement and infatuation has given rise to self-examination. As with co-workers, long-term relationships and friendships are fragile right now. Again, be skeptical of your emotions; it's quite possible that you are making mountains out of molehills.
Cooperation, tact, patience, tolerance, and forgiveness are the key-words to make this month pleasant and successful.
Ω
Scroll down for more free and personal insights!
---
2020 GLOBAL NUMEROLOGY FORECAST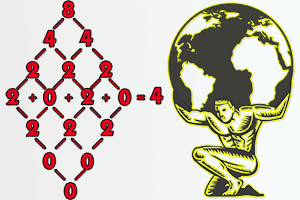 The Year Atlas Stumbled
The forecast for 2020 promises great turmoil, but also hope from unexpected sources.
Published late 2019, the amazing insight and accuracy of Hans Decoz global forecast has surprised many.