Chances are your health improves, and you are more focused and direct. You are certainly more ambitious and readier to pursue your goals. It may even feel a little like the dawn of a new era.
However, there is also a less fortunate side to this double 1 cycle in the form of lacking patience, irritability, and in some people even moments of violence and aggression. The energy you are experiencing when the 1 dominates to this extent is bundled, like a flashlight as opposed to an omni-directional light. For that reason, many things seem amplified. It is important that you maintain control and keep a close eye on your attitude. Even the gentlest among us tend to be rude or angry a few times under this influence.
Relationship issues should be avoided.
As you may have guessed, you are not in the best mood to deal with other people's emotions.
September is a good time to bring about practical changes that you have long contemplated as essential to your health and happiness. This combination inspires smokers to quit, others to modify their diets or start an exercise routine. You are able to muster up great willpower, so take advantage of that.
Direct this month' energy towards your career or your business. Use that drive and ambition to make progress. But leave that kind of energy at your office, don't take it home with you.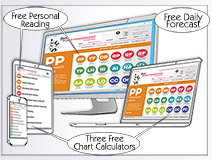 Get your Complete 1-Year Forecast + 12 Monthly Forecasts - 22 pages - available in our Primary Subscription: $19.00 (also includes your 40-Page Personal Numerology Profile)
Or get it in PDF format by email within 24 hours: $14.95 (does not include your Personal Numerology Profile)
There are other numbers that influence your life, such as your address and phone number. Learn more about the Numbers Around You here...
The Previous Month, your Personal Cycle for August was 9
As mentioned more than once during previous monthly forecasts, this year offers plenty of changes, and August continues the trend.
Most of this month is dedicated to completion and letting go.
This includes old habits, ideas and concepts that you have recognized as no longer valid, perhaps even projects you have lost interest in, and relationships you have outgrown. It is the latter that may be accompanied with a quite a bit of emotional turmoil. However, with relationships as well as any other aspect of your life you are ready to let go off, the result is that you make room for the new.
Within the context of this two-year transformation mentioned in your yearly forecast as well as your January monthly forecast, August stands out as a kind finality. By now, you should have a pretty good sense of how and where you changed.
However, you should be prepared for some moments of nostalgia and perhaps regret, these are the usual emotions that are part of the cycle of tossing out the old and inviting in the new. There will be unexplainable emotional upsets, melancholy, and such, but they are essentially the remnants of the old you. Share those feelings with someone close to you. Take comfort in heart-to-heart talks. Still, do not doubt that you now have both feet firmly planted in the new 9-year cycle. You are ready to move ahead.
If your love relationship is fairly recent, or still fragile, this month will likely reveal whether it is of true substance and endurance. Let go of whatever wants to be free; hold on to what wants to stay. And look to a brighter future.
Are you in a relationship or hoping for one? Check out your Monthly Relationship Forecast...