For professional gamblers, this can be a very profitable period, but for those of us who live according to the simpler laws of effort and reward, this is a month to stay with the tried and true.
All affairs related to money should be handled with the utmost care. But let me be clear: This month is a rewarding time, and your chances that events will take a positive turn are great. If you are wise and cautious, you may increase your bank balance considerably. Nine-out-of-ten people in this combination -- 8 Month, 1 Year -- increase the strength of their financial positions.
This month also brings out strong emotions in personal relationships, both positive and negative.
While a 1 and 8 combination, through the usual cycles of effort and reward, cause and effect, and good old-fashioned Karma, tends to increase stability and strengthen the positions of most people (not so if Karma is working against you), it has an almost opposite effect in the area of feelings. It shakes things up, calls out the white elephant in the room, and otherwise rocks the boat. The advice is to be open, tolerant, forgiving, and to refrain from judging -- lest you be judged.
If you are not yet romantically involved, this month may introduce you to someone special through work or business. New friendships and business partnerships are also common under this number sequence.
---
---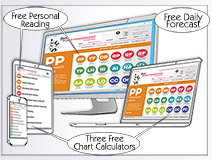 Get your Complete 1-Year Forecast + 12 Monthly Forecasts - 22 pages - available in our Primary Subscription: $19.00 (also includes your 40-Page Personal Numerology Profile)
Or get it in PDF format by email within 24 hours: $14.95 (does not include your Personal Numerology Profile)
---
There are other numbers that influence your life, such as your address and phone number. Learn more about the Numbers Around You here...
---
The Previous Month, your Personal Cycle for June was 7
June 2019 offers time and opportunity for contemplation and insight.
Career and romance do not require as much attention as your need to understand your own motivations and desires. Don't make the mistake of feeling guilty for not carrying your load, or for not working hard enough. That is not what this month is about. Keep up your sails, do what you have to do to avoid problems, but beyond that, let the wind do the rest. Take the time to dwell on your dreams and hopes, find clarity about what you want out of life. Most importantly, don't be afraid to confront yourself.
Your work and other duties take second place this month, however, you may well discover information, through research or by talking to the right people, that will help further your career.
This is not a good time to spend money, take out a loan, invest, sign contracts, or otherwise make long-term business commitments. Social activities are also better kept to a minimum, unless it involves deep or intimate conversations with family or close friends.
---
Are you in a relationship or hoping for one? Check out your Monthly Relationship Forecast...
---