Love, romance, and commitment play an important role whenever a 6 Month teams up with a 1 Year.
There is the possibility of a new relationship, the birth of a child, or marriage. It is a month of responsibility, unselfish giving, and a willingness to devote time and energy to the needs of others. Domestic and community matters move to the foreground and have to be given priority. Sometimes, this combination of numbers causes long slumbering discord between couples to surface and be dealt with.
This is a time when the heart rules and emotions run high. It can cause both extremes -- either deeper commitment and more lasting love, or separation and divorce. Honesty is essential to a positive development of the month. You may find yourself tempted to take the easy way out in some awkward situation, perhaps by lying or being secretive. However, that is likely to backfire and can become ugly and destructive, particularly during this month.
In general, this is a good time for career and financial matters; promotion is possible, as is a windfall in the form of an unexpected tax refund or an old debt paid back. This sequence of numbers is also more likely to resolve legal issues or other matters that pit you against large institutions, corporations, home owner associations, or some other faceless entity.
With so much energy dedicated to the heart, to love and emotions, it may seem that your sense of justice, your honor, and your moral values are tested more than once. Don't let opportunities to make a stand, or to right a wrong, slide by. Few feelings are more devastating than regret.
---
---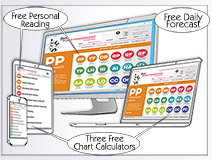 Get your Complete 1-Year Forecast + 12 Monthly Forecasts - 22 pages - available in our Primary Subscription: $19.00 (also includes your 40-Page Personal Numerology Profile)
Or get it in PDF format by email within 24 hours: $14.95 (does not include your Personal Numerology Profile)
---
There are other numbers that influence your life, such as your address and phone number. Learn more about the Numbers Around You here...
---
The Previous Month, your Personal Cycle for April was 5
As explained earlier in your January forecast, this year and last combine to bring about major changes. That also includes changes in many practical areas of your life, and April brings many of them to the surface.
There can be a change of residence or office.
Travel, sometimes quite unplanned, is very likely.
April could become quite a dynamic and hectic month, but also adventurous and exciting. Consequently, this period requires flexibility, and a willingness to accept change. You have to adapt, respond quickly, and embrace change as opposed to fighting it. The more you allow yourself to flow with the circumstances, the easier and more successful this month will be.
Be ready for surprises.
There is a sense of randomness and a lack of control which, to many of us, is frightening. No need to worry, many of these changes, once accepted, will actually streamline your life and make progress easier.
Your ability to promote yourself and your ideas is also enhanced. You will find that you have an uncanny talent to be in the right place at the right time this month. You will be able to advertise your talents and abilities at work as well as at social events.
With all this excitement, it may be hard to concentrate and focus on the job at hand.
You'll need self-discipline or you may see much of your energy wasted. Unless you manage to concentrate and apply yourself, you may realize at the end of this month that you did not get a lot done.
Romance and social activities may tempt you to be self-indulgent and perhaps irresponsible.
Be careful not to let this month's vibrant energy get out of hand.
---
Are you in a relationship or hoping for one? Check out your Monthly Relationship Forecast...
---