This is a month to put your nose to the grindstone and to work on all the details.
Now is the time to deliver and show yourself and everyone around you, that you are able and willing to do whatever it takes to reach your goals. March is also a time when your ability to plan and organize projects is greatly enhanced. So, too, is your clarity of mind. You gain confidence in your abilities, and yourself. It's time to move; to make things happen. Do not procrastinate. Do not avoid work or effort. Slacking would be a serious mistake.
March can also be a little frustrating because so much of your energy will have to be directed to repetitive and routine duties and activities. However, in spite of the detail-oriented, plodding feel, this is a time that brings opportunities and real progress. This could even be a breakthrough time when you overcome an obstacle, real or perceived, that has dogged you for a long time.
Love and romance
It may be a little surprising, therefore, that against such a serious and work-oriented backdrop, romance can bloom. Someone is impressed with your down-to-earth, go-getters' approach and your can-do mentality. You may find yourself in demand.
---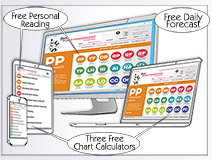 Get your Complete 1-Year Forecast + 12 Monthly Forecasts - 22 pages - available in our Primary Subscription: $19.00 (also includes your 40-Page Personal Numerology Profile)
Or get it in PDF format by email within 24 hours: $14.95 (does not include your Personal Numerology Profile)
---
The Previous Month, your Personal Cycle for February was 3
February brings reasons for optimism, there is a sense of promise and new beginnings in the air.
You see your direction a little clearer, which causes you to lighten up and become more social, especially during the latter part of the month. Your upbeat attitude draws people, as well as support, often from unexpected sources.
A new project or business venture ignites your excitement, energy, and motivation, all of which you manage to communicate clearly to others, thereby motivating them. This is a time for ideas and plans more than action. The actual work does not start until next month, which is fortunate, because focus and discipline are not your strongest qualities during most of this month.
You are quick-witted, and your sense of humor is alive and brighter than it has been for some time.
Take time out for leisure and relaxation. Recharge your batteries, you will be burning plenty of juice next month.
Romance is exciting and promising.
Your charisma and self-expression are improved, and you feel more comfortable talking about your feelings, your expectations, and your dreams.
Are you in a relationship or hoping for one? Check out your Monthly Relationship Forecast...