The 9 and 2 combination -- diplomatic, sensitive, and service oriented numbers -- advises that you avoid confrontations. Work with issues quietly and patiently.
At the same time, it is an excellent period to look inward and acknowledge your needs and desires. Let go of all that you have outgrown, including people, situations, material objects -- anything that you have out-grown.
This month is your opportunity to avoid becoming an emotional and material packrat. July is a time to empty your cup and make room for new gifts coming your way. It is a transition period.
You will likely experience deep emotions, even nostalgia, and melancholy.
At times, you may feel exhausted. Such feelings are not altogether unpleasant. There is a cleansing and healing taking place at a very deep and personal level.
You are not entirely conscious of all that is happening, and consequently you may have difficultly expressing your feelings to others. You may sense that you do not fully understand yourself. Give it time and much will be revealed to you.
An opportunity to be involved in a good cause may present itself, and your sacrifice will help you achieve stability and inner strength. This is a good time financially. Some payment may be received for something you'd forgotten, or for reasons you do not expect.
July is a month that requires balance: you are feeling emotional, but at the same time you must also focus on the needs of others. If you indulge too much in your feelings, especially self-pity, you will suffer more self-doubt than if you remain balanced between your needs and service to others.
Ω
Scroll down for more free and personal insights!
---
2020 NUMEROLOGY FORECAST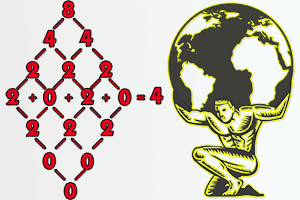 The Year Atlas Stumbled
The forecast for 2020 promises great turmoil, but also hope from unexpected sources.
Published late 2019, the amazing insight and accuracy of Hans Decoz global forecast has surprised many.