Many numerology readings sold on other websites are produced by numerologist Hans Decoz' earlier numerology software for professionals, released in 1987 (tokenrock.com, astrology-numerology.com, numerology.com, and others).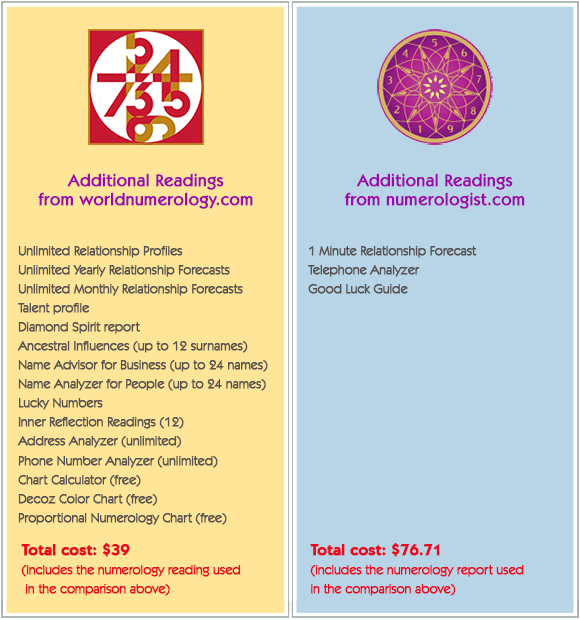 From 2012 to 2016 Decoz focused on revising his original work to create new and updated numerology readings and charts. During this period, he teamed with World Numerology to develop a numerology software program built specifically for a single individual.
Although all the reports are based on the account holder's name and date of birth, they can add as many other users as they wish, and access the free charting systems, daily forecast, and the free 8-page mini-reading.
There are other significant differences; Numerologist dot come only describes each number by itself, while Decoz includes chapters that oversee multiple numbers and explain not only their individual meanings, but also how they affect each other, offering unique and valuable insight not found in any other numerology reading.
Take the very first chapter of our reading, which describes how you three core name numbers together affect you. There is, for example, a big difference between a 3 Expression, 5 Heart's Desire, and 7 Personality or a 3 Expression, 7 Heart's Desire, and 5 Personality (see a sample here).
Or check out the Dualities (see a sample here) included in our yearly numerology forecast, which describes with great depth and detail how your Essence cycle and your Personal Year cycle's combined influence affects you that year. Again, you will not find Dualities in any other forecast, not even the original, and still best-selling, professional numerology software from Decoz.
Okay, that's enough tooting our own horn. The choice is yours. We just felt you should be informed before you spent your hard-earned money.