Metaphorically, this talent can be seen as having a power all its own to shape your life. Its existence gives you a strong desire to develop and to express that particular ability.
Having the talent demands that you express it, that you experience this part of you, and that you live according to its nature. In this way, the Hidden Passion shapes your personality and guides your life.
Although not considered one of the core name numbers in your numerology reading, it is nonetheless one of the more powerful numbers in your numerology chart; a professional numerologist will pay special attention to this number.
Ω
How to Find The Hidden Passion number in your chart.
In our example of Thomas John Hancock, you may have noticed that the number 1 is represented more often than any other number in Thomas name. His Hidden Passion therefore is 1.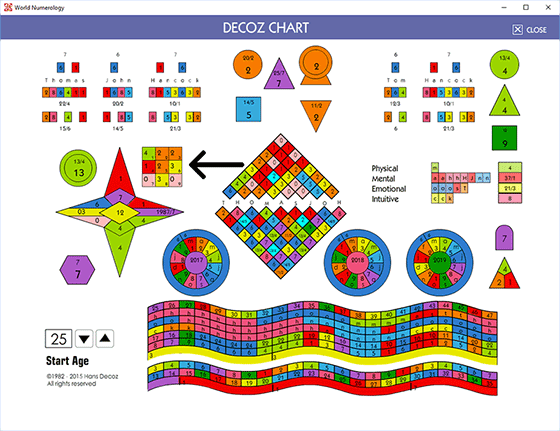 Thomas John Hancock's numerology chart shows
The number 1 4 times
The number 2 2 times
The number 3 2 times
The number 4 1 time
The number 5 2 times
The number 6 3 times
The number 7 is not found
The number 8 3 times
The number 9 is not found
Ω
Read up on your Hidden Passion (Your numerology reading can have more than one Hidden Passion.)
Ω
Ω
As a professional astrologer with little interest in numerology, I was hesitant to order a numerology reading. However, my friend Ariel raves about you, so I did order a Decoz Numerology Reading.
Congratulations Mr. Decoz. I am not easily impressed, especially with computerized reports. I don't know how you did it, but your numerology reading pretty much blew me away. I sensed in your readings intelligence, a deep understanding of numerology, and real integrity."
Jan van Schadema, Johannesburg, South Africa
Ω
If you prefer to jump back and forth, here are short cuts to doing your own numerology