In a way, it seems that life has you in a straitjacket, but in fact you are being protected from yourself.
The emphasize is on the irritating and seemingly unnecessarily details. You are forced to deal with things you consider a waste of time. These loose ends can no longer be ignored, but you feel frustrated by the limitations of time and the massive amount of work.
The situation is, in fact, two-sided: One side is effort, the other reward. You are being prepared to take full advantage of a string of opportunities that will begin next month and will continue all next year. The challenge for you is to keep up. For that reason, you must finish the work in front of you now, to make room for the opportunities to come.
Meanwhile, guard your health, especially against the effects of stress and frustration. You would do well to eat healthy foods and in a regular and orderly fashion. Go to bed early; read to widen your view and escape. Do not dwell on the negative. Leave affairs of the heart to themselves for a while, until this intense period passes.
Ω
Late this month, you will start to see the light at the end of the tunnel.
However, looking back you will be grateful and relieved that you took on this process of re-organizing the basics in both your work, and your personal life.
Ω
Scroll down for more free and personal insights!
---
2020 GLOBAL NUMEROLOGY FORECAST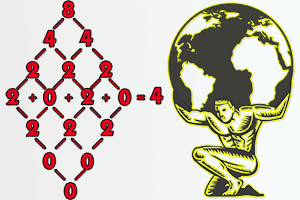 The Year Atlas Stumbled
The forecast for 2020 promises great turmoil, but also hope from unexpected sources.
Published late 2019, the amazing insight and accuracy of Hans Decoz global forecast has surprised many.