There is a distinct possibility that you will be able to break out of unrewarding patterns. You may even consider a career change or start your businesses. It is not a time to be squeamish in any area of your life -- be it money, career or romance. You may experience an urge to write, paint, or express yourself in some other creative way. By all means, take on the challenge.
If you are not already involved you may meet someone, but the relationship, while intense and passionate, may not be a lasting one.
July is a month that will also bring opportunities to mingle with new acquaintances at social events. You will be outgoing and witty. These are great opportunities to make lasting contacts that will help your career and other endeavors.
---
---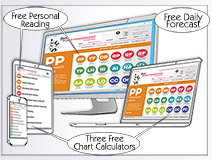 Get your Complete 1-Year Forecast + 12 Monthly Forecasts - 22 pages - available in our Primary Subscription: $19.00 (also includes your 40-Page Personal Numerology Profile)
Or get it in PDF format by email within 24 hours: $14.95 (does not include your Personal Numerology Profile)
---
There are other numbers that influence your life, such as your address and phone number. Learn more about the Numbers Around You here...
---
The Previous Month, your Personal Cycle for June was 9
June 2019 brings a bit of moodiness and instability.
You have completed many tasks and enjoyed many rewards during the first half of the year, and now you may be feeling a bit empty -- not unlike the fatigue one has the day after a party. It may be a minor case of burn-out, but for reasons you cannot put your finger on. It is a time to let go of many old things and prepare for the new.
You have had some good ideas during the first part of the year. You have been motivated and experienced much excitement, but not all of your ideas proved realistic. Now reality forces you to take a second look at your projects and goals in a new light. It's a weeding out period. The positive side of the coin is that, by the end of this month, you'll have a clearer perspective on your direction and projects. You'll know where to place your energy during the second half of the year. While you may find yourself going through some ups and downs during this month, you also feel the first trembling of new excitement.
This month also brings a concluding chapter to one or more relationships, which may cause additional emotional turmoil. However, you are going through a time of natural selection; what is worth holding on to will stay. The rest will go.
---
Are you in a relationship or hoping for one? Check out your Monthly Relationship Forecast...
---