You are communicative and express yourself well. You have a strong urge to write to old friends you haven't seen in some time. This need to re-establish relationships with people may even surprise you. At work, you discover that it is easy to reach others and influence the way they feel about themselves and their work. You uplift them and are rewarded with gratitude and support.
This is a time to be social, easy-going, and optimistic.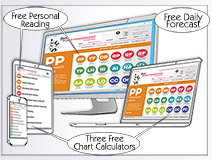 Get your Complete 1-Year Forecast + 12 Monthly Forecasts - 22 pages - available in our Primary Subscription: $19.00 (also includes your 40-Page Personal Numerology Profile)
Or get it in PDF format by email within 24 hours: $14.95 (does not include your Personal Numerology Profile)
There are other numbers that influence your life, such as your address and phone number. Learn more about the Numbers Around You here...
The Previous Month, your Personal Cycle for August was 2
August requires a sensitive and cooperative attitude at work and in all other areas.
You are upbeat and optimistic during the early part of this month, but an anticipated reward or recognition may go to someone else, much to your dismay.
Your challenge is to set the record straight by using your diplomatic skills. Do not allow anger to alienate you from those involved. Otherwise, relationships go favorably this month. You are in a position to smooth out some long-standing disagreements between people close to you. Often, these disagreements do not involve you directly. You have the opportunity to serve as a peacemaker.
Romance is favorable, your feelings run deep and your ability to communicate them is enhanced. A good month to spend extra time with your lover.
Are you in a relationship or hoping for one? Check out your Monthly Relationship Forecast...