March brings family affairs and issues involving relationships to center stage.
You may be asked to sacrifice some of your time and energy to help others. A parent or child may need more care and attention than usual. Answer the call and you will be rewarded with a wonderful experience of love and closeness.
Many people in the 3 Personal Rhythm Cycle will make a deep commitment of love, or even get married this month. At the same time, separation and divorce are also possible since the theme of this month is to be committed to your true feelings. Confrontations are unavoidable in all troubled relationships.
While these trends may be difficult and painful, the forces are working at clarifying your relationships. Your work situation will be rather demanding as more responsibility is transferred to you. However, the reward is right around the corner. (May and June will bring the pay-off.)
This month may be good financially, due to an earlier investment or from payments arriving from previously done work.
---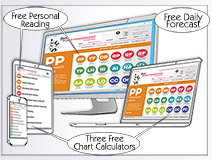 Get your Complete 1-Year Forecast + 12 Monthly Forecasts - 22 pages - available in our Primary Subscription: $19.00 (also includes your 40-Page Personal Numerology Profile)
Or get it in PDF format by email within 24 hours: $14.95 (does not include your Personal Numerology Profile)
---
The Previous Month, your Personal Cycle for February was 5
February brings changes, excitement, and perhaps some upheaval.
You may move, travel, or go on an unexpected trip. Carefully prepared plans confront the unexpected: events and people you had not expected. If you are flexible and not afraid of changes will enjoy this month. However, if you rigidly try to stick to expectations and refuse to adapt, you may experience a difficult time in which almost nothing works out, no matter how hard you try.
February is a month to allow the forces of nature to guide your ship. Despite these disruptions, do not give in to impulsiveness or irresponsibility. Make the plans you can; adhere to them as well as possible, and be flexible. (It helps to get a personal numerology reading and yearly forecast ;-)
Love is exciting, adventurous, and playful.
You uplift your partner and reveal your deeper self. Hidden thoughts and desires that you have kept hidden during the past two years come freely to the surface. You are open and childlike and for that reason very attractive to others. A word of caution for those who are uncomfortable with this kind of openness: Do not allow fear to turn this wonderful urge to share your thoughts and feelings into a superficial act.
If you have a tendency to self-indulgence, this month's cycles are dangerous. Be cautious and control your appetite for whatever excesses tempt you.