May brings financial rewards, as well as respect and recognition.
This, of course, is proportional to the effort you have put out during the past year. May is a month to focus on career, to be a visionary, and not to hold back when it comes to showing the world how capable you are.
For those who are in business, this is a good time to finalize deals and sign contracts. Investments are generally favorable, as are requests for loans, mortgages, or other methods of financial support. In all worldly matters, this is a time to reach out, to go for your goals. Do not be afraid to take a risk.
As far as matters of the heart are concerned, this is a time to take yourself and your feelings with a grain of salt. You are in a generous mode and feel blessed with so many good friends, but when it comes to commitment, you may want to wait a couple of months, when you are more realistic in these matters.
If you are not involved in a relationship, a coincidental meeting with a person from the past sparks a romance.
---
---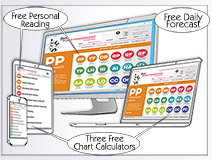 Get your Complete 1-Year Forecast + 12 Monthly Forecasts - 22 pages - available in our Primary Subscription: $19.00 (also includes your 40-Page Personal Numerology Profile)
Or get it in PDF format by email within 24 hours: $14.95 (does not include your Personal Numerology Profile)
---
There are other numbers that influence your life, such as your address and phone number. Learn more about the Numbers Around You here...
---
The Previous Month, your Personal Cycle for April was 7
April represents a pause for self-evaluation.
It is a time of light and shadow, a month of contrasting moods. You may alternate between light-hearted optimism and periods of doubt and even depression. The time requires you to look within. Meditate and contemplate your life. Such self-reflection will awaken deep feelings of gratitude for all the blessings bestowed upon you, including the greatest gift of all: your life itself.
During the first half of the month, you may feel the inner you begin to stir. Your dreams may be intense, graphic, and highly revealing. They are a source of insight if you care to listen. There is a sub-conscious attempt to communicate, not with others but with your deeper self.
Let career, finances, and romance all take a back seat during this important spiritual time. You will be quite safe.
If possible, take some time off.
At the very least, walk in the woods, sit at a lake, or otherwise bring yourself in close contact with nature. Keep a journal and write down your dreams, insights, and revelations. They will offer you insight into your life's direction.
---
Are you in a relationship or hoping for one? Check out your Monthly Relationship Forecast...
---