Your success in that role will directly affect your future. You may be disturbed by these new challenges because they emerge at a time when your workload is considerable. However, you are more sensitive and better able to discern the true basis of the conflict this month.
Your enhanced sensitivity also helps you in other areas of your life. Romance is strongly represented, but should be kept out of the work environment, which may not be an easy thing to do.
You may have the opportunity to go to a concert or some other musical event and because of your enhanced sensitivity, such events will prove very therapeutic. Pamper yourself in healthful ways, such as massage, a new exercise, and dietary regime, or some time near the ocean, in the mountains, in the forest.
Ω
Scroll down for more free and personal insights!
---
2020 NUMEROLOGY FORECAST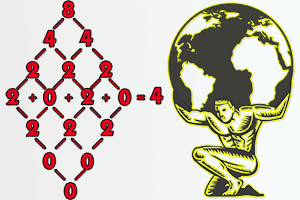 The Year Atlas Stumbled
The forecast for 2020 promises great turmoil, but also hope from unexpected sources.
Published late 2019, the amazing insight and accuracy of Hans Decoz global forecast has surprised many.