You will receive a letter or phone call from someone close to you whom you haven't heard from in some time.
This month should be light and playful. Try not to take things too seriously. The down-side of this combination (5 and 3) is in the area of relationships. You may tend to misread others, to be a little insensitive and short on tact. Avoid confrontations in personal matters as well as those related to work. As long as you are upbeat and supportive, friendship and social events are favorable.
As was the case with February of this year, November may also find you in the mood to indulge yourself. Moderation may be hard to maintain, but it's still the best advice.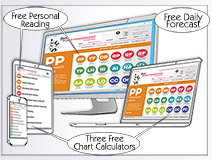 Get your Complete 1-Year Forecast + 12 Monthly Forecasts - 22 pages - available in our Primary Subscription: $19.00 (also includes your 40-Page Personal Numerology Profile)
Or get it in PDF format by email within 24 hours: $14.95 (does not include your Personal Numerology Profile)
There are other numbers that influence your life, such as your address and phone number. Learn more about the Numbers Around You here...
The Previous Month, your Personal Cycle for October was 4
October requires you to be practical and disciplined in all matters.
It brings opportunity as well as limitations. Career is a high priority, and you will find yourself putting in overtime. Details will need to be taken care off.
There is very little room for slacking, and everyone may be making demands of you. You may feel frustrated and need to blow off steam.
On the other hand, there is also much opportunity implicit in these demands, and you will be pleasantly surprised with the rewards that come your way late in the month. You'll have to respond quickly. You may feel that you are not ready to take on the new challenge that comes with this opportunity, but if you overcome this temporary lack of confidence you will be well rewarded.
This month is demanding in domestic affairs, as well. There is an ongoing need to watch finances carefully, make decisions concerning your budget, and plan for the future. If you have not been keeping a close eye on your checkbook, This month will force you to balance your account and make up for haphazard expenditures of the past.
There's not a whole lot of time for romance this month, but when you can find the time, your partner's love brings perspective and rejuvenation.
Are you in a relationship or hoping for one? Check out your Monthly Relationship Forecast...