May leads to powerful self-discoveries and intuitive perceptions.
It is a highly spiritual time, causing you to withdraw from the hustle and bustle of daily life. Your focus is inward. You find yourself contemplating the mystery of your existence, your purpose in life, and your direction. You find yourself taking time off to read or meditate. It's an excellent time to take a vacation, but you may want to avoid group activities.
Social demands will make you irritable and out of sorts. Be with yourself or enjoy meaningful discussions with someone close to you. In this way, you may deepen your marriage or romantic relationship.
It is a time for wisdom and insights, even premonitions and revelations that have little to do with intellectual effort but are the result of heightened awareness and a free-flowing channel between your sub-conscious and your conscious. Be particularly alert to your dreams and the direction and insight they offer.
---
---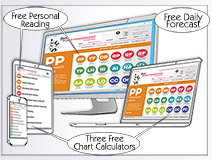 Get your Complete 1-Year Forecast + 12 Monthly Forecasts - 22 pages - available in our Primary Subscription: $19.00 (also includes your 40-Page Personal Numerology Profile)
Or get it in PDF format by email within 24 hours: $14.95 (does not include your Personal Numerology Profile)
---
There are other numbers that influence your life, such as your address and phone number. Learn more about the Numbers Around You here...
---
The Previous Month, your Personal Cycle for April was 6
Matters of the heart come to the foreground.
Romance is now at the top of your list of opportunities. On the other hand, the month brings instability to outdated relationships, and some may end. You become aware of the need to let go of certain people, although final good-byes may not occur until July or early August of this year.
Your family and friends need more attention.
You may find yourself playing the roles of mediator, comforter, and counselor. You'll be the one to offer the proverbial shoulder to cry on this month. A younger person, particularly, needs your love and attention.
There is an increase in your workload and responsibilities due to a promotion -- or one that may be in the offing. The change may well bring financial rewards. April is a good time for finances, particularly those related to real-estate.
---
---
Are you in a relationship or hoping for one? Check out your Monthly Relationship Forecast...
---