You are laying a foundation for the future, proving to yourself and others that you are worthy of the responsibilities and challenges you have taken on.
Your energy is strong and focused. You can concentrate even when work becomes routine and boring. You are in a crucial stage in your life, but you've got the energy and a take-no-prisoners attitude that will lead you to success. The best way to balance such determination is to get in touch with nature: take a walk in the woods; sit at the edge of the lake; feel the earth and your connection with it.
If you have recently become involved in a romance, this month will bring commitment and stability to the relationship.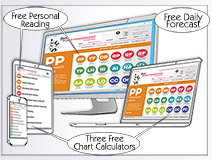 Get your Complete 1-Year Forecast + 12 Monthly Forecasts - 22 pages - available in our Primary Subscription: $19.00 (also includes your 40-Page Personal Numerology Profile)
Or get it in PDF format by email within 24 hours: $14.95 (does not include your Personal Numerology Profile)
There are other numbers that influence your life, such as your address and phone number. Learn more about the Numbers Around You here...
The Previous Month, your Personal Cycle for October was 3
You need a break; if possible, take some time off to recharge your batteries.
You need sunshine, relaxation, fun, and laughter with friends.
The only career aspects favorably highlighted are those related to creativity, and inspiring and motivating those with whom you work. It's a good time to express the thoughts and ideas that you've been thinking about for the past several months. You can make a favorable impression on superiors, even with ideas that are a little daring.
Avoid stress and working under pressure now. The next five months give you the strength to survive and even prosper under pressure but avoid stressful situations this month. Postpone important financial decisions if possible, unless they have to do with "fun projects", such as travel, exercise equipment, creative endeavors, and the like. A modest amount of gambling can be healthy and has a better chance of paying off this month than most other months.
Romance is light and playful. Again, postpone important decisions in the area of romance.
Are you in a relationship or hoping for one? Check out your Monthly Relationship Forecast...