March brings some relief from last months' frustrating efforts to persuade others and to keep track of the details.
This month will be hectic with some unexpected changes. Don't try to plan everything down to its final detail. Instead, be flexible and adapt to whatever comes your way. The expression "being in the flow", is instructive for most of this month, and you will be astonished by coincidences in which timing is crucial. Don't make financially risky decisions, especially involving business. Checking and double-check all your facts before going forward with your plans. Be skeptical! However, your ability to promote yourself, your plans, or a product is enhanced.
There will be many social events and opportunities.
Take advantage of them. The chances of meeting new people who can support you in your endeavors are especially good. A letter or phone call from someone you haven't heard from in a long time may surprise you.
It's high noon for romance but be warned.
You may not be as discriminating and cautious as you should be. Allow your rational mind to take a critical look at flattering admirer(s).
---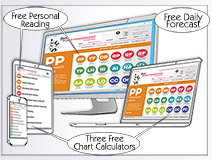 Get your Complete 1-Year Forecast + 12 Monthly Forecasts - 22 pages - available in our Primary Subscription: $19.00 (also includes your 40-Page Personal Numerology Profile)
Or get it in PDF format by email within 24 hours: $14.95 (does not include your Personal Numerology Profile)
---
The Previous Month, your Personal Cycle for February was 4
You realize early this month that progress depends on your willingness to work diligently and remain focused on details.
You feel capable and confident, but as your effort increases -- and the hours pile up -- you may become frustrated with the slow response of others. Keep your nose to the grindstone, and if necessary put in overtime. Don't try to dodge the bullet; bite down on it and keep going. Meanwhile, be willing to cooperate, listen to others, and tactfully communicate your convictions, as well as your doubts.
February is an excellent month to improve your financial position, particularly through better management. Due to consistent and patient effort, a raise or profitable business deal is in the cards.
Relationships tend to be a little shaky for most of this month.
You may be somewhat irritable and lack patience as a result of stress and emotional turmoil in your work-environment.
Maintaining a well-ordered environment and avoiding procrastination will help you bypass much emotional stress.