This is a testing period for relationships in all areas of your life. The 9 and 2 combination -- diplomatic, sensitive, and service oriented numbers -- advises that you avoid confrontations. Work with issues quietly and patiently.
At the same time, it is an excellent period to look inward and acknowledge your needs and desires. Let go of all that you have outgrown, including people, situations, material objects -- anything that you have out-grown. This month is your opportunity to avoid becoming an emotional and material packrat.
July is a time to empty your cup and make room for new gifts coming your way. It is a transition period. You will likely experience deep emotions, even nostalgia, and melancholy. At times, you may feel exhausted. Such feelings are not altogether unpleasant. There is a cleansing and healing taking place at a very deep and personal level.
You are not entirely conscious of all that is happening, and consequently you may have difficultly expressing your feelings to others. You may sense that you do not fully understand yourself. Give it time and much will be revealed to you.
An opportunity to be involved in a good cause may present itself, and your sacrifice will help you achieve stability and inner strength.
This is a good time financially. Some payment may be received for something you'd forgotten, or for reasons you do not expect.
July is a month that requires balance: you are feeling emotional, but at the same time you must also focus on the needs of others. If you indulge too much in your feelings, especially self-pity, you will suffer more self-doubt than if you remain balanced between your needs and service to others.
---
---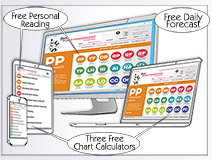 Get your Complete 1-Year Forecast + 12 Monthly Forecasts - 22 pages - available in our Primary Subscription: $19.00 (also includes your 40-Page Personal Numerology Profile)
Or get it in PDF format by email within 24 hours: $14.95 (does not include your Personal Numerology Profile)
---
There are other numbers that influence your life, such as your address and phone number. Learn more about the Numbers Around You here...
---
The Previous Month, your Personal Cycle for June was 8
June 2019 is an 8 Personal Month cycle for you, and ripe to reach out and receive some of the fruits of your labors.
It is a harvesting time, but the rewards are still dependent upon good relations with co-workers. Ask for a promotion, or a raise. Let those in the right positions know that you value the recognition and respect they bestow upon you.
You are in the right state of mind to deal with some tricky personality-clashes; solve communication problems; turn enemies into friends, and in many ways manipulate events through gentle persuasion. The numbers 2 and 8 allow you to handle sensitive issues with tact and diplomacy, as well as with authority and decisiveness. It is a good time for negotiations in every area of your life, personal as well as professional.
Romance is very favorable but can be spoiled by money issues. On the other hand, domestic affairs can be troublesome and can leave you feeling powerless unless you are willing to cooperate. Leave such issues alone for now. The domestic scene is better handled in July, when dealing with relatives is easier and goes more smoothly.
---
Are you in a relationship or hoping for one? Check out your Monthly Relationship Forecast...
---