It is not a time to be squeamish in any area of your life -- be it money, career or romance. You may experience an urge to write, paint, or express yourself in some other creative way. By all means, take on the challenge.
If you are not already involved you may meet someone, but the relationship, while intense and passionate, may not be a lasting one.
July is a month that will also bring opportunities to mingle with new acquaintances at social events. You will be outgoing and witty. These are great opportunities to make lasting contacts that will help your career and other endeavors.
Ω
Scroll down for more free and personal insights!
---
2020 NUMEROLOGY FORECAST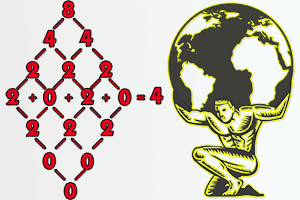 The Year Atlas Stumbled
The forecast for 2020 promises great turmoil, but also hope from unexpected sources.
Published late 2019, the amazing insight and accuracy of Hans Decoz global forecast has surprised many.