For professional gamblers, this can be a very profitable period, but for those of us who live according to the simpler laws of effort and reward, this is a month to stay with the tried and true.
All affairs related to money should be handled with the utmost care. But let me be clear: This month is a rewarding time, and your chances that events will take a positive turn are great. If you are wise and cautious, you may increase your bank balance considerably.
Nine-out-of-ten people in this combination -- 8 Month, 1 Year -- increase the strength of their financial positions.
This month also brings out strong emotions in personal relationships, both positive and negative.
While a 1 and 8 combination, through the usual cycles of effort and reward, cause and effect, and good old-fashioned Karma, tends to increase stability and strengthen the positions of most people (not so if Karma is working against you), it has an almost opposite effect in the area of feelings.
It shakes things up, calls out the white elephant in the room, and otherwise rocks the boat. The advice is to be open, tolerant, forgiving, and to refrain from judging -- lest you be judged.
If you are not yet romantically involved, this month may introduce you to someone special through work or business. New friendships and business partnerships are also common under this number sequence.
Ω
Scroll down for more free and personal insights!
---
2020 NUMEROLOGY FORECAST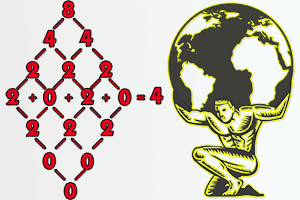 The Year Atlas Stumbled
The forecast for 2020 promises great turmoil, but also hope from unexpected sources.
Published late 2019, the amazing insight and accuracy of Hans Decoz global forecast has surprised many.