May brings many changes and ideas that start you in a different direction.
You are restless and impatient. Your energy is scattered but you are ready to make a big step forward. A move of residence or a travel will bring inspiration.
You are at an important stage in your life where you feel a bit in limbo, but you also know that a change for the better is imminent. You feel excited and confused at the same time. You do not really understand what is going on, and the motivations that have guided you for many years now seem outdated. You question your underlying values and desires. You feel a loss of direction. Your best approach is to wait things out. Do not start any new endeavors unless you are very sure you will follow through on them.
Social events are highly favorable. You need to be around people. You need to be loose and enjoy yourself. As I mentioned earlier, you are going through enormous changes this year and next year, and for that reason, interaction with others is therapeutic. It helps you deal with the turbulence that takes place inside.
This month brings much progress and a new beginning. This 9 Personal Year has been a year of letting go, next year is a time of renewal, almost rebirth.
---
---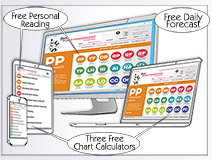 Get your Complete 1-Year Forecast + 12 Monthly Forecasts - 22 pages - available in our Primary Subscription: $19.00 (also includes your 40-Page Personal Numerology Profile)
Or get it in PDF format by email within 24 hours: $14.95 (does not include your Personal Numerology Profile)
---
There are other numbers that influence your life, such as your address and phone number. Learn more about the Numbers Around You here...
---
The Previous Month, your Personal Cycle for April was 4
April requires hard work, an eye for details, and dependability.
Your career is a top priority and requires much of your attention. This is a difficult month with frustrations and a sense of urgency. Perseverance is the key.
There is another feeling that starts moving to the foreground. You feel a little tired, ready to surrender. Your energy level is lower than usual and this makes it harder to keep up with your duties and responsibilities.
However, this is not a good time to slow down.
It is a time that can bring opportunity and an unexpected insight into a new direction in life. You are at a point in your life when you feel that you have been stagnant. Change is needed.
This month will bring some practical insight and ideas as to how this change can be accomplished. This is a good time for business ventures and investment. It's also a good time to work on the house and garden.
Romance is understated, but emotional stability is hard to maintain. Don't make many any big changes or decisions in the emotional realm for now.
---
Are you in a relationship or hoping for one? Check out your Monthly Relationship Forecast...
---