However, there is also a less fortunate side to this double 1 cycle in the form of lacking patience, irritability, and in some people even moments of violence and aggression.
The energy you experience when the 1 dominates to this extent is bundled, like a flashlight as opposed to an omni-directional light. For that reason, many things seem amplified. It is important that you maintain control and keep a close eye on your attitude. Even the gentlest among us tend to be rude or angry a few times under this influence.
Ω
Relationship issues should be avoided.
As you may have guessed, you are not in the best mood to deal with other people's emotions.
September is a good time to bring about practical changes that you have long contemplated as essential to your health and happiness. This combination inspires smokers to quit, others to modify their diets or start an exercise routine. You are able to muster up great willpower, so take advantage of that.
Direct this month' energy towards your career or your business. Use that drive and ambition to make progress. But leave that kind of energy at your office, don't take it home with you.
Ω
Scroll down for more free and personal insights!
---
2020 GLOBAL NUMEROLOGY FORECAST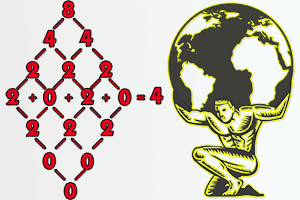 The Year Atlas Stumbled
The forecast for 2020 promises great turmoil, but also hope from unexpected sources.
Published late 2019, the amazing insight and accuracy of Hans Decoz global forecast has surprised many.