You are making progress in hidden ways. You feel insecure about the future, but you rightly know that these changes must be made. There is a lot of adjusting that must be done, not only for you, but also for the people close to you.
More than at any other time this year, you let go of the old and prepare for the new. This takes place in every area of your life; spiritual, emotional, and material. However, this is not a month to make impulsive decisions and starting anything new should be postponed until very late this month or next month.
A disappointment in romance is possible but will clear the air for future engagements.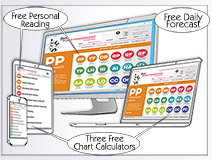 Get your Complete 1-Year Forecast + 12 Monthly Forecasts - 22 pages - available in our Primary Subscription: $19.00 (also includes your 40-Page Personal Numerology Profile)
Or get it in PDF format by email within 24 hours: $14.95 (does not include your Personal Numerology Profile)
There are other numbers that influence your life, such as your address and phone number. Learn more about the Numbers Around You here...
The Previous Month, your Personal Cycle for August was 8
August brings financial matters to the foreground.
Take a close look at your financial situation and adjust your lifestyle accordingly. Pay off debts. Tie up loose ends. Clean up this area of your life.
Often, an 8 Personal Month, 9 Personal Year brings a stroke of luck; a payment from a forgotten source, or an inheritance. Use any extra income you might have to pay off your debts. You are facing a future that requires some risk taking, or investment. Perhaps you have been thinking about a complete career change or starting your own business. Either way, you need to get a clean slate before the end of the year.
You also receive recognition and compliments for effort put out in the past, which may result in a promotion.
Romance is in better shape than the last two months. If you are committed to someone and have experienced some troubles in the relationship, you will find stability and comfort this month. If you are single, you may meet someone through work or business.
Are you in a relationship or hoping for one? Check out your Monthly Relationship Forecast...