You are moodier than usual and don't seem to be able to get things started. You are extremely sensitive and take the opinions of others more serious than usual. This is a time to take things slowly, to spend time in self-reflection and contemplation, to find strength and stability in yourself instead of in the circumstances around you.
Your relationship to the people close to you improves and a lot of healing takes place there. Romance also is highly favorable, particularly if you do not try to make the impression that you are stronger than you really are.
You are more susceptible to illness and would do well to refrain from alcohol or anything else that weakens your system.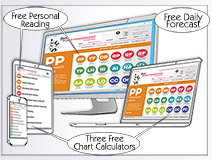 Get your Complete 1-Year Forecast + 12 Monthly Forecasts - 22 pages - available in our Primary Subscription: $19.00 (also includes your 40-Page Personal Numerology Profile)
Or get it in PDF format by email within 24 hours: $14.95 (does not include your Personal Numerology Profile)
There are other numbers that influence your life, such as your address and phone number. Learn more about the Numbers Around You here...
The Previous Month, your Personal Cycle for October was 1
October is a month of new beginnings, new people, and renewed energy.
While most of this year feels like the end of a long day of hard work, with low energy and a desire to put your feet up, October feels like you just had cup of coffee.
You are ready to get started, to roll up your sleeves and tackle whatever project is in front of you. This is a time to aggressively pursue the plans you have made in the past. It is a time to act, not to dream or question. Take a chance. Show courage.
This is also a time that requires independence and self-confidence. Don't let the cautious words of others slow you down.
There is some danger connected to financial wheeling and dealings.
Be very careful who you trust with your money. Friendships are renewed. You may also meet someone you haven't heard from in some time and this person will play a role in your plans for the future.
Romance is favored, particularly if you are single. You may meet someone who becomes a permanent fixture in your life.
Are you in a relationship or hoping for one? Check out your Monthly Relationship Forecast...