Your fear is based on your indecision and inability to know if what you want to do is right. Your excitement comes from the knowledge that at least something is happening. In this situation, the key is to choose what feels right. Rely on your heart and your intuition and have faith in yourself and your Creator.
Your career and finances are not priorities, except when they relate to plans you may have for the future. This is a time to prepare for the long-term, not to reach for immediate rewards.
---
---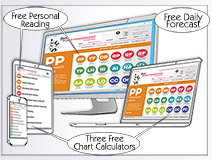 Get your Complete 1-Year Forecast + 12 Monthly Forecasts - 22 pages - available in our Primary Subscription: $19.00 (also includes your 40-Page Personal Numerology Profile)
Or get it in PDF format by email within 24 hours: $14.95 (does not include your Personal Numerology Profile)
---
There are other numbers that influence your life, such as your address and phone number. Learn more about the Numbers Around You here...
---
The Previous Month, your Personal Cycle for June was 6
June 2019 brings stability, strength, and understanding of yourself and the many roles you play in this life.
Some relationships may undergo a test this month. This whole year is a time of letting go of certain people, behaviors, and roles that you have outgrown. June is particularly important in sorting out your feelings for others. Relatives and friends seek your company, but you may respond with aloofness and indifference.
An important challenge this month is to be honest and open in your relationships. You may tend to bottle-up your feelings.
This is a good time for career and finances, even if you feel a lack of interest for these matters. Romantic relationships are particularly fragile right now. However, if your love-relationship survives this period, you know that it is based on true substance. It will be stronger and lasting.
---
Are you in a relationship or hoping for one? Check out your Monthly Relationship Forecast...
---