Whenever the number 3 takes center stage, it lightens things up considerably.
You are not nearly as vulnerable as last month. You are more playful. You express yourself easily and you manage to inspire and motivate others. You receive some positive information about your career and your financial status.
Meanwhile, you are considering some big changes in these areas of your life. You may want to keep your thoughts to yourself or share them only with one or two of your most trusted confidants. You are not ready to make decisions or take steps that are irreversible, but that time will come soon.
This is an exciting time, when everything seems more intense, more alive. You are more creative and communicative.
You should take the time to enjoy yourself.
Go on a vacation. Visit friends. Be social. Give yourself a break. Romance is favorable, but you have to guard against irresponsible and superficial behavior.
---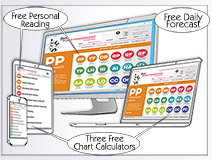 Get your Complete 1-Year Forecast + 12 Monthly Forecasts - 22 pages - available in our Primary Subscription: $19.00 (also includes your 40-Page Personal Numerology Profile)
Or get it in PDF format by email within 24 hours: $14.95 (does not include your Personal Numerology Profile)
---
The Previous Month, your Personal Cycle for February was 2
February awakens you to many of the underlying factors that influence your career and personal life.
You are highly intuitive; you experience strange and vivid dreams; and you gain insights that border on psychic premonitions. At the same time, you continue to be vulnerable in the emotional area. Any kind of criticism can devastate you. You should avoid confrontations. You are in a position where you can gain considerable understanding of the motivations and desires that influence you, as well as others.
This is an important and valuable time.
You are learning much about the true nature of human beings, including yourself. The challenge here is to see yourself and others in a spiritual light, with love and forgiveness.
Some people who go through this particular cycle experience bitterness and anger. For others, this cycle brings faith and gratitude. For everyone, the impressions are lasting.
Romance is powerful.
You see and hear and feel more fully than usual, which brings an added intensity to the experience of love.