Your authority is needed, and you will have to apply yourself one hundred percent. However, there is another side to this month. You may feel that you have reached the pinnacle of your career, or that work and other areas of your life have become dull and monotonous. You may feel you need a break. You are approaching a time of deep inner change. Several times during your life you have reached a point at which you need to break out of a cocoon. All evolution is gradual, but periodically interrupted by sudden bursts of growth, or change.
You are at a stage in your life when you feel ready for such a change. However, you are not clear about the true nature of this change and, while you may feel inspired to force some practical changes now, you should approach this with care. Avoid impulsive decisions as well as any contractual arrangement that would tie you down for a long time. You need to rely on your own strength and feel confident that you have a certain amount of control over your own future. You should relax and let things develop at their own pace. Social events are highly favorable and there will be ample opportunity for that.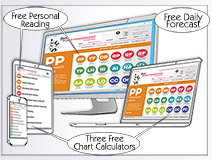 Get your Complete 1-Year Forecast + 12 Monthly Forecasts - 22 pages - available in our Primary Subscription: $19.00 (also includes your 40-Page Personal Numerology Profile)
Or get it in PDF format by email within 24 hours: $14.95 (does not include your Personal Numerology Profile)
There are other numbers that influence your life, such as your address and phone number. Learn more about the Numbers Around You here...
The Previous Month, your Personal Cycle for August was 7
The emphasis changes from outgoing to inward seeking.
You are more serious now and self-reflective. You question the wisdom of some of your decisions and choices made during the past ten to twelve months.
You keep to yourself and are generally less social. You are engrossed in your work and feel a need to do a better job.
Your desire for perfectionism is strongly enhanced, which results in self-criticism and impatience with others. At the root of this change in attitude is a spiritual need for clarity and understanding. You want more security, both internally, as well as in your worldlier roles. You would do well spending some time alone for contemplation and meditation. In this respect, August stands out during this otherwise "material" year.
Family and friends take a backseat during this period.
There are strong feelings connected to your relationships with your loved ones, but these are experienced and expressed more subtly.
Romance becomes more serious. You share mental, spiritual, and emotional experiences on the deepest level. There is no room for superficial exchanges. Your relationship with the person you are attracted to intensifies and becomes stronger as a result.
Are you in a relationship or hoping for one? Check out your Monthly Relationship Forecast...