May is a time of hard work, progress, and opportunity.
As with most of this year, the focus in May is on career and finances. There may well be a great opportunity that comes your way. This opportunity offers all kinds of changes, such as a move of residence (either in June, or in or around November), a change of employer, or a promotion.
The early part of May can be frustrating due to the need to involve yourself with routine affairs and details. You have some catching up to do. You may feel restless and bored. However, later this month brings the opportunity you have been waiting for. You are more organized and manage your time well. You are dependable and anxious to take care of some long-postponed chores. You may decide to start a remodeling project on your house. Your relationships are more harmonious.
If you are involved in a long-term love relationship, you will find that comfort and security replace some old doubts.
---
---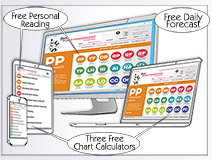 Get your Complete 1-Year Forecast + 12 Monthly Forecasts - 22 pages - available in our Primary Subscription: $19.00 (also includes your 40-Page Personal Numerology Profile)
Or get it in PDF format by email within 24 hours: $14.95 (does not include your Personal Numerology Profile)
---
There are other numbers that influence your life, such as your address and phone number. Learn more about the Numbers Around You here...
---
The Previous Month, your Personal Cycle for April was 3
The events of this month inspire creativity and optimism, as well as a need for flexibility and adaptability.
Sometimes, the early part of an 8 Personal Year brings financial challenges and problems. If this is the case, April is the most challenging time of the year. It is a testing time that forces you to confront your lifestyle and your priorities. With the right adjustments, you can put yourself on sounder financial ground. The month also encourages a certain detachment from trying to control financial matters too much. Once you stop controlling matters too much, your spiritual understanding of life really pays off in a practical and applicable way.
Last year's opportunities to contemplate and search for insight -- which may have seemed unproductive at times -- now prove to be your best defense on the battle ground of material progress.
You are being forced to achieve a balance between the spiritual and the material, especially this month. In any case, April will reveal to you how capable you are of doing that. Be generous but don't waste money. Focus on getting things done, but don't let financial reward be your only motivation. Introduce creativity and a playful attitude to the job at hand. And most important; don't let temporary setbacks ruin your ambition.
This is a time to reach out, not to suppress.
Romance and relationships continue to be favorable. Social events bring new people. Your self-expression and sense of humor improve, and it is easy to make new friends during this time.
---
Are you in a relationship or hoping for one? Check out your Monthly Relationship Forecast...
---