Family affairs, friendships, and romance also move to the foreground and are rewarding and healing. You will be asked to sacrifice some of your time and energy to a younger person or someone who is old or sick. You feel closer to the people around you and you want to be there for them.
Somewhat contradicting to this show of warmth and affection is the lack of tact and sensitivity you may display a number of times during this month. You may be too intent on forcing people to see life as you do, rather than allowing them their own perspectives and their own rates of growth.
The later part of this month brings changes that arise from a chance meeting at a social event. This change may be based on a romantic encounter and may affect your living situation.
An unexpected travel is also a possibility.
---
---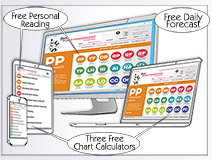 Get your Complete 1-Year Forecast + 12 Monthly Forecasts - 22 pages - available in our Primary Subscription: $19.00 (also includes your 40-Page Personal Numerology Profile)
Or get it in PDF format by email within 24 hours: $14.95 (does not include your Personal Numerology Profile)
---
There are other numbers that influence your life, such as your address and phone number. Learn more about the Numbers Around You here...
---
The Previous Month, your Personal Cycle for June was 5
June 2019 brings changes and unexpected events.
There isn't much use in planning too much this month, because much will happen unexpectedly. This is a hectic and dynamic month. Go with the flow; be flexible; and trust your instinct. If you are able to adapt to the unpredictable events of this month, your experience will be exciting and adventurous, and quite possibly profitable. However, if you insist stubbornly to stick to your plans and expectations, you will be disappointed.
You are in a position to show your special talents and abilities to people who can be influential in your career. You are able to think on your feet and your reflexes are sharp. This time is particularly good for those who are in retail, real estate, or some other business that's based on sales and closing deals. Financial gains are often considerable.
Travel is possible and favorable.
This is also a good time to move or change your environment in some way. Romance is very exciting and, if you are single, you will have to hide out to keep from meeting someone. People gravitate to you and are more than usually attracted to you.
---
Are you in a relationship or hoping for one? Check out your Monthly Relationship Forecast...
---