You feel that there is nothing you can't deal with. You are ambitious and result-oriented. You receive an opportunity that will have long-ranging effects on your life. You are confident, but also a bit stubborn and hardheaded. You are direct and not as sensitive to other people's feelings as usual.
This is a good time for business and finances.
It is a time to be decisive and adventurous, not a time to be conservative. Courage and originality are key ingredients needed to take full advantage of this cycle. You are more stable and outgoing in your personal life, much to the delight of friends and relatives. You are also generous and inspiring, but not in the mood to deal with the petty stuff. You are a little impatient.
Romance may prove to be the most challenging aspect of this period. The chances of meeting someone is good, but your approach may be too aggressive and lacking in sensitivity. If you are married, or otherwise committed, a small warning: not everyone is on the high curve of his/her cycle, so be patient.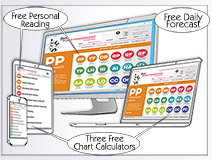 Get your Complete 1-Year Forecast + 12 Monthly Forecasts - 22 pages - available in our Primary Subscription: $19.00 (also includes your 40-Page Personal Numerology Profile)
Or get it in PDF format by email within 24 hours: $14.95 (does not include your Personal Numerology Profile)
There are other numbers that influence your life, such as your address and phone number. Learn more about the Numbers Around You here...
The Previous Month, your Personal Cycle for October was 9
October marks the beginning of the end of a certain era in your life.
Now you begin to let go of certain expectations you have long held. There is a feeling of emptiness and of "what now?"
The time has not yet come to respond to these feelings in a practical way. Now is the time to begin to become comfortable with the need to change. The changes contemplated involve both personal and professional life.
For these reasons, October could become an emotional time. Some melodrama and role playing are actually a subconscious way for you to test the people around you, and the depth of their commitment. You are also testing your own position towards people, career, environment, spiritual beliefs, and other aspects of your life. You have, even if you are not aware of it, already begun the process of selecting what you want to remain in your life and what you want to discard.
This process, which continues through different stages over the next 2 years, is natural and nothing to be afraid of. You are entering a period of reawakening. This means a letting go of some of the comfort and security that surrounded and protected you for many years.
Start giving some of your energy to a good cause that benefits others. Ultimately, it will benefit you. It takes the spotlight of your doubts and questions and gives you strength and confidence.
For October, practical matters can be handled with ease.
It is much better to pay off debts than to incur new ones. Completion is favored over new starts. It is a time to tie up loose ends, not so much to begin new projects. It is a time to clean up and prepare for new things coming into your life.
You are not in the right mood to pay much attention to romance or personal relationships of any kind, unless it's to test the strength of the relationship. You may be a little judgmental and self-righteous and will need to guard yourself against this sort of thing.
Are you in a relationship or hoping for one? Check out your Monthly Relationship Forecast...