Humility and cooperation are key to making the best of this cycle.
March demonstrates how you can sometimes make more progress and be more successful by staying in the background than by forcing the issue. March gives you ample opportunity to influence others, to make them listen to your ideas, even to inspire them to do things your way. You are tactful and sensitive, yet also driven and motivated. You find better ways to handle challenging situations.
Later this month, you gain respect and recognition and will find yourself taking on a leadership role.
Your authority is impressive because you balance force and strength with diplomacy and tact. Romance is favorable and, if you are single, you may meet someone through work or a business meeting who will touch your heart.
---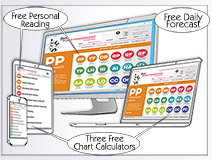 Get your Complete 1-Year Forecast + 12 Monthly Forecasts - 22 pages - available in our Primary Subscription: $19.00 (also includes your 40-Page Personal Numerology Profile)
Or get it in PDF format by email within 24 hours: $14.95 (does not include your Personal Numerology Profile)
---
The Previous Month, your Personal Cycle for February was 1
This February things begin to speed up.
Unlike last month, you now feel full of energy and enthusiasm. In fact, you're impatient to start new projects, and must guard against impulsive decisions. Your career and financial affairs are the areas of your life that require the most attention. There are great opportunities as well as potential dangers. This is the year marked by opposites: times when everything seems to go your way, and other times when it seems the rug has been pulled out from under you. February gives the first indication of what this year will bring but, more important, it challenges you to put your best foot forward, to show what you are made of.
The month may begin with a challenge.
You may have to confront one of your biggest fears, which is followed by an opportunity to put that fear to rest once and for all. Courage, determination, and inner strength are the needed ingredients that will make this a successful month and a profitable year. The year can be characterized by the old carrot-and-stick metaphor: February reveals the carrot -- the prize you can obtain -- but it also shows the pitfalls and dangers; in short, the stick.
Relationships are favorable in all areas of your life.
Co-workers show support, friends tell you how much they admire you, relatives make it clear they have confidence in you, and your lover makes you feel you deserve the best.