Your fear is based on your indecision and inability to know if what you want to do is right.
Your excitement comes from the knowledge that at least something is happening. In this situation, the key is to choose what feels right. Rely on your heart and your intuition and have faith in yourself and your Creator.
Your career and finances are not priorities, except when they relate to plans you may have for the future. This is a time to prepare for the long-term, not to reach for immediate rewards.
Ω
Scroll down for more free and personal insights!
---
2020 NUMEROLOGY FORECAST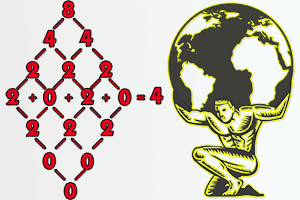 The Year Atlas Stumbled
The forecast for 2020 promises great turmoil, but also hope from unexpected sources.
Published late 2019, the amazing insight and accuracy of Hans Decoz global forecast has surprised many.