This includes old habits, ideas and concepts that you have recognized as no longer valid, perhaps even projects you have lost interest in, and relationships you have outgrown. It is the latter that may be accompanied with a quite a bit of emotional turmoil.
However, with relationships as well as any other aspect of your life you are ready to let go off, the result is that you make room for the new. Within the context of this two-year transformation mentioned in your yearly forecast as well as your January monthly forecast, August stands out as a kind finality.
By now, you should have a pretty good sense of how and where you changed. However, you should be prepared for some moments of nostalgia and perhaps regret, these are the usual emotions that are part of the cycle of tossing out the old and inviting in the new.
There will be unexplainable emotional upsets, melancholy, and such, but they are essentially the remnants of the old you. Share those feelings with someone close to you. Take comfort in heart-to-heart talks. Still, do not doubt that you now have both feet firmly planted in the new 9-year cycle. You are ready to move ahead.
If your love relationship is fairly recent, or still fragile, this month will likely reveal whether it is of true substance and endurance. Let go of whatever wants to be free; hold on to what wants to stay. And look to a brighter future.
Ω
Scroll down for more free personal insights!
---
The World Numerology App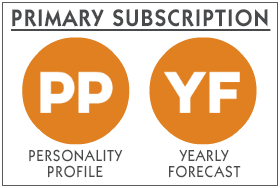 30/35 page Personality Profile + 20/25 page Yearly/Monthly Forecast: $19
---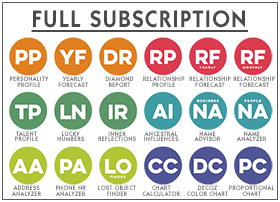 All 18 Readings (Incl. Personality Profile + Yearly/Monthly Forecast): $39
Get $10 off - use promo code TENOFF - pay only $29
Note: iTunes does not use promo codes. If you are using iPhone or iPad, click here to purchase at a discount. All other devices, upgrade through the app.
18 Personal Numerology Readings and Charts in one app: $29 (a $300 value if purchased individually!)
---
2021 GLOBAL NUMEROLOGY FORECAST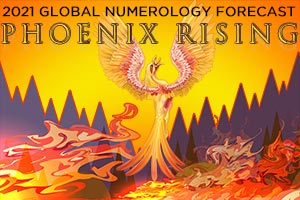 Phoenix Rising
The year 2020 will go down in history as one of the most chaotic and troubled since WWII. The coming year, 2021, stands out equally intense, but for different reasons.
---
Your 2021/2022 Yearly-Monthly Forecast is included in both App Subscriptions, or get the Forecast in PDF for $19.95