Someone in your circle of friends and relatives needs help. Usually, this is a younger person who has not yet found stability or purpose in life.
This month may well bring an excellent opportunity in your own career. Focus on legal affairs. Discipline and effort are the key-words for this month.
Romance takes a more serious turn. Expectations are expressed, and commitments made.
---
---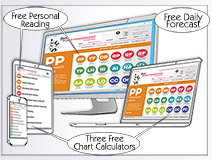 Get your Complete 1-Year Forecast + 12 Monthly Forecasts - 22 pages - available in our Primary Subscription: $19.00 (also includes your 40-Page Personal Numerology Profile)
Or get it in PDF format by email within 24 hours: $14.95 (does not include your Personal Numerology Profile)
---
There are other numbers that influence your life, such as your address and phone number. Learn more about the Numbers Around You here...
---
The Previous Month, your Personal Cycle for June was 3
June is an excellent time to give yourself a break.
Take some time off. Enjoy yourself. Don't be too serious. This is a time of enhanced creativity and originality. Become involved in playful activities. Participate in social events. You will meet new people who offer a welcome change to the routine aspects of your life.
Your career may seem unpredictable now but will be much better next month. "Luck" in financial affairs is likely now. Romance is also favorable.
The emphasize of this month is on fun and leisure. Enjoy.
---
Are you in a relationship or hoping for one? Check out your Monthly Relationship Forecast...
---