You will, and should be, concerned less with your own financial affairs, than with those involving others. Be selfless and generous in all areas of your life. It is a time to forgive and heal. You are highly aware of your bond with the people you love, as well as with neighbors and co-workers.
Legal affairs you might be involved in come to the foreground.
Financially, September has the potential to be very good.
Romance is shaky. Choose your words well and follow up on promises. Don't forget birthdays.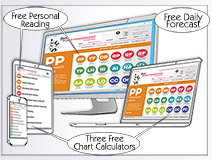 Get your Complete 1-Year Forecast + 12 Monthly Forecasts - 22 pages - available in our Primary Subscription: $19.00 (also includes your 40-Page Personal Numerology Profile)
Or get it in PDF format by email within 24 hours: $14.95 (does not include your Personal Numerology Profile)
There are other numbers that influence your life, such as your address and phone number. Learn more about the Numbers Around You here...
The Previous Month, your Personal Cycle for August was 5
August brings some changes in work and your personal life.
It is a dynamic time, and nothing goes according to plans. Play things by ear.
Your career progresses well as a result of your enhanced ability to find creative solutions. You make a good impression on some people who are in a position to reward you. There will, however, be a confrontation between you and a co-worker, with long-ranging affects. The outcome will depend on your personal strength and self-confidence.
If you are involved in business deals or legal affairs, some surprising changes may take place. In all areas of your life, flexibility and adaptability are important. Your friends and family require a lot of attention. Social gatherings are frequent and will bring new relationships into your life.
Traveling, perhaps across the ocean, is possible and favorable.
Romance is exciting. Be socially active. If you are single, you could meet someone who will be a permanent part of your life.
Are you in a relationship or hoping for one? Check out your Monthly Relationship Forecast...