A sudden phone call could put you on the plane the next day. Letters or phone calls could come from people you have not heard from in a long time.
Meanwhile, you feel scattered and restless and want to avoid the nitty gritty details of life. Go with the flow; answer demands as they come up and do not try to control the circumstances too much.
You are mentally sharp and quick to see the meaning of new information.
You are also creative and imaginative. This month releases your wilder side, especially when it comes to your social life and love relationship.
Within the context of this year's serious and spiritual overtones, July is by far the most dynamic month.
Be careful of too much self-indulgence and irresponsibility. Moderation, again, is the key.
Ω
Scroll down for more free and personal insights!
---
2020 NUMEROLOGY FORECAST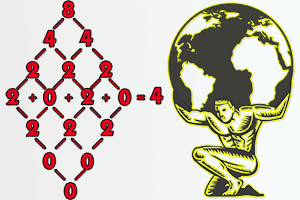 The Year Atlas Stumbled
The forecast for 2020 promises great turmoil, but also hope from unexpected sources.
Published late 2019, the amazing insight and accuracy of Hans Decoz global forecast has surprised many.