Whenever the 6 and 9 team up, it is often emotional because you may have to let go of someone close to you.
You experience relationships more deeply and feel greater warmth for others. You reach out for contact and substance. Other people will also be drawn to open up their hearts and minds to you. This reflects strongly in your relationship with family and friends, but also in the work-environment. People will come to you with their problems, seeking an understanding ear and a shoulder to cry on. You feel closer to your fellow man, and because of your attractive disposition you will receive much support from others.
Good news may come from your work that will boost your self-esteem.
Move slowly and carefully where romance is concerned, however, because you are not in a position to make long-range plans.
---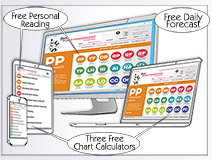 Get your Complete 1-Year Forecast + 12 Monthly Forecasts - 22 pages - available in our Primary Subscription: $19.00 (also includes your 40-Page Personal Numerology Profile)
Or get it in PDF format by email within 24 hours: $14.95 (does not include your Personal Numerology Profile)
---
The Previous Month, your Personal Cycle for February was 8
February may bring upheaval in family affairs or with friends.
The 8 carries a powerful balancing energy and much of that will be directed to your relationships. The truth will come out and you will have the opportunity to heal relationships that have been damaged by misconceptions. Real relationships will become stronger but superficial ones will break down.
Rewards and recognition in your career will also come to you this month. Often, the 8 Personal Month/6 Personal Year brings considerable progress and financial gain.
Romance is strongly represented.
You meet an attractive person, but the challenge here is to approach the situation with sensitivity and awareness. If you come on strong, you will blow the opportunity. Focus on sensitivity and avoid the temptation to be rude at all costs.