As always, when the 8 shows up in the chart, a certain amount of balancing takes place. Punishment and reward are both possible. If you have put out sincere effort, the reward will be there. However, for some people, an 8 month may bring bad news, after all, the 8 is balance, including the balance between effort and reward.
This is a good time to straighten out financial dealings you may have with friends or relatives as well. This is not a good time to go into debt. But it is a good time for love. Strong feelings and passionate exchanges on the emotional and physical level make this an exciting month.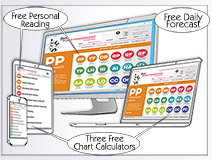 Get your Complete 1-Year Forecast + 12 Monthly Forecasts - 22 pages - available in our Primary Subscription: $19.00 (also includes your 40-Page Personal Numerology Profile)
Or get it in PDF format by email within 24 hours: $14.95 (does not include your Personal Numerology Profile)
There are other numbers that influence your life, such as your address and phone number. Learn more about the Numbers Around You here...
The Previous Month, your Personal Cycle for October was 7
Distance yourself somewhat from the affairs and troubles of other people.
During the course of this year you have been asked to help, counsel, and advise others many times. Now, give yourself a break.
Spend time alone for contemplation and meditation. Study and reading are also favorable. Your workload does not decrease but much of it is routine and allows you to mentally drift. Still, your mind is sharp, and you can easily concentrate when you want to.
Inner healing takes place. Old wounds may be reopened. There is some sadness and nostalgia, but the healing is real and needed. This is a time of spiritual growth. Postpone decisions regarding financial affairs, if possible, until next month.
Matters of the heart are also a low priority. You are not very clear this month and would rather not be bothered with it. Emphasize your personal well-being. Diet, exercise, and go for walks. Don't distract yourself from soul-searching by watching television or other mind-numbing practices.
In many ways, your experience of this month will set the tone and direction for next year.
Are you in a relationship or hoping for one? Check out your Monthly Relationship Forecast...