May focuses on harmony and diplomacy in all relationships, including the work-environment.
You are more sensitive and aware of the feelings of others than you were last month, and you will be called upon to use those abilities.
You will find yourself in the role of mediator/peacemaker in order to maintain harmony in the work place. Become a hard-nosed yet diplomatic negotiator. Find a balance between tact and sensitivity on one hand, and persistence and conviction on the other. You will be able to meet these challenges and will come through with flying colors. Financial rewards will come. Keep things organized and take care of details or else you may find yourself in chaos by the end of this month.
If you are involved in a legal tangle, and quite a few people in this stage of their Personal Rhythm Cycle are, you will gain some ground and find good reasons to be optimistic.
Romance is highly favored now, especially for new relationships.
---
---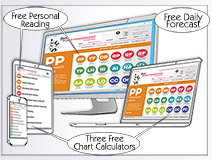 Get your Complete 1-Year Forecast + 12 Monthly Forecasts - 22 pages - available in our Primary Subscription: $19.00 (also includes your 40-Page Personal Numerology Profile)
Or get it in PDF format by email within 24 hours: $14.95 (does not include your Personal Numerology Profile)
---
There are other numbers that influence your life, such as your address and phone number. Learn more about the Numbers Around You here...
---
The Previous Month, your Personal Cycle for April was 1
This month brings new beginnings in several areas of your life.
You have more energy and are ready to implement some changes in your life. Display aggression in your career and it will progress nicely. Start new projects. Take a chance. A 6 Personal Year often brings considerable financial gain, particularly in or around the months of April (this month) or November.
This is also a time in which matters of the heart come to some kind of climax. Young lovers get married, married people re-commit, and troubled relationships either work it out or separate.
The month of April brings challenges in the area of communication.
Be careful what you say and how you say it so you don't stick your foot in your mouth. Actively pursue the things you want in your career, finances, and love-life. Romance is very positive now and more people find their soul-mate during this period than at any other time during the 9-year cycle.
---
Are you in a relationship or hoping for one? Check out your Monthly Relationship Forecast...
---