Dreams will be intense, and you won't be able to shake them when you wake up. You will find yourself staring into space more often than usual.
You are withdrawing and may experience some loneliness as a result. You are questioning a lot of things that you had been taking for granted. You think about your life and the direction it is taking. The mysteries of life and death (without being morbid) occupy your mind.
You are mentally sharp and flexible, and you easily keep up with any demands that come your way. Your career, finances, and other mundane aspects of your life occupy a relatively smaller place in your life, this month. Without avoiding your duties, you can let these areas take care of themselves until early next month.
Your friends and family are less demanding.
Romantic ties can be surprisingly strong, however. You have a real desire to share your innermost feelings with the person you are attracted to, revealing a side of yourself that has not been available in such intimacy before.
Ω
Scroll down for more free and personal insights!
---
2020 GLOBAL NUMEROLOGY FORECAST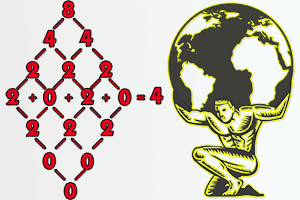 The Year Atlas Stumbled
The forecast for 2020 promises great turmoil, but also hope from unexpected sources.
Published late 2019, the amazing insight and accuracy of Hans Decoz global forecast has surprised many.