You are engrossed in your work and feel a need to do a better job. Your desire for perfectionism is strongly enhanced, which results in self-criticism and impatience with others.
At the root of this change in attitude is a spiritual need for clarity and understanding. You want more security, both internally, as well as in your worldlier roles. You would do well spending some time alone for contemplation and meditation. In this respect, August stands out during this otherwise "material" year.
Family and friends take a backseat during this period. There are strong feelings connected to your relationships with your loved ones, but these are experienced and expressed more subtly.
Romance becomes more serious.
You share mental, spiritual, and emotional experiences on the deepest level. There is no room for superficial exchanges. Your relationship with the person you are attracted to intensifies and becomes stronger as a result.
Ω
Scroll down for more free personal insights!
---
The World Numerology App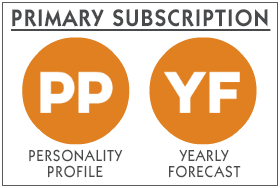 30/35 page Personality Profile + 20/25 page Yearly/Monthly Forecast: $19
---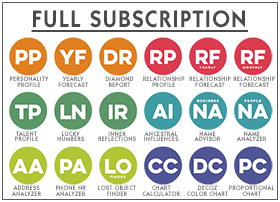 All 18 Readings (Incl. Personality Profile + Yearly/Monthly Forecast): $39
Get $10 off - use promo code TENOFF - pay only $29
Note: iTunes does not use promo codes. If you are using iPhone or iPad, click here to purchase at a discount. All other devices, upgrade through the app.
18 Personal Numerology Readings and Charts in one app: $29 (a $300 value if purchased individually!)
---
2021 GLOBAL NUMEROLOGY FORECAST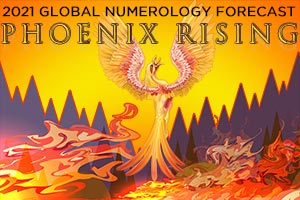 Phoenix Rising
The year 2020 will go down in history as one of the most chaotic and troubled since WWII. The coming year, 2021, stands out equally intense, but for different reasons.
---
Your 2021/2022 Yearly-Monthly Forecast is included in both App Subscriptions, or get the Forecast in PDF for $19.95