You may be disturbed by these new challenges because they emerge at a time when your workload is considerable. However, you are more sensitive and better able to discern the true basis of the conflict this month.
Your enhanced sensitivity also helps you in other areas of your life. Romance is strongly represented, but should be kept out of the work environment, which may not be an easy thing to do.
You may have the opportunity to go to a concert or some other musical event and because of your enhanced sensitivity, such events will prove very therapeutic. Pamper yourself in healthful ways, such as massage, a new exercise, and dietary regime, or some time near the ocean, in the mountains, in the forest.
---
---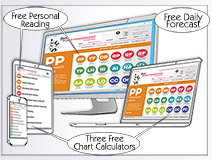 Get your Complete 1-Year Forecast + 12 Monthly Forecasts - 22 pages - available in our Primary Subscription: $19.00 (also includes your 40-Page Personal Numerology Profile)
Or get it in PDF format by email within 24 hours: $14.95 (does not include your Personal Numerology Profile)
---
There are other numbers that influence your life, such as your address and phone number. Learn more about the Numbers Around You here...
---
The Previous Month, your Personal Cycle for June was 1
June 2019 is a month of promise and opportunity.
June gives you a new start in some area of your life, perhaps career, or some new project or endeavor. Your energy-level increases, as does your excitement for your new direction.
This period requires courage and flexibility. You should also be more verbal: Express your thoughts and feelings; inspire and motivate others to follow your lead. You may have a difficult time relaxing or enjoying yourself outside working hours. But it's important that you do just that.
An attraction to someone at work may signal danger to you. Even if you are committed, this attraction will prove quite powerful. Be careful. It may damage your future in many ways, not least of which is your career. Consider postponing any action in this area.
---
Are you in a relationship or hoping for one? Check out your Monthly Relationship Forecast...
---