This month may introduce some emotional turmoil due to a relationship gone awry.
A friend or co-worker has let you down. Your trust has been damaged, and you realize that this is not just a temporary disappointment but the conclusion of the relationship. While you have reason to be angry, you should avoid self-righteousness. You may want to remember that you are not without fault. It allows the anger and disappointment to turn into understanding and forgiveness, even if the situation cannot be saved.
As a way of healing this type of wound, life may offer you the opportunity to become involved in a good cause. Sacrificing some of your time and energy will prove very rewarding and will deliver some benefits that are not immediately obvious.
Your health requires some special attention, particularly your digestive tract. Watch what you eat. Avoid excesses.
It is possible that your career is heading for a change of direction, which may be of some concern to you. Look to next month for some insight into that aspect of your life.
---
---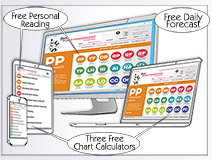 Get your Complete 1-Year Forecast + 12 Monthly Forecasts - 22 pages - available in our Primary Subscription: $19.00 (also includes your 40-Page Personal Numerology Profile)
Or get it in PDF format by email within 24 hours: $14.95 (does not include your Personal Numerology Profile)
---
There are other numbers that influence your life, such as your address and phone number. Learn more about the Numbers Around You here...
---
The Previous Month, your Personal Cycle for April was 8
April promises to be rewarding financially as well as in other areas of life.
There is a catch: It is essential to take care of details, to be reliable, and to keep things organized. If you allow yourself to get sloppy in any of these areas, the results could be disastrous.
Still, the combination of numbers (8 and 4) gives you ample support in all efforts at organization and management. Respect, recognition, financial reward come to those who are careful. Financial problems and struggle (some may even experience bankruptcy) come to those who are careless. The more you stay clear and focused, the higher the rewards will be.
Relationships that are not related to work are not a high priority this month.
Your attention should be given towards career and finances, as well as to people who play important roles in those areas of your life. The advice for this month is to get up early, put your nose to the grindstone, be organized, and don't hesitate to move yourself to the foreground in your work-environment. If you are due for a raise, ask for it. If a business associate is not fulfilling his/her duties, confront that person. If a payment is due, call it in.
---
Are you in a relationship or hoping for one? Check out your Monthly Relationship Forecast...
---