This is also a good time to promote yourself. If you have considered upgrading your resume or trying out for that new position you have been considering, now is the time to do it. A career change is also possible as a result of outside forces. You are more creative.
You feel somewhat restless and impulsive and are willing to take risks for the sole reason that you need a change. There is a tendency to be somewhat scattered and even a little irresponsible during this cycle.
Your domestic environment also becomes a source of restlessness and you may have to guard against irrational behavior from your side. At the same time, you reach out to old friends and relatives you have not been in touch with for some time.
Your emotional state is a little turbulent causing you to be moody.
Try to maintain equilibrium. This is a month to be somewhat detached from the events and circumstances surrounding your life. Don't take yourself too seriously, and, if possible, take some time off for a vacation. It's a good time to recharge your batteries.
Ω
Scroll down for more Free Personal Insights!
---
2020 NUMEROLOGY FORECAST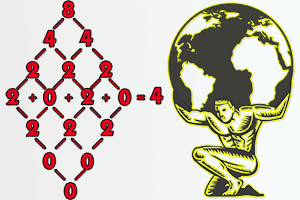 The Year Atlas Stumbled
The forecast for 2020 promises great turmoil, but also hope from unexpected sources.
Published late 2019, the amazing insight and accuracy of Hans Decoz global forecast has surprised many.