Financially, this could be a good month with an unexpected reward coming sometime during the last week. In many ways, this month brings blessings and can be very satisfying. Your workload is considerable but doesn't burden you as much as it did during other times of this year.
You have the energy and feel confident that you are now moving in the right direction. Feelings of insecurity and frustration that loomed so prominently during most of this year are disappearing. Your friends and family members display strong signs of loyalty and feelings are expressed more freely. One or more of your friends or relatives needs a boost and comes to you for help. You are happy with the opportunity to help out in a practical way as well as with moral support. You play the role of (m)patriarch.
The only troubling experience during this month will be the need to deal diplomatically and tactfully with a long-standing problem, perhaps with someone at work. A basic personality conflict has been the cause of friction between you and a co-worker and can no longer be ignored. Tension may come to a head, but there is an opportunity to turn a difficult relationship into one of tolerance and mutual respect.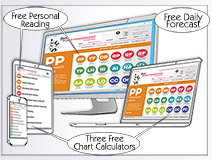 Get your Complete 1-Year Forecast + 12 Monthly Forecasts - 22 pages - available in our Primary Subscription: $19.00 (also includes your 40-Page Personal Numerology Profile)
Or get it in PDF format by email within 24 hours: $14.95 (does not include your Personal Numerology Profile)
There are other numbers that influence your life, such as your address and phone number. Learn more about the Numbers Around You here...
The Previous Month, your Personal Cycle for October was 5
October brings opportunity and change.
You may be asked to go on a trip related to work or business. This trip is unexpected but will bring very positive results.
Another possibility is that you will be offered a transfer and promotion. Either way, there will be changes in your environment.
Now is the time to take some chances, to promote yourself unabashed, and to reach out to other possible sources of income. If you are in sales or business, this is one of the most promising times of your life.
If your work is service-oriented, you may receive a long-awaited promotion. Friends and family members are supportive. Romance is exciting. It is a dynamic month in all respects and will wipe away the frustrations of last month. However, a warning is in place: You may tend to make impulsive decisions, to be a little irresponsible, and to put your foot in your mouth.
This hectic and dynamic month brings with it some chaos, and restraint is needed to maintain some control over the events.
Are you in a relationship or hoping for one? Check out your Monthly Relationship Forecast...