In a way, it seems that life has you in a straitjacket, but in fact you are being protected from yourself. The emphasize is on the irritating and seemingly unnecessarily details. You are forced to deal with things you consider a waste of time. These loose ends can no longer be ignored, but you feel frustrated by the limitations of time and the massive amount of work.
The situation is, in fact, two-sided: One side is effort, the other reward. You are being prepared to take full advantage of a string of opportunities that will begin next month and will continue all next year. The challenge for you is to keep up. For that reason, you must finish the work in front of you now, to make room for the opportunities to come.
Meanwhile, guard your health, especially against the effects of stress and frustration.
You would do well to eat healthy foods and in a regular and orderly fashion. Go to bed early; read to widen your view and escape. Do not dwell on the negative. Leave affairs of the heart to themselves for a while, until this intense period passes.
Late this month, you will start to see the light at the end of the tunnel. However, looking back you will be grateful and relieved that you took on this process of re-organizing the basics in both your work, and your personal life.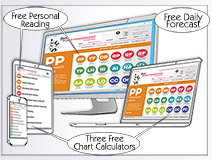 Get your Complete 1-Year Forecast + 12 Monthly Forecasts - 22 pages - available in our Primary Subscription: $19.00 (also includes your 40-Page Personal Numerology Profile)
Or get it in PDF format by email within 24 hours: $14.95 (does not include your Personal Numerology Profile)
There are other numbers that influence your life, such as your address and phone number. Learn more about the Numbers Around You here...
The Previous Month, your Personal Cycle for August was 3
August is a good time for some relaxation.
You will find your workload a little less demanding and may want to take some time off.
You are upbeat and optimistic and able to inspire and uplift others. Do not take matters so seriously this month. It's a time of enhanced creativity and practical application.
You are original in your approach to problem-solving. You receive inspiring ideas and can turn some of them into reality. You impress others with your deep understanding of the issues.
This month also brings spiritual realizations and insights. You are more aware of the underlying forces that are at play in your life and in the world around you.
The challenge of this month is in overcoming fear. You may find yourself confronting some injustice. It may be necessary to meet that injustice alone. Stand up for yourself!
Be wise, but do not seek to avoid the issues.
Are you in a relationship or hoping for one? Check out your Monthly Relationship Forecast...