March should bring some significant changes in your outlook.
Indeed, the month is filled with the mystery of life. You are aware that you are developing spiritually. It is not a good time to deny important issues in your life or be superficial about significant matters. Your dreams are vivid, and if you take some time immediately after awakening to contemplate their meaning, you have the potential to gain some insights that uplifts you and raises your confidence in your life's direction.
You are mentally sharp and creative.
You solve problems and gain insight into things that have floated in the background of your consciousness for some time. It is a period of hard work -- possibly overtime -- juxtaposed with much soul-searching and the need for quiet contemplation.
You may be offered an opportunity to become involved in a new endeavor. Be careful with anything that promises a fast return. This year, long-term projects are far more favorable than get-rich-quick-schemes, or short-term gambles.
Your need for peace and quiet during this month may make your friends and family members wonder whether you have some problem that you are not willing to share.
---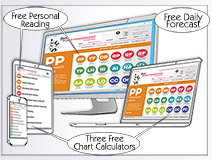 Get your Complete 1-Year Forecast + 12 Monthly Forecasts - 22 pages - available in our Primary Subscription: $19.00 (also includes your 40-Page Personal Numerology Profile)
Or get it in PDF format by email within 24 hours: $14.95 (does not include your Personal Numerology Profile)
---
The Previous Month, your Personal Cycle for February was 6
February 2019 brings an increase in responsibility and workload.
You receive recognition for your efforts and abilities, and probably a financial increase, as well. Perhaps even more important is the role friends and family play during the period. Loyalty and a willingness to sacrifice time and energy to your loved ones are needed. In return, you receive comfort and satisfaction. It is a time of love, warmth, and a strengthening of the bonds that form the foundation of your life. It is also a good time to start domestic projects, such as minor remodeling and home repair.
If you are not married and are not involved in a relationship, you may meet someone who catches your interest. In this case, the relationship will develop slowly but will endure. Your focus should be on being dependable and active.
There is no room for procrastination this month!