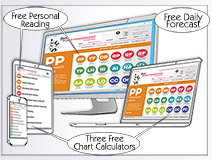 Easy Access To All Your Readings Across All Your Devices.
Free Daily Number Forecast, free personal reading, and free charts. FREE DOWNLOAD (no credit card, no sign up)
---
numerology forecast June 2018: for Sun Number 1
Your Personal Year Cycle for 2018 is 3, and Your Personal Month Cycle for June is 9.
June brings a bit of moodiness and instability. You have completed many tasks and enjoyed many rewards during the first half of the year, and now you may be feeling a bit empty -- not unlike the fatigue one has the day after a party. It may be a minor case of burn-out, but for reasons you cannot put your finger on. It is a time to let go of many old things and prepare for the new.
You have had some good ideas during the first part of the year. You have been motivated and experienced much excitement, but not all of your ideas proved realistic. Now reality forces you to take a second look at your projects and goals in a new light. It's a weeding out period. The positive side of the coin is that, by the end of this month, you'll have a clearer perspective on your direction and projects. You'll know where to place your energy during the second half of the year. While you may find yourself going through some ups and downs during this month, you also feel the first trembling of new excitement.
This month also brings a concluding chapter to one or more relationships, which may cause additional emotional turmoil. However, you are going through a time of natural selection; what is worth holding on to will stay. The rest will go.

---
numerology forecast June 2018: for Sun Number 2
Your Personal Year Cycle for 2018 is 4, and Your Personal Month Cycle for June is 1.
June gives you a new start in some area of your life, perhaps career, or a some new project or endeavor. This is a month of promise and opportunity. Your energy-level increases, as does your excitement for your new direction.
This period requires courage and flexibility. You should also be more verbal: Express your thoughts and feelings; inspire and motivate others to follow your lead. You may have a difficult time relaxing or enjoying yourself outside working hours. But it's important that you do just that.
An attraction to someone at work may signal danger to you. Even if you are committed, this attraction will prove quite powerful. Be careful. It may damage your future in many ways, not least of which is your career. Consider postponing any action in this area.
---
numerology forecast June 2018: for Sun Number 3
Your Personal Year Cycle for 2018 is 5, and Your Personal Month Cycle for June is 2.
The 2 and 5 combination enhances your insight into the motivations and emotions of others. You play the role of counselor several times this month. Your intuitive powers are also enhanced, but this does not extend to money matters. It's not a good time to take financial risks. There are changes taking place in many areas of your life this year, and the general instability is felt strongly this month.
Study and reading are more favorable, especially when related to your career. The focus is on relationships at work and at home. You need to trust others enough to open up your heart and reveal your deeper feelings. This is a good time to release some bottled-up feelings.
Romance also plays an important role this month, particularly if you are involved in a relationship that originated fairly recent. Your enhanced sensitivity and intuition helps you to see the deeper meanings and values, which make the relationship stronger or. . . . cause a permanent break. A critical issue here, is your ability to express your true feelings. Communicate!
An unexpected invitation to visit a friend or relative in some distant town may inspire you to pack your backs and go. This will turn out to be beneficial.
---
numerology forecast June 2018: for Sun Number 4
Your Personal Year Cycle for 2018 is 6, and Your Personal Month Cycle for June is 3.
This is an excellent time to give yourself a break. Take some time off. Enjoy yourself. Don't be too serious. This is a time of enhanced creativity and originality. Become involved in playful activities. Participate in social events. You will meet new people who offer a welcome change to the routine aspects of your life.
Your career may seem unpredictable now but will be much better next month. "Luck" in financial affairs is likely now. Romance is also favorable.
The emphasize of this month is on fun and leisure. Enjoy.
---
numerology forecast June 2018: for Sun Number 5
Your Personal Year Cycle for 2018 is 7, and Your Personal Month Cycle for June is 4.
June may prove to be the busiest month of the year. Work is demanding. Responsibilities and duties could become frustrating. You've got to stick to the routine and, consequently, you may become bored with your environment. Your energy level is high and you want things to change. Reorganize your personal life. Manage your time more efficiently. Work on the house or garden so that you can enjoy improvements in your environment as well as your work life.
You are more serious this month than you were last month. Don't take chances in financial affairs. It is better to save than to spend. Open your heart to your loved ones. They may sense your preoccupation with work and details, and need you to reach out to them.
---
numerology forecast June 2018: for Sun Number 6
Your Personal Year Cycle for 2018 is 8, and Your Personal Month Cycle for June is 5.
June brings changes and unexpected events. There isn't much use in planning too much this month, because much will happen unexpectedly. This is a hectic and dynamic month. Go with the flow; be flexible; and trust your instinct. If you are able to adapt to the unpredictable events of this month, your experience will be exciting and adventurous, and quite possibly profitable. However, if you insist stubbornly to stick to your plans and expectations, you will be disappointed.
You are in a position to show your special talents and abilities to people who can be influential in your career. You are able to think on your feet and your reflexes are sharp. This time is particularly good for those who are in retail, real estate, or some other business that's based on sales and closing deals. Financial gains are often considerable.
Travel is possible and favorable. This is also a good time to move, or change your environment in some way. Romance is very exciting and, if you are single, you will have to hide out to keep from meeting someone. People gravitate to you and are more than usually attracted to you.
---
numerology forecast June 2018: for Sun Number 7
Your Personal Year Cycle for 2018 is 9, and Your Personal Month Cycle for June is 6.
This month brings stability, strength, and understanding of yourself and the many roles you play in this life. Some relationships may undergo a test this month. This whole year is a time of letting go of certain people, behaviors, and roles that you have outgrown. June is particularly important in sorting out your feelings for others. Relatives and friends seek your company, but you may respond with aloofness and indifference.
An important challenge this month is to be honest and open in your relationships. You may tend to bottle-up your feelings.
This is a good time for career and finances, even if you feel a lack of interest for these matters. Romantic relationships are particularly fragile right now. However, if your love-relationship survives this period, you know that it is based on true substance. It will be stronger and lasting.
ear has been a year of letting go, next year is a time of renewal, almost rebirth.
---
numerology forecast June 2018: for Sun Number 8
Your Personal Year Cycle for 2018 is 1, and Your Personal Month Cycle for June is 7.
This month offers time and opportunity for contemplation and insight. Career and romance do not require as much attention as your need to understand your own motivations and desires. Don't make the mistake of feeling guilty for not carrying your load, or for not working hard enough. That is not what this month is about. Keep up your sails, do what you have to do to avoid problems, but beyond that, let the wind do the rest. Take the time to dwell on your dreams and hopes, find clarity about what you want out of life. Most importantly, don't be afraid to confront yourself.
Your work and other duties take second place this month, however, you may well discover information, through research or by talking to the right people, that will help further your career.
This is not a good time to spend money, take out a loan, invest, sign contracts, or otherwise make long-term business commitments. Social activities are also better kept to a minimum, unless it involves deep or intimate conversations with family or close friends.
---
numerology forecast June 2018: for Sun Number 9
Your Personal Year Cycle for 2018 is 2, and Your Personal Month Cycle for June is 8.
The time is ripe to reach out and receive some of the fruits of your labors. It is a harvesting time, but the rewards are still dependent upon good relations with co-workers. Ask for a promotion, or a raise. Let those in the right positions know that you value the recognition and respect they bestow upon you.
You are in the right state of mind to deal with some tricky personality-clashes; solve communication problems; turn enemies into friends, and in many ways manipulate events through gentle persuasion. The numbers 2 and 8 allow you to handle sensitive issues with tact and diplomacy, as well as with authority and decisiveness. It is a good time for negotiations in every area of your life, personal as well as professional.
Romance is very favorable, but can be spoiled by money issues. On the other hand, domestic affairs can be troublesome and can leave you feeling powerless unless you are willing to cooperate. Leave such issues alone for now. The domestic scene is better handled in July, when dealing with relatives is easier and goes more smoothly.
---
Find your Numerology Sun Number on the intersection of your month and day of birth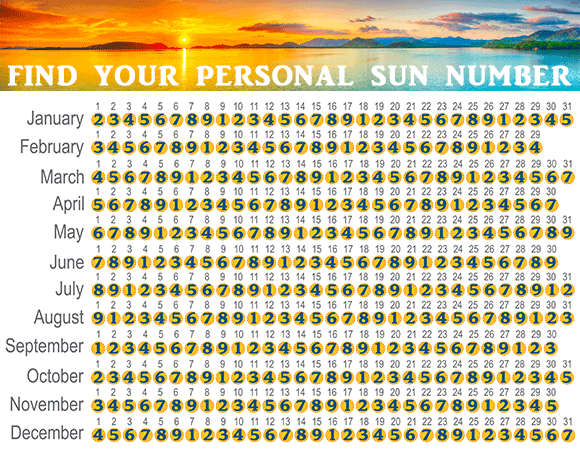 Back to the top of the page
Or view the previous month