Some tips on using our software
The Recall and Save buttons:
The Recall button opens a dialog box containing all the names (in alphabetical order) and dates of birth of people for whom you have done numerology readings and numerology charts in the past.
Clicking a name will automatically fill in the Birth Data dialog box with that person's data, so you don't have to type it in again. If you do not have checked the "Always Save Birth Data" check box in your numerology program's Preferences dialog box, you can still save birth data by clicking the Save button.
First, middle and last name:
Here you enter the first, middle, and last name of the individual if you are doing a numerology reading for him/her for the first time. An asteriks means that you have to put something there. In some countries people may have only one name - as you can see, you can still do a reading for that person.
Current name:
Here you enter the person's name the way he/she introduces him/her self. For example, my full name is Johannes Albertus Decoz, but I go by Hans Decoz. Therefore, Hans Decoz should be entered in the Current Name section.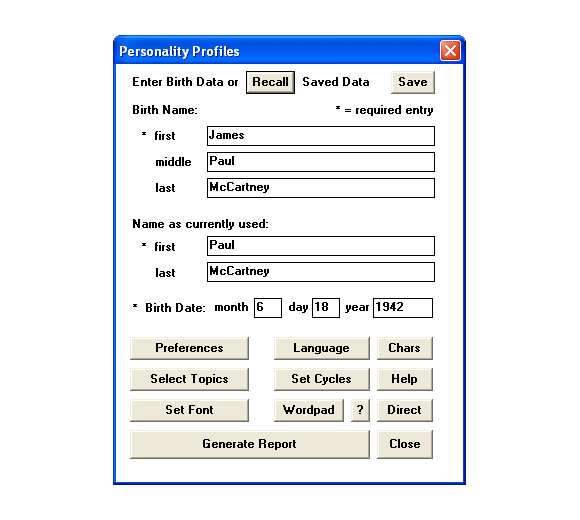 Date of Birth:
If you don't know a person's date of birth you can still do a sizeable - although limited - numerology reading by turning off any aspects based on the date of birth - the reading will then contain all numerological information based on the individual's name. See the Topics dialog box.
Preferences, Fonts, Topics, and other buttons:
These buttons all open up additional dialog boxes: Preferences, Language, Chars (foreign characters), Select Topics, Set cycles,etc.
The Generate Report button:
This button starts up your Word Processor and produces the numerology reading.
Relationship Compatibility Dialog Box
The Relationship Compatibility dialog box in our numerology software lets you enter the names of two people. Used mainly for romantic relationships, the software can also be used for business partners, siblings, friends, and so forth.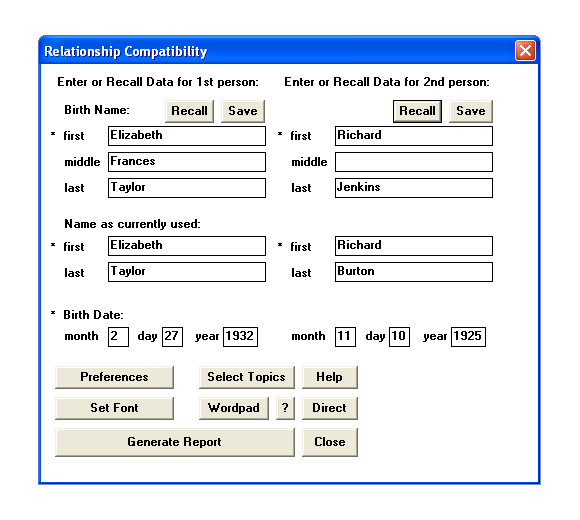 Language Selection Dialog Box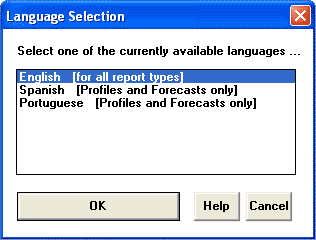 The Language dialog box is accessible from almost all other dialog boxes and lets you print your numerology readings in English, Spanish or Portuguese.
Fonts Dialog Box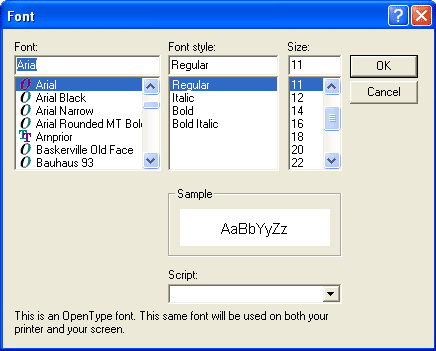 The Font Selection dialog box is accessible from every dialog box
Remember, if you select a much larger or smaller font than your normal settings - for example, if you make a reading for an elderly person you may want to set the font size to 14 to make it easier to read - you also have to change the number of lines per page in the Preferences dialog box in the numerology master program.
The Numerology ChartMaker
The Birth Data entry box shown above is similar to the Personal Profiles and Forecasts dialog box. Notice that you can start the chart at any age - in Paul McCartney's case we started the chart at age 45. The chart covers 49 years including all cycles and a complete individual profile. The color chart layout and design are by Hans Decoz (developed in the early 80's) and this unique numerology chart mapper software is not available anywhere else.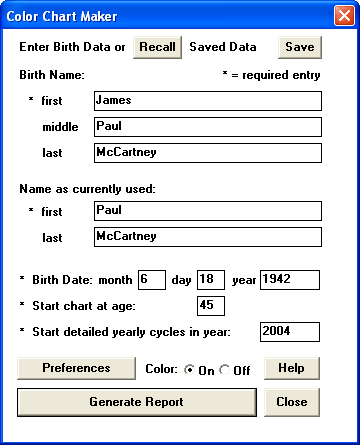 Color Chart Maker Dialog Box
More options
Ages set for Transits and Essence cycles:
The Transit and Essence cycles run from birth day to birth day and therefore run concurrent with your age. The default setting for a numerology forecast is two years but can be changed to any number of years. (When you set your 4 custom buttons (E, F, G, and H) in the Topics dialog box, you can also set the duration of the cycles to "stick" from session to session.)
The Time Ranges dialog box lets you set the start date and ending date for each cycle you want included in your numerology reading. The Times Ranges dialog box remembers your last settings and keeps them as default settings.
The Yearly cycles::
Personal Year cycles run concurrent with the calendar year. Here you set the number of years for which you want Personal Years included in your numerology reports.
Monthly cycles:
Here you set the number of months for which you want to include monthly cycles.
Daily cycles:
This where you decide how many months you want to include for the daily cycles. One month of daily cycles is about 4 pages, so you don't want to add too many months. Two years is about the maximum at approximately 160 pages. More often, you want to do 6 or 12 months.
OK, Cancel, and Help buttons:
OK accepts your settings. Help buttons are found on all dialog boxes in the numerology software, and opens to pages relevant to that dialog box.
See also: