ADDRESS AND PHONE NUMBER ANALYZERS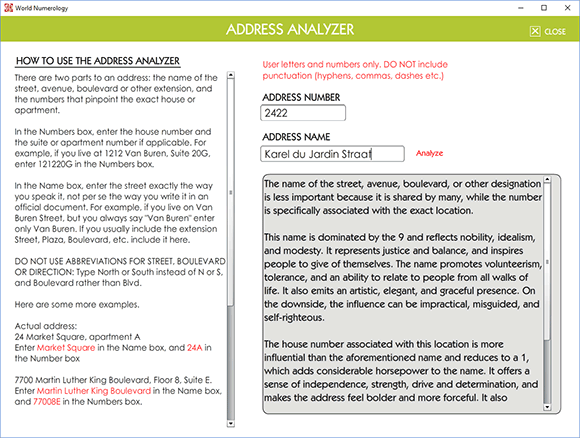 ADDRESS ANALYZER

When we use numerology to analyze something, the first thing we look at is how closely is it connected to you.
For example, a house number is more important than the street name, because it is exclusive to you home, while the street name is shared with others. The Address Analyzer looks at both the number and the name of the location but gives more weight to the number. The numbers around you, like your address and phone number, do not have a critical effect, but do influence the aurora of your home and business.
Use it as often as you wish - for your friends or anyone else. It's fun to use in a social setting - ask someone for their address, then use the World Numerology app on your phone to analyze its meaning. Try our Phone Analyzer too.
Included in the Full Subscription - use as often as you wish, for friends or co-workers