Daily Numerology Forecast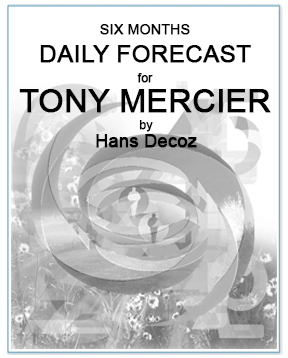 Your Daily Numerology Forecast for the next six months helps you prepare for changing circumstances and unexpected events.
At well over a 100 pages, this report is as detailed as you might expect from a Decoz reading.
NOTE: The Daily Numerology Forecast is a free feature included with the World Numerology app, and offers up to 3 months ahead. We offer this pdf version for those who prefer it in print.
Delivered in .pdf format within 24 hours or less
Daily Numerology Forecast: $9.95
Compatibility Profile and Forecast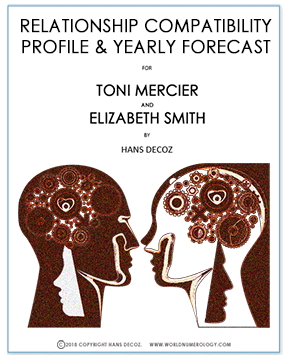 Compare important characteristics between you and your partner, friend, or associate. The profile notes similarities and differences in your personality, interests, approach to romance, social situations, and other important issues.
The forecast is a clear example of the way numerology can be used in a practical manner to improve the quality of your relationships and your life. Understanding what each of you are going through makes you more responsive to their needs and yours. Don't stop with your partner.
Delivered in .pdf format within 24 hours or less
Relationship Compatibility: $11.95