The month of May is an excellent time for leisure and play.
Take time off and, if possible, go on vacation. Get in touch with the inner you, daydream, and share those feelings and thoughts with someone you trust. Your need for others heightens.
You sense changes on the horizon, but feel you are in limbo, waiting for events to provide a new direction. Seek the advice, perspective, and insight of others.
You continue to make a good impression on those you work with, but not because of enhanced sensitivity and awareness, as was the case in April, but because of your ability to express yourself well and motivate others to see things your way. Be careful not to become manipulative.
This is a "lucky" month. You're in the right place at the right time and coincidences will occur in your favor. You are more attractive to others then usual and may receive some interesting proposals.
---
---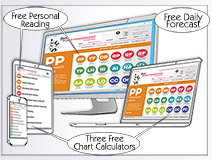 Get your Complete 1-Year Forecast + 12 Monthly Forecasts - 22 pages - available in our Primary Subscription: $19.00 (also includes your 40-Page Personal Numerology Profile)
Or get it in PDF format by email within 24 hours: $14.95 (does not include your Personal Numerology Profile)
---
There are other numbers that influence your life, such as your address and phone number. Learn more about the Numbers Around You here...
---
The Previous Month, your Personal Cycle for April was 2
Now the pendulum swings back from the insensitivity of last month to heightened awareness, especially of others.
You are aware of the emotional subtleties that lie beneath the surfaces. You take nothing for granted. Your wisdom and diplomacy will surprise people and prevent several situations from becoming explosive. Relationships with both subordinates and higher-ups will improve. You receive support and are well-spoken of.
Your intuition is keen; rely on it and respect any premonitions you may have. Someone you meet sparks your interest, but you may find that the person is unstable and fragile. You play the role of teacher and counselor in this relationship.
Your understanding and intuition also offer you the means to heal formerly difficult relationships this month.
---
Are you in a relationship or hoping for one? Check out your Monthly Relationship Forecast...
---