Dreams will be intense, and you won't be able to shake them when you wake up. You will find yourself staring into space more often than usual. You are withdrawing and may experience some loneliness as a result. You are questioning a lot of things that you had been taking for granted. You think about your life and the direction it is taking. The mysteries of life and death (without being morbid) occupy your mind.
You are mentally sharp and flexible, and you easily keep up with any demands that come your way. Your career, finances, and other mundane aspects of your life occupy a relatively smaller place in your life, this month. Without avoiding your duties, you can let these areas take care of themselves until early next month.
Your friends and family are less demanding. Romantic ties can be surprisingly strong, however. You have a real desire to share your innermost feelings with the person you are attracted to, revealing a side of yourself that has not been available in such intimacy before.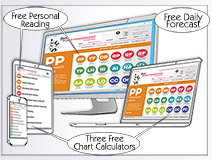 Get your Complete 1-Year Forecast + 12 Monthly Forecasts - 22 pages - available in our Primary Subscription: $19.00 (also includes your 40-Page Personal Numerology Profile)
Or get it in PDF format by email within 24 hours: $14.95 (does not include your Personal Numerology Profile)
There are other numbers that influence your life, such as your address and phone number. Learn more about the Numbers Around You here...
The Previous Month, your Personal Cycle for August was 6
With August comes stability and quiet.
There is recognition and respect at work, but also the possibility that someone else takes credit for your effort.
Apply yourself diligently. Responsibility and duty rule this month. There is financial gain, probably from a source other than work.
Your family and friends need your love and attention; give of it freely. Especially give your time and advice to a younger person. There is a lot of love that surrounds you this month, but you may not be aware of it. Your attention is focused inward and you may want more time alone than you actually have. Maintain balance.
The people close to you need attention and you should be there for them. Your spouse or romantic partner requires much of you this month, too, and your relationship with deepen as a result.
Are you in a relationship or hoping for one? Check out your Monthly Relationship Forecast...