You may still have a case of the blues on the early days of this month.
But March soon brings optimism, increased energy, and excitement. You are intellectually sharp and imaginative. You feel that anything is possible and that the sky is the limit. Against the background of self-reflection and soul-searching that's such a major part of this year is this month's sense of spring-time in your heart. This is an excellent time to take on new challenges in your career, to start new endeavors, or, if you are in business or sales, to go out and snare that important new client.
Often, this month brings financial gain, but your attention is more directed towards intellectual accomplishments. Your pride and self-esteem gets a boost.
A more difficult aspect of this month is your relationship with loved ones.
You lack the necessary sensitivity to respond properly to the needs of those close to you. ~first~, you are under the illusion that everyone feels the way you do; that problems are only minor impediments that can be taken in stride. However, your optimistic attitude also inspires them, and they grudgingly respect you for the way you seem to be handling things.
A romantic experience brings passion and excitement either late this month or early next month.
---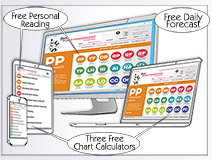 Get your Complete 1-Year Forecast + 12 Monthly Forecasts - 22 pages - available in our Primary Subscription: $19.00 (also includes your 40-Page Personal Numerology Profile)
Or get it in PDF format by email within 24 hours: $14.95 (does not include your Personal Numerology Profile)
---
The Previous Month, your Personal Cycle for February was 9
February brings a number of changes, most of them occurring inside of you.
You awaken to new feelings about your job, your house, and the people around you. It is a time of reevaluating the choices and decisions you have made over the past several years.
You gain clarity and understand your motivations and needs better. You may cause some practical changes as a result of this, and even distance yourself from outdated habits or relationships. There may be some emotional turmoil connected to this, but the feeling of relief is more prominent.
This is a tricky time in all areas of relationships.
Your irritation threshold is lower than usual. Irrational demands and lack of patience from your side may bring on feelings of quilt and you will probably find yourself apologizing more than once. You have strong idealistic, humanitarian, and spiritual feelings and may want to become more involved in some practical endeavors concerning one or more of these areas of life. However, you will probably postpone any active involvement for the time being, because you feel the time is not right.
Most important this month, is your enhanced clarity in all matters concerning your life and the direction it is taking.
It is a time of re-assessment of your values and priorities and the influence of this month will be felt for a long time to come.
The practical aspects of career, business, relationships, and romance are all on the back-burner, but the inner-changes that take place represent a much larger step forward than you will probably realize at this time.