At the same time, this is a period marked by emotional ups and downs as you are releasing old concepts, responsibilities, and relationships that you've outgrown. You are doing some inner-house cleaning which reflects in work as well as personal life.
Your career may seem somewhat stagnant.
You are looking for new opportunities and challenges, but not much will be forthcoming until late this month or early next month. You should take it slow; perhaps even take some time off for rest.
There will be an opportunity for you to become involved with a good cause, which will prove both personally and professionally rewarding. In the long run, it may even help you financially.
As for money matters, this is not a good time to take chances or spend money on major purchases.
Some of your relationships with friends and relatives are being put to the test. You have grown and changed over the past year and may be a little out of touch with some of the people with whom you were close. In addition, you have become more discriminating about whom you wish to spend time with.
Sometimes, the 9 Personal Month brings a personal loss. You may have to let go of an old relationship or even someone you regard as a teacher. Romance is also in a make or break period. If the relationship has real substance, there will be some emotional turmoil, but the bond will only become stronger. If the relationship isn't strong, this will become very clear and cause a permanent break.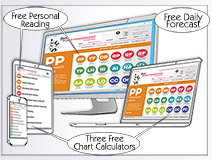 Get your Complete 1-Year Forecast + 12 Monthly Forecasts - 22 pages - available in our Primary Subscription: $19.00 (also includes your 40-Page Personal Numerology Profile)
Or get it in PDF format by email within 24 hours: $14.95 (does not include your Personal Numerology Profile)
There are other numbers that influence your life, such as your address and phone number. Learn more about the Numbers Around You here...
The Previous Month, your Personal Cycle for October was 8
October brings reward and recognition.
Often, this is a very good month for all matters related to career, business, and finances.
You reap the rewards of what you sowed in the past seven years. (Next year offers even greater rewards than this month. ) October gives you the opportunity to peak into the near future because it represents a small-scale sample of what next year will bring.
The eight cycle is a rewarding time, but there are two important sides to the way it is delivered. On one hand, it is directly proportionate to the effort you have put out in the past. On the other, you receive exactly what you need to continue on your path. For that reason, you would do well keeping a close eye on your finances, especially to protect yourself from any shortfalls next year. Financial gain is much more common this month (and in the 8 Personal Year). In any case, this is a time to be aggressive in all matters relating to career and finances.
Are you in a relationship or hoping for one? Check out your Monthly Relationship Forecast...