Your circumstances could even change. Travel is also possible and favorable. A sudden phone call could put you on the plane the next day. Letters or phone calls could come from people you have not heard from in a long time.
Meanwhile, you feel scattered and restless and want to avoid the nitty gritty details of life. Go with the flow; answer demands as they come up and do not try to control the circumstances too much.
You are mentally sharp and quick to see the meaning of new information. You are also creative and imaginative. This month releases your wilder side, especially when it comes to your social life and love relationship. Within the context of this year's serious and spiritual overtones, July is by far the most dynamic month. Be careful of too much self-indulgence and irresponsibility. Moderation, again, is the key.
---
---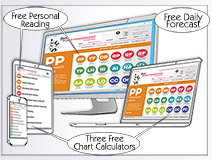 Get your Complete 1-Year Forecast + 12 Monthly Forecasts - 22 pages - available in our Primary Subscription: $19.00 (also includes your 40-Page Personal Numerology Profile)
Or get it in PDF format by email within 24 hours: $14.95 (does not include your Personal Numerology Profile)
---
There are other numbers that influence your life, such as your address and phone number. Learn more about the Numbers Around You here...
---
The Previous Month, your Personal Cycle for June was 4
June may prove to be the busiest month of the year.
Work is demanding. Responsibilities and duties could become frustrating. You've got to stick to the routine and, consequently, you may become bored with your environment. Your energy level is high, and you want things to change. Reorganize your personal life. Manage your time more efficiently. Work on the house or garden so that you can enjoy improvements in your environment as well as your work life.
You are more serious this month than you were last month. Don't take chances in financial affairs. It is better to save than to spend.
Open your heart to your loved ones. They may sense your preoccupation with work and details and need you to reach out to them.
---
Are you in a relationship or hoping for one? Check out your Monthly Relationship Forecast...
---