However, there is another side to this month. You may feel that you have reached the pinnacle of your career, or that work and other areas of your life have become dull and monotonous. You may feel you need a break. You are approaching a time of deep inner change.
Several times during your life you have reached a point at which you need to break out of a cocoon. All evolution is gradual, but periodically interrupted by sudden bursts of growth, or change.
You are at a stage in your life when you feel ready for such a change. However, you are not clear about the true nature of this change and, while you may feel inspired to force some practical changes now, you should approach this with care.
Avoid impulsive decisions as well as any contractual arrangement that would tie you down for a long time.
You need to rely on your own strength and feel confident that you have a certain amount of control over your own future. You should relax and let things develop at their own pace. Social events are highly favorable and there will be ample opportunity for that.
Ω
Scroll down for more free and personal insights!
---
2020 GLOBAL NUMEROLOGY FORECAST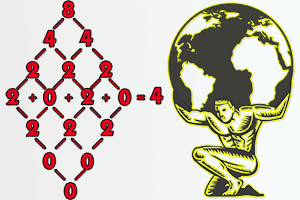 The Year Atlas Stumbled
The forecast for 2020 promises great turmoil, but also hope from unexpected sources.
Published late 2019, the amazing insight and accuracy of Hans Decoz global forecast has surprised many.