Family affairs, friendships, and romance also move to the foreground and are rewarding and healing. You will be asked to sacrifice some of your time and energy to a younger person or someone who is old or sick. You feel closer to the people around you and you want to be there for them.
Somewhat contradicting to this show of warmth and affection is the lack of tact and sensitivity you may display a number of times during this month. You may be too intent on forcing people to see life as you do, rather than allowing them their own perspectives and their own rates of growth.
The later part of this month brings changes that arise from a chance meeting at a social event. This change may be based on a romantic encounter and may affect your living situation.
An unexpected travel is also a possibility.
Ω
Scroll down for more free and personal insights!
---
2020 NUMEROLOGY FORECAST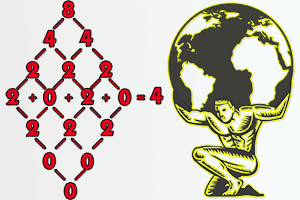 The Year Atlas Stumbled
The forecast for 2020 promises great turmoil, but also hope from unexpected sources.
Published late 2019, the amazing insight and accuracy of Hans Decoz global forecast has surprised many.