You will, and should be, concerned less with your own financial affairs, than with those involving others. Be selfless and generous in all areas of your life. It is a time to forgive and heal. You are highly aware of your bond with the people you love, as well as with neighbors and co-workers.
Legal affairs you might be involved in come to the foreground.
Financially, September has the potential to be very good.
Romance is shaky.
Choose your words well and follow up on promises. Don't forget birthdays.
Ω
Scroll down for more free and personal insights!
---
2020 GLOBAL NUMEROLOGY FORECAST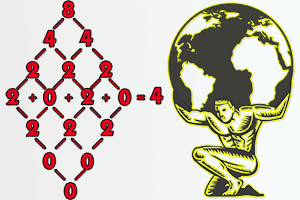 The Year Atlas Stumbled
The forecast for 2020 promises great turmoil, but also hope from unexpected sources.
Published late 2019, the amazing insight and accuracy of Hans Decoz global forecast has surprised many.