You will be inspired to refine your understanding of your place in the universe. Spend time considering what you are going to do with the rest of your life. Search your soul, define your priorities, and plan your future. Study and read and think. You are observant and insightful.
Put romance, career, and financial matters on the back burner this month. There will be plenty of time for that later. If you direct all your effort toward honest self-confrontation, your future progress will be insured.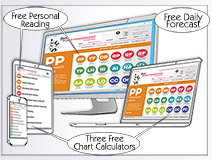 Get your Complete 1-Year Forecast + 12 Monthly Forecasts - 22 pages - available in our Primary Subscription: $19.00 (also includes your 40-Page Personal Numerology Profile)
Or get it in PDF format by email within 24 hours: $14.95 (does not include your Personal Numerology Profile)
There are other numbers that influence your life, such as your address and phone number. Learn more about the Numbers Around You here...
The Previous Month, your Personal Cycle for October was 6
October brings stability to the dynamic changes the year has presented.
Expect increased responsibility, recognition, and perhaps a raise or promotion. This month shifts the focus to relationships with family and friends.
You share greater closeness with loved ones and may find yourself giving and receiving comfort and advice. Loyalty and trust are fundamental to your wellbeing this month. If you are unwilling to trust or abuse the trust of someone else, you could experience the break-up of a relationship. Share your feelings.
If you are single, a new and lasting romance is possible. If you already have a relationship, this is the time to commit. All affairs of the heart are positively highlighted. Health problems will also take a turn for the better.
Are you in a relationship or hoping for one? Check out your Monthly Relationship Forecast...