May brings a sense of freshness or a new beginning in your personal life and career.
You are more energetic and decisive than last month; this will help you cope with the hectic pace this month brings. This is a time of opportunity and the need to adapt quickly. You have been selected to play an important role in some new endeavor. This is an opportunity to move your career forward but it requires courage and the willingness to sacrifice some short-term goals. Financially, this is a dangerous time because of the tendency to splurge.
If you are single, you may well be introduced to someone very interesting and attractive. If married, romance is rekindled. Still, new romantic relationships started under this number combination tend to burn out quickly. The attraction is physical and immediate but may falter as soon as it is put to the test. Even if you are already committed you may well find yourself eye to eye with someone very attractive, in which case you may have to show considerable restraint in order to avoid a situation you may later regret.
---
---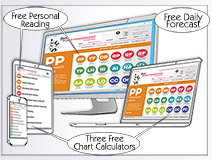 Get your Complete 1-Year Forecast + 12 Monthly Forecasts - 22 pages - available in our Primary Subscription: $19.00 (also includes your 40-Page Personal Numerology Profile)
Or get it in PDF format by email within 24 hours: $14.95 (does not include your Personal Numerology Profile)
---
There are other numbers that influence your life, such as your address and phone number. Learn more about the Numbers Around You here...
---
The Previous Month, your Personal Cycle for April was 9
April brings a certain amount of completion in both your personal life and career.
It is time to let go and prepare for new adventures. It is necessary to keep a close eye on the details, particularly those related to your finances. Check your bank balance regularly and make sure you save the receipts for deposits and other transactions.
There are indications of up-coming changes in your work environment; you are in the unique position to move to the spotlight. Self-promotion is favorable. You are a little more emotional and vulnerable and may tend to make mountains out of molehills, however.
Someone you care about is leaving, being transferred, or going on a long trip.
Social events make this a hectic month and a certain amount of moderation and discipline is needed.
---
Are you in a relationship or hoping for one? Check out your Monthly Relationship Forecast...
---