If you have considered upgrading your resume or trying out for that new position you have been considering, now is the time to do it. A career change is also possible as a result of outside forces. You are more creative.
You feel somewhat restless and impulsive and are willing to take risks for the sole reason that you need a change. There is a tendency to be somewhat scattered and even a little irresponsible during this cycle.
Your domestic environment also becomes a source of restlessness and you may have to guard against irrational behavior from your side. At the same time, you reach out to old friends and relatives you have not been in touch with for some time.
Your emotional state is a little turbulent causing you to be moody.
Try to maintain equilibrium. This is a month to be somewhat detached from the events and circumstances surrounding your life. Don't take yourself too seriously, and, if possible, take some time off for a vacation. It's a good time to recharge your batteries.
---
---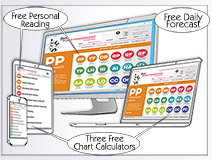 Get your Complete 1-Year Forecast + 12 Monthly Forecasts - 22 pages - available in our Primary Subscription: $19.00 (also includes your 40-Page Personal Numerology Profile)
Or get it in PDF format by email within 24 hours: $14.95 (does not include your Personal Numerology Profile)
---
There are other numbers that influence your life, such as your address and phone number. Learn more about the Numbers Around You here...
---
The Previous Month, your Personal Cycle for June was 2
The 2 and 5 combination in place this June enhances your insight into the motivations and emotions of others.
You play the role of counselor several times this month. Your intuitive powers are also enhanced, but this does not extend to money matters. It's not a good time to take financial risks. There are changes taking place in many areas of your life this year, and the general instability is felt strongly this month.
Study and reading are more favorable, especially when related to your career. The focus is on relationships at work and at home. You need to trust others enough to open up your heart and reveal your deeper feelings. This is a good time to release some bottled-up feelings.
Romance also plays an important role this month, particularly if you are involved in a relationship that originated fairly recent. Your enhanced sensitivity and intuition helps you to see the deeper meanings and values, which make the relationship stronger or. . . . cause a permanent break. A critical issue here, is your ability to express your true feelings. Communicate!
An unexpected invitation to visit a friend or relative in some distant town may inspire you to pack your backs and go. This will turn out to be beneficial.
---
Are you in a relationship or hoping for one? Check out your Monthly Relationship Forecast...
---