If you can be flexible and adaptable, you will cruise through this month comfortably and successfully. Let old plans, expectations, and concepts go. Otherwise, stress may take a physical toll. If you are willing to take the changes in stride and "go with the flow", you will find yourself in a better position in career as well as personal life by the end of this month.
This is an adventurous, dynamic, and progressive time, with less focus on details and routine stuff. Social events and romantic adventures highlight the month. The word "adventure" is the operative word: few romances that begin during this time have the emotional depth and substance needed to survive the test of time. However, any relationship begun now still has much to teach you about life and love, so be open to all the possibilities. Be warned, however, you may have a tendency for over-indulging your senses this month. Moderation is wisdom.
Your health may cause you some concern. In most cases, this is the body reacting to changes that have taken place during this year and are only temporary. If problems persist, seek the advice of health counselor or physician.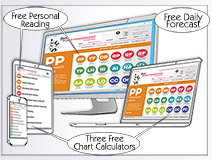 Get your Complete 1-Year Forecast + 12 Monthly Forecasts - 22 pages - available in our Primary Subscription: $19.00 (also includes your 40-Page Personal Numerology Profile)
Or get it in PDF format by email within 24 hours: $14.95 (does not include your Personal Numerology Profile)
There are other numbers that influence your life, such as your address and phone number. Learn more about the Numbers Around You here...
The Previous Month, your Personal Cycle for August was 4
Your career may be demanding and a bit frustrating this month.
You need to attend to routine matters, some of which may be boring. This is not a time to slack. Don't procrastinate. Commit to your responsibilities and see projects through to completion.
This August could bring a welcome opportunity on the job front, but your success will depend upon your willingness to stand up for yourself, to take charge of circumstances, and refuse to be victimized by outside events. You need the courage to stand up for your beliefs, to "do the right thing. "
Make important changes in your life. Such as start a diet and/or exercise regimen, quit smoking, dedicate yourself to a good cause, and reconnect to your higher spiritual values. This is the month to make fundamental and positive long-term changes in your life.
It's important to demonstrate to those around you that you are dependable and can be relied upon. This affects both your work and love life. You will impress all of those around you with your sense of duty and trustworthiness.
Are you in a relationship or hoping for one? Check out your Monthly Relationship Forecast...