Financial issues, both positive or negative, move to the foreground.
More people go bankrupt or make a killing during this period than with almost any other number combination. Now, especially, you are required to balance the material and the spiritual. If you are considering a major purchase that involves long-range financing -- such as buying a house or a car -- but you question whether you can fulfill the obligation, you would do well to wait until the second half of May before acting.
The worlds of work and personal relationships require opposite approaches this month.
A certain amount of aggression in career and business matters is favorable. Promote your ideas. Put out effort. Work harder and longer than is required. On the other hand, your personal life requires patience and understanding -- both of others and yourself. You may want to clear the air between you and a loved one, but you have difficulty overcoming your fear of being misunderstood. Or perhaps you are not clear about what you feel. Try putting your thoughts on paper first to achieve a higher degree of clarity.
---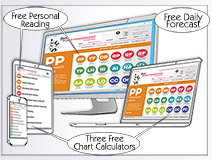 Get your Complete 1-Year Forecast + 12 Monthly Forecasts - 22 pages - available in our Primary Subscription: $19.00 (also includes your 40-Page Personal Numerology Profile)
Or get it in PDF format by email within 24 hours: $14.95 (does not include your Personal Numerology Profile)
---
The Previous Month, your Personal Cycle for February was 7
February finds you more inwardly focused.
Self-reflection and contemplation bring spiritual clarity and growth. At the same time, your career improves and you manage to impress important people. Doors that have been closed open and offer access to opportunities. Financially, this month may also show some progress but the emphasize is more on opportunities and your ability to take advantage of them.
Warnings are justified in two areas.
Your dynamism and excitement may cause you to be somewhat insensitive at times. Also, you would rather plan and discuss future endeavors than to put forth the effort required to take full advantage of current opportunities. Key-words to make this month a success are caution and discipline.
If you are married or otherwise committed, you may feel a little distant from your partner. This is temporary and does not require any special attention. If you are single, romance is not a high priority. Minor health problems that have not been treated may come to the foreground. This is a good month to apply discipline to your eating habits and to step-up your exercise regimen.