For instance, a number missing in the full name may show up prominently in the current name; or a number (or numbers) that appears in excess in the full name can be compensated for in the current name.
If a name change takes place later in life through marriage or for professional reasons, it adds or subtracts certain qualities. It can also focus and intensify existing characteristics or talents that may be latent. (The World Numerology App includes two Name Advisor modules; one for product or business names, the other the help you select a name for a person - or test different names on yourself. It's basically a mini numerology reading writer program)
Ω
---
Audio Numerology Lecture; The Minor Expression 9 Minutes.
---
As a rule, I recommend that you don't change your name on impulse. Marriage, of course, does not leave much room for choice, although more and more women are hyphenating their names or staying with their maiden names (which this numerologist strongly recommends).
However, if you must change your name (for professional reasons, for example), try to choose a name already in your family, and thus connected to you through your ancestor. Those characteristics are already present in your lineage, which makes the new name easier to assimilate into your personality.
Ω
---
The current name is the name you feel closest to in relaxed and social settings.
Names you have used in the past reveal traits and characteristics that were prominent during that period in your life. If you are no longer using that name, it bears no resemblance to your current identity.
The current name is the name you would use when thinking about yourself, including your last name. In case of doubt ask yourself, if someone wakes you up in the middle of the night and asks for your name, what is the first name that comes to mind?
Never include a middle name or initial.
Always include your last name, unless you only use one name consistently. For example Sting, or Madonna.
Ω
To find your Minor Expression number, use the same formula used to find the Expression number.
For the numerology value of each letter, see the listing below.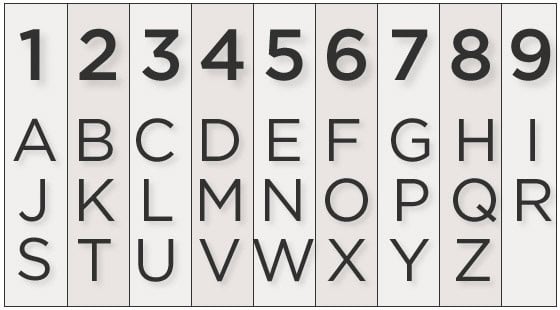 Ω
---
Numerology Course Class 9
---
Love & Learn Numerology - with Numerologist Hans Decoz
Table of Content
Ω