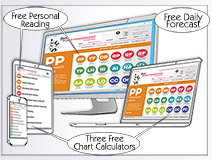 Easy Access To All Your Readings Across All Your Devices.
Free Daily Number Forecast, free personal reading, and free charts. FREE DOWNLOAD (no credit card, no sign up)
---
numerology forecast May 2018: for Sun Number 1
Your Personal Year Cycle for 2018 is 3, and Your Personal Month Cycle for May is 8.
May brings financial rewards, as well as respect and recognition. This, of course, is proportional to the effort you have put out during the past year. May is a month to focus on career, to be a visionary, and not to hold back when it comes to showing the world how capable you are. For those who are in business, this is a good time to finalize deals and sign contracts. Investments are generally favorable, as are requests for loans, mortgages, or other methods of financial support. In all worldly matters, this is a time to reach out, to go for your goals. Do not be afraid to take a risk.
As far as matters of the heart are concerned, this is a time to take yourself and your feelings with a grain of salt. You are in a generous mode and feel blessed with so many good friends, but when it comes to commitment, you may want to wait a couple of months, when you are more realistic in these matters.
If you are not involved in a relationship, a coincidental meeting with a person from the past sparks a romance.
---
numerology forecast May 2018: for Sun Number 2
Your Personal Year Cycle for 2018 is 4, and Your Personal Month Cycle for May is 9.
This month may introduce some emotional turmoil due to a relationship gone awry. A friend or co-worker has let you down. Your trust has been damaged, and you realize that this is not just a temporary disappointment but the conclusion of the relationship. While you have reason to be angry, you should avoid self-righteousness. You may want to remember that you are not without fault. It allows the anger and disappointment to turn into understanding and forgiveness, even if the situation cannot be saved. As a way of healing this type of wound, life may offer you the opportunity to become involved in a good cause. Sacrificing some of your time and energy will prove very rewarding and will deliver some benefits that are not immediately obvious.
Your health requires some special attention, particularly your digestive tract. Watch what you eat. Avoid excesses.
It is possible that your career is heading for a change of direction, which may be of some concern to you. Look to next month for some insight into that aspect of your life.
---
numerology forecast May 2018: for Sun Number 3
Your Personal Year Cycle for 2018 is 5, and Your Personal Month Cycle for May is 1.
May brings a sense of freshness or a new beginning in your personal life and career. You are more energetic and decisive than last month; this will help you cope with the hectic pace this month brings. This is a time of opportunity and the need to adapt quickly. You have been selected to play an important role in some new endeavor. This is an opportunity to move your career forward but it requires courage and the willingness to sacrifice some short-term goals. Financially, this is a dangerous time because of the tendency to splurge.
If you are single, you may well be introduced to someone very interesting and attractive. If married, romance is rekindled. Still, new romantic relationships started under this number combination tend to burn out quickly. The attraction is physical and immediate, but may falter as soon as it is put to the test. Even if you are already committed you may well find yourself eye to eye with someone very attractive, in which case you may have to show considerable restraint in order to avoid a situation you may later regret.
---
numerology forecast May 2018: for Sun Number 4
Your Personal Year Cycle for 2018 is 6, and Your Personal Month Cycle for May is 2.
May is a 2 Personal Month in a 6 Personal Year and focuses on harmony and diplomacy in all relationships, including the work-environment. You are more sensitive and aware of the feelings of others than you were last month and you will be called upon to use those abilities. You will find yourself in the role of mediator/peacemaker in order to maintain harmony in the work place. Become a hard-nosed yet diplomatic negotiator. Find a balance between tact and sensitivity on one hand, and persistence and conviction on the other. You will be able to meet these challenges and will come through with flying colors. Financial rewards will come. Keep things organized and take care of details or else you may find yourself in chaos by the end of this month. If you are involved in a legal tangle, and quite a few people in this stage of their Personal Rhythm Cycle are, you will gain some ground and find good reasons to be optimistic.
Romance is highly favored now, especially for new relationships.
---
numerology forecast May 2018: for Sun Number 5
Your Personal Year Cycle for 2018 is 7, and Your Personal Month Cycle for May is 3.
The month of May is an excellent time for leisure and play. Take time off and, if possible, go on vacation. Get in touch with the inner you, daydream, and share those feelings and thoughts with someone you trust. Your need for others heightens.
You sense changes on the horizon, but feel you are in limbo, waiting for events to provide a new direction. Seek the advice, perspective, and insight of others.
You continue to make a good impression on those you work with, but not because of enhanced sensitivity and awareness, as was the case in April, but because of your ability to express yourself well and motivate others to see things your way. Be careful not to become manipulative.
This is a "lucky" month. You're in the right place at the right time and coincidences will occur in your favor. You are more attractive to others then usual and may receive some interesting proposals.
---
numerology forecast May 2018: for Sun Number 6
Your Personal Year Cycle for 2018 is 8, and Your Personal Month Cycle for May is 4.
May is a time of hard work, progress, and opportunity. As with most of this year, the focus in May is on career and finances. There may well be a great opportunity that comes your way. This opportunity offers all kinds of changes, such as a move of residence (either in June, or in or around November), a change of employer, or a promotion.
The early part of May can be frustrating due to the need to involve yourself with routine affairs and details. You have some catching up to do. You may feel restless and bored. However, later this month brings the opportunity you have been waiting for. You are more organized and manage your time well. You are dependable and anxious to take care of some long-postponed chores. You may decide to start a remodeling project on your house. Your relationships are more harmonious.
If you are involved in a long-term love relationship, you will find that comfort and security replace some old doubts.
---
numerology forecast May 2018: for Sun Number 7
Your Personal Year Cycle for 2018 is 9, and Your Personal Month Cycle for May is 5.
May brings many changes and ideas that start you in a different direction. You are restless and impatient. Your energy is scattered but you are ready to make a big step forward. A move of residence or a travel will bring inspiration. You are at an important stage in your life where you feel a bit in limbo, but you also know that a change for the better is imminent. You feel excited and confused at the same time. You do not really understand what is going on, and the motivations that have guided you for many years now seem outdated. You question your underlying values and desires. You feel a loss of direction. Your best approach is to wait things out. Do not start any new endeavors unless you are very sure you will follow through on them.
Social events are highly favorable. You need to be around people. You need to be loose and enjoy yourself. As I mentioned earlier, you are going through enormous changes this year and next year, and for that reason, interaction with others is therapeutic. It helps you deal with the turbulence that takes place inside.
---
numerology forecast May 2018: for Sun Number 8
Your Personal Year Cycle for 2018 is 1, and Your Personal Month Cycle for May is 6.
Love, romance, and commitment play an important role whenever a 6 Month teams up with a 1 Year. There is the possibility of a new relationship, the birth of a child, or marriage. It is a month of responsibility, unselfish giving, and a willingness to devote time and energy to the needs of others. Domestic and community matters move to the foreground and have to be given priority. Sometimes, this combination of numbers causes long slumbering discord between couples to surface and be dealt with.
This is a time when the heart rules and emotions run high. It can cause both extremes -- either deeper commitment and more lasting love, or separation and divorce. Honesty is essential to a positive development of the month. You may find yourself tempted to take the easy way out in some awkward situation, perhaps by lying or being secretive. However, that is likely to backfire and can become ugly and destructive, particularly during this month.
In general, this is a good time for career and financial matters; promotion is possible, as is a windfall in the form of an unexpected tax refund or an old debt paid back. This sequence of numbers is also more likely to resolve legal issues or other matters that pit you against large institutions, corporations, home owner associations, or some other faceless entity.
With so much energy dedicated to the heart, to love and emotions, it may seem that your sense of justice, your honor, and your moral values are tested more than once. Don't let opportunities to make a stand, or to right a wrong, slide by. Few feelings are more devastating than regret.
---
numerology forecast May 2018: for Sun Number 9
Your Personal Year Cycle for 2018 is 2, and Your Personal Month Cycle for May is 7.
May leads to powerful self-discoveries and intuitive perceptions. It is a highly spiritual time, causing you to withdraw from the hustle and bustle of daily life. Your focus is inward. You find yourself contemplating the mystery of your existence, your purpose in life, and your direction. You find yourself taking time off to read or meditate. It's an excellent time to take a vacation, but you may want to avoid group activities.
Social demands will make you irritable and out of sorts. Be with yourself or enjoy meaningful discussions with someone close to you. In this way, you may deepen your marriage or romantic relationship.
It is a time for wisdom and insights, even premonitions and revelations that have little to do with intellectual effort, but are the result of heightened awareness and a free-flowing channel between your sub-conscious and your conscious. Be particularly alert to your dreams and the direction and insight they offer.
This month brings much progress and a new beginning. This 9 Personal Year has been a year of letting go, next year is a time of renewal, almost rebirth.
---
Find your Numerology Sun Number on the intersection of your month and day of birth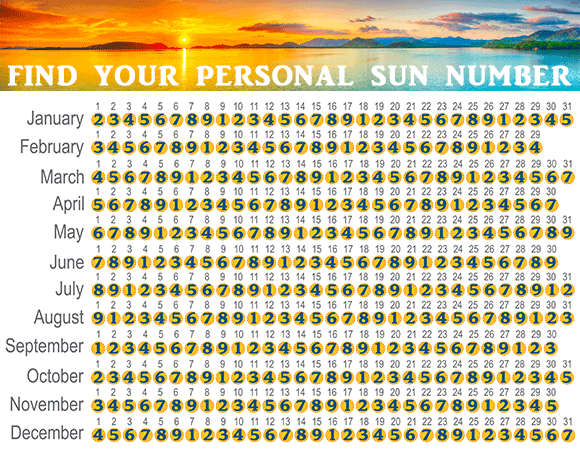 Back to the top of the page
Or view the previous month