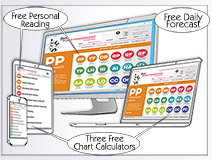 Your Free Daily Number Forecast, free personal reading, and free charts, are instantly accessible in the World Numerology App. FREE DOWNLOAD (no credit card, no sign up, all devices)
---

Two Numerology Reports for the same person, big differences in price ($19 vs $37), size, and content!
Learn more...
---
December Numerology Forecast for Sun Number 1
Your Personal Year Cycle for 2017 is 2, and Your Personal Month Cycle for December is 5.
December brings changes and restlessness. You feel a need to be with others, to be social, to laugh and talk and enjoy yourself. You receive opportunities to travel and will meet a new and exciting person on a trip away from home. This person inspires and motivates you to try something new, to get off the beaten path and take a chance.
This is a month that could bring quite a few surprises, most of which invigorate you. It is a dynamic time that brings information and knowledge from unexpected sources. You want change. You are ready to try a new direction, which causes you to see your career with new eyes. You are in an adventurous mode and willing to take a risk.
This month requires courage and flexibility. There are new opportunities awaiting you and it is up to you to prevent them from slipping by.
Your love relationship is in a vulnerable state, and some suppressed anxieties need to be released. You are somewhat impulsive and may need to force yourself to slow down. You experience a bit of self-indulgence. There is a need for self-discipline.
December Numerology Forecast for Sun Number 2
Your Personal Year Cycle for 2017 is 3, and Your Personal Month Cycle for December is 6.
This monthly cycle stabilizes your work environment, but requires that you work on your relationships and family affairs. You will be in the unique position to counsel and support someone in your circle of friends and family with immediate and positive result. It will be one of the most rewarding experiences of this year for you.
A promotion or a raise are possible, as is an increase in your workload. This month is good for business and financial affairs, particularly for long-term planning and investment. If you are involved in legal affairs, the time is right to surge ahead.
Romance is also favorable. Commitments bring stability. For those who have become involved in a relationship during this year, this is a good month to exchange vows.
December Numerology Forecast for Sun Number 3
Your Personal Year Cycle for 2017 is 4, and Your Personal Month Cycle for December is 7.
December is a fitting end for this year. You now enter a period of introspection, contemplation, and meditation, similar to that experience in March. December focuses you on inner-growth and soul-searching. However, that is where the similarities end. December is a more comfortable time for such an inward journey and expansion of your consciousness. There will be plenty of opportunities to withdraw, to seek the quiet. Whether you enjoy this time depends on whether you value such an experience.
It's been a year of hard work and, at times, frustration, but the work will pay off. You are more aware of that now, and you are probably well aware that the year was well-spent.
Understanding the value of day-dreaming and contemplation is more difficult as a result of this society's emphasize on action and result. However, the quiet, "un-productive" times of this month will be at least as rewarding, spiritually as well as practically. It allows for deep inner contentment and a fuller awareness of the love and goodwill of others.
December Numerology Forecast for Sun Number 4
Your Personal Year Cycle for 2017 is 5, and Your Personal Month Cycle for December is 8.
December will be rewarding in many areas of life. This is a good time for business and money matters. But don't indulge in spending money to impress others or flaunt your success. The 8 Personal Month brings balance in all material matters. Expect some recognition in your working environment, perhaps a bonus or promotion. This is an excellent time to promote some of your ideas or any other input you have in relation to your career.
Romance is favorable too. Express your love.
December Numerology Forecast for Sun Number 5
Your Personal Year Cycle for 2017 is 6, and Your Personal Month Cycle for December is 9.
December is the second time this year that some letting go has to be done. A relationship is going to end. This can cause some distress, but there are also feelings of gratitude. Your feelings run deep, but you have difficulty expressing them. You feel vulnerable and emotional. You are attracted to giving your time and energy to something outside of yourself. Clean out the garage or attic and donate the excess to charity.
There are changes in the work situation, such as a shift in personnel. In a strange turn of events, you may find yourself having to defend your actions and motivations. Your honesty may be questioned. If you are single, you may meet someone later this month. If you are committed, you may feel you are involved in a roller-coaster kind of relationship. Not to worry, things calm down by the end of the month.
December Numerology Forecast for Sun Number 6
Your Personal Year Cycle for 2017 is 7, and Your Personal Month Cycle for December is 1.
December brings renewed energy and enthusiasm. Your career makes a big step forward. There is financial reward, promotion, and possibly a transfer that brings a welcome change. You will be introduced to someone or several people who are important for your career and can positively influence your future.
While this month brings you and your relatives and friends closer together, the feelings are also intensified and your relationship with some of these people is in a very fragile state. There may be some outbursts of long suppressed feelings that have to be dealt with. Relationships of all kinds -- family, friends, and co-workers -- tend to be somewhat unstable during this time. If you are single, romance may become an important ingredient of this month's experience. You may meet someone new and this person will be an intellectual and spiritual challenge. The attraction will be based less on physical appearance than on curiosity: there are profound differences between you in point of view and lifestyle, which is fascinating on some level. You learn from this person and, like looking into a mirror, you discover a lot about yourself and the changes that have taken place on a very deep level during the course of this year.
December Numerology Forecast for Sun Number 7
Your Personal Year Cycle for 2017 is 8, and Your Personal Month Cycle for December is 2.
December shifts the focus to relationships and all affairs of the heart. Co-workers are demanding, not only in work-related matters, but also in personal areas. You may catch some flack, or become involved in conflicts that don't appear to have anything to do with you. All your tact and diplomacy are needed to maintain harmony in the work place. However, you are better equipped to deal with sensitive affairs than usual and you manage to diffuse most of these potentially explosive affairs. Pretty much the same experiences await you regarding relationships with relatives and friends, but here too, you are able to keep the peace.
Your intuition and sensitivity are your strongest assets during this month.
There is, however, also a need to stand up for yourself. Someone is about to claim credit which rightly belongs to you. Again, diplomacy and tact are required to solve this problem. This is also a good month for negotiation and financial affairs, particularly concerning loans and mortgages.
Romance can be powerful, but may cause problems when money is involved.

December Numerology Forecast for Sun Number 8
Your Personal Year Cycle for 2017 is 9, and Your Personal Month Cycle for December is 3.
It's time to lighten up. Be playful, enjoy yourself. Don't take things too serious. It is time to recharge your batteries. There will be ample opportunity for social events and you should take advantage of that. Your creativity is enhanced, and so is your sense of humor.
This is not a time to force any issues. Let things happen at their own pace. You are approaching a time of more energy, more opportunities, and progress, but before that happens, take this month to rest and relax. You are entering a 1 Personal Year which brings much progress and a new beginning. This 9 Personal Year has been a year of letting go, next year is a time of renewal, almost rebirth.
December Numerology Forecast for Sun Number 9
Your Personal Year Cycle for 2017 is 1, and Your Personal Month Cycle for December is 4.
December brings opportunities as well as frustration. It is crucial that you stay focused on your goals and work hard. The numbers for this period are all about effort, discipline, and progress -- perhaps not an ideal combination for a month supposed to be full of festivities and joy. However, you will find that if you apply yourself, put your nose to the grindstone, when you are in your work environment, it makes the moments when you are out enjoying the holidays that much more satisfying.
This is an excellent month for career with many opportunities for progress, due in part to last month's inspiring ideas and enthusiasm, remnants of which make it into this month with a potential to actually manifest something. There is always promise when a 1 and 4 team up. You may feel that success is coming within reach, or that the breakthrough you have been waiting for is about to happen. However, there is a caveat; courage is big part of this combination, and a dose of that may be required if you don't feel you are ready. Sometimes we experience a fear of success not so different from a fear of height. If that is the case, grab the bull by the horns, this is not a time to over think things or let fear stop you from reaching for what you want.
Generally, this combination is less affected by emotions and personality issues than other times. It tends to be fairly stable as far as relationships with friends, family, and co-workers.
---
Find your Numerology Sun Number on the intersection of your month and day of birth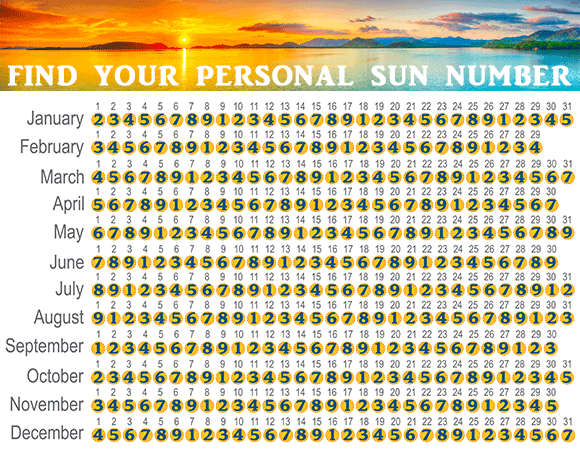 Back to the top of the page
or check out
next month Numerology Forecast