Numerology reveals the key to your happiness
---

Numerology's Age Digit Cycle
This is one of the lesser-known cycles in numerology, but it can have a big impact on your year ahead.
Find out what your Age Digit Cycle for this year is here...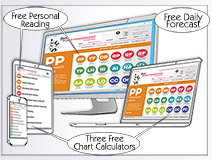 18 Numerology Readings & Charts in One App!
Easy Access To All Your Readings
Free Daily Number Forecast, free personal reading, and free charts. FREE DOWNLOAD (no credit card, no sign up)
Scroll through a sample of the free 8-page personal reading included in our app.