If you are considering purchasing a numerology reading, you may want compare World Numerology's Personality Profile and Future Forecast numerology reading with Numerology dot com's Deluxe Numerology Report
FREE 8-PAGE NUMEROLOGY READING
Your free personal reading describes the important core numbers that influence your personality, talents, likes and dislikes, and the "inner" you. Unique to Decoz readings, this section also explains the way your numbers (and traits) affect each other.
The reading continues with your Expression number, outlining your talents and outlook (which affect the direction of your life). Your Heart's Desire number tells us what you hold most valuable and why you choose the things you do. Your Personality number describes the way you appear to other people – the part you allow them to see.
Your free Personal Numerology Reading is the first part of our 40-page Personality Profile.
Scroll through the sample reading below.
ALSO INCLUDED:
The free Proportional Numerology Chart is a recent addition.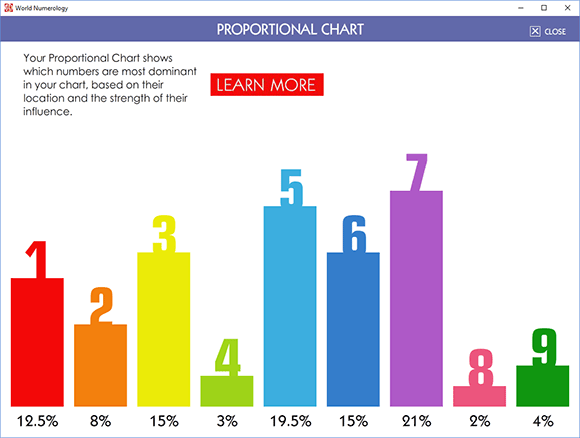 The Proportional Chart tells you to what extent each of the single-digit numbers is represented in your personal numerology chart. Most of us know what "our number" is and refer to it as our Life Path number. Although this number is indeed the most important number in your chart, it may not be the most powerful number. Another number may actually be more influential in your personal numerology than your Life Path.
The proportional numerology chart is also the foundation for your Talent Profile, which rates and compares your creative and productive side.
My favorite free numerology chart is the Decoz Color Chart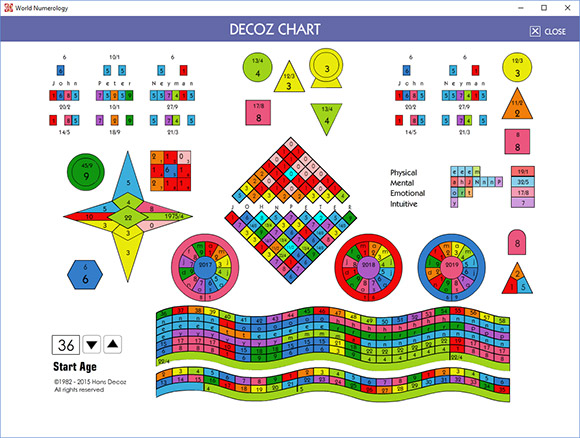 Hans Decoz developed this unique charting system in the early 80's as a way to lay out a complex chart - including almost 50 years of cycles on a single page. He found the usual method of charting - scribbling calculations on a yellow pad - clumsy and fallible. The ability to oversee the chart as a whole transformed the process. This charting system continues to be used by professional numerologists worldwide.
Free Numerology Chart Calculator
If you have ever tried to do your own chart you know how challenging it can be – so Hans did it for you. This numerology calculator lists every number in your chart, including many not found anywhere else. The app creates the free chart for you, but if you are interested in learning the steps to create them yourself check out our free "do it yourself" tutorial here – and audio course here
Scroll through the sample numerology chart below