DECOZ NUMEROLOGY SOFTWARE
Our Numerology Software is flexible and customizable
The Recall and Save buttons:
The Recall button opens a dialog box containing all the names (in alphabetical order) and dates of birth of people for whom you have done numerology readings and numerology charts in the past. Clicking a name will automatically fill in the Birth Data dialog box with that person's data, so you don't have to type it in again. If you do not have checked the "Always Save Birth Data" check box in your numerology program's Preferences dialog box, you can still save birth data by clicking the Save button.
First, middle and last name:
Here you enter the first, middle, and last name of the individual if you are doing a numerology reading for him/her for the first time. An asteriks means that you have to put something there. In some countries people may have only one name - as you can see, you can still do a reading for that person.
Current name:
Here you enter the person's name the way he/she introduces him/her self. For example, my full name is Johannes Albertus Decoz, but I go by Hans Decoz. Therefore, Hans Decoz should be entered in the Current Name section.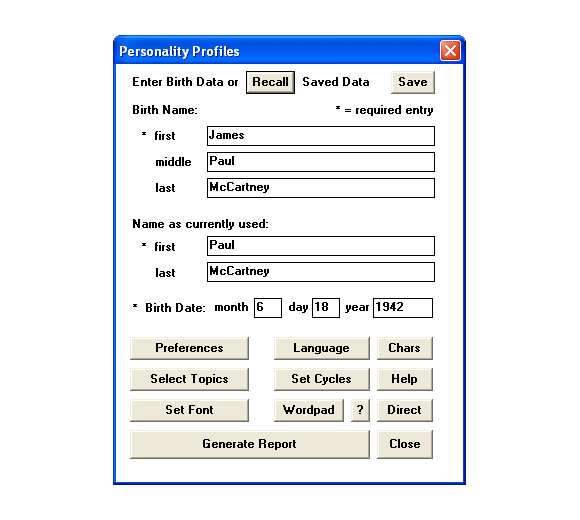 Date of Birth:
If you don't know a person's date of birth you can still do a sizeable - although limited - numerology reading by turning off any aspects based on the date of birth - the reading will then contain all numerological information based on the individual's name. See the Topics dialog box.
Preferences, Fonts, Topics, and other buttons:
These buttons all open up additional dialog boxes: Preferences, Language, Chars (foreign characters), Select Topics, Set cycles,etc.
The Generate Report button:
This button starts up your Word Processor and produces the numerology reading.