A Unique Numerology Perspective
It analyzes the frequency and influence of the single digit numbers in your chart, and combines them into a simple graph, offering us an instant and accurate impression of which numbers and talents dominate.
The Proportional Numerology Chart uses a wide brush – analyzing the strongest, most obvious characteristics in your numerology reading. It groups and categorizes each single digit number, then places all your 1's into a box, all your 2's in another, and so on. Then we assign a value to the numbers based on their location in your chart. For example, your Expression number carries more weight than your Personality number, while your Life Path has a higher value than the Expression. Overall, nineteen numbers in your numerology chart have been taken into consideration, including some lesser-known aspects such as your Cornerstone and Rational Thought number.
The result is a graph that shows which numbers appear most often, and how they compare to your other numbers.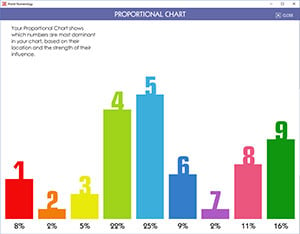 This makes it easier to focus on a specific part of you – particularly your career and the wide range of traits and talents available to you.
The Proportional Chart gives you a clear, uncluttered view of your strengths and basic makeup – making it the ideal tool to analyze your inborn abilities. It is the foundation of your Talent Profile and it works amazingly well.
Read the numerology meaning of the single digit numbers