Add others to your app
Click Switch/Add User on your app's home page, this opens the Users Page where you can add others and enter their birth data

After entering their birth data and clicking the submit button, you are sent back to the Users Page. Select the person you want to view, then click Reports & Charts on the menu bar. You can now read their free reading and charts (Chart Calculator, Decoz Chart, and the Proportional Chart).

---
Install on your other devices
Install the app on your computer(s) and mobile devices using the same email address and password to log in. Purchase readings only once - no charge for viewing on additional devices. The app syncs reports, purchases, and users you add across your other devices.
---
Access from anywhere
If you find yourself without your own device but have access to a computer or a friend's mobile device, just download the app from our site and log in with the email address and password you created for your account - your readings are always available.
---
Print a report
Click Reports & Charts in the menu bar

Select the icon for the reading you want to print and double-click or click "Get Report" in the lower left corner

With the reading now showing place your mouse in the app's window, select All, select Copy, then paste it in a word document.
---
Edit names entered incorrectly
Go to the Account page on your app

Click the Edit button next to the person whose name was entered incorrectly

Make your changes, click Save, then close that window - you will be send back to the Account page

Click Reset Readings on the Account page (Global Settings page for mobile) to prompt the changes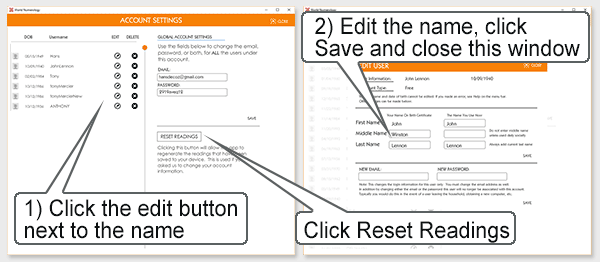 *Note: The first name and date of birth can't be edited - if they are incorrect, send an email to info@worldnumerology.com and we will make the changes for you.
---
To Purchase a subscription
If you have not already done so, download the app
Open the app and click on Reports & Charts in the menu bar

Click any grey icon, then click Upgrade Here in the bottom left corner of the Reports & Charts page, which brings you to our payment page

---
Renew a subscription
A pop-up message will appear on your app when your subscription ends and the icons revert to gray. To renew, click any gray icon then UPGRADE HERE on the left just as you did for your initial subscription.**
**Note: iPhone/iPad users - To use our discount code, purchase from the computer version of the app – iTunes does not use promo codes
---
Renew before your subscription expires
Add yourself as a new user again (see Add Others). Give yourself a different User Name so you can tell your subscriptions apart.**

Go to the Reports & Charts page, click any gray icon then UPGRADE HERE on the left. Enter your promo code, click Submit
**Note, Inner Reflection readings, Relationship readings, and Name Advisor readings you created previously will not remain on your app if you renew early. If you wish to save them, copy and paste them into a word document or wait until your subscription expires before renewing.
---
To gift a subscription
Add them to your app & purchase their subscription (see Add Others & Purchase A Subscription)

Click ACCOUNT on the menu bar then the Edit button next to their name

Enter their email address and a temporary password you create for them

Have your friend download the app to their own device using the email address and password you created. This will give them instant access to their readings. They can change their password later if they wish.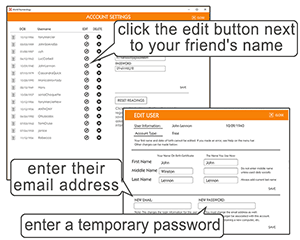 ---
For more about our app, like changing your password, deleting a user, etc., see our support pages for PC/Mac, or mobile devices