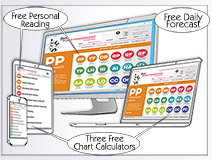 Your Free Daily Number Forecast is included in the World Numerology App.
---
YOUR PERSONAL MONTHLY NUMEROLOGY FORECAST FOR APRIL
NUMEROLOGY FORECAST FOR SUN NUMBER 1
Your Personal Year Cycle for 2018 is 3, and Your Personal Month Cycle for March is 6.
March brings family affairs and issues involving relationships to center stage. You may be asked to sacrifice some of your time and energy to help others. A parent or child may need more care and attention than usual. Answer the call and you will be rewarded with a wonderful experience of love and closeness.
Many people in the 3 Personal Rhythm Cycle will make a deep commitment of love, or even get married this month. At the same time, separation and divorce are also possible since the theme of this month is to be committed to your true feelings. Confrontations are unavoidable in all troubled relationships.
While these trends may be difficult and painful, the forces are working at clarifying your relationships. Your work situation will be rather demanding as more responsibility is transferred to you. However, the reward is right around the corner. (May and June will bring the pay-off. )
This month may be good financially, due to an earlier investment or from payments arriving from previously done work.
NUMEROLOGY FORECAST FOR SUN NUMBER 2
Your Personal Year Cycle for 2018 is 4, and Your Personal Month Cycle for March is 7.
March should bring some significant changes in your outlook. Indeed, the month is filled with the mystery of life. You are aware that you are developing spiritually. It is not a good time to deny important issues in your life, or be superficial about significant matters. Your dreams are vivid, and if you take some time immediately after awakening to contemplate their meaning, you have the potential to gain some insights that uplifts you and raises your confidence in your life's direction.
You are mentally sharp and creative. You solve problems and gain insight into things that have floated in the background of your consciousness for some time. It is a period of hard work — possibly overtime — juxtaposed with much soul-searching and the need for quiet contemplation.
You may be offered an opportunity to become involved in a new endeavor. Be careful with anything that promises a fast return. This year, long-term projects are far more favorable than get-rich-quick-schemes, or short-term gambles.
Your need for peace and quiet during this month may make your friends and family members wonder whether you have some problem that you are not willing to share.
NUMEROLOGY FORECAST FOR SUN NUMBER 3
Your Personal Year Cycle for 2018 is 5, and Your Personal Month Cycle for March is 8.
Be careful in all financial matters this month. Issues involving money take center stage. More people go bankrupt or make a killing during this period than with almost any other number combination. Now, especially, you are required to balance the material and the spiritual. If you are considering a major purchase that involves long-range financing — such as buying a house or a car — but you question whether you can fulfill the obligation, you would do well to wait until the second half of May before acting.
The worlds of work and personal relationships require opposite approaches this month. A certain amount of aggression in career and business matters is favorable. Promote your ideas. Put out effort. Work harder and longer than is required. On the other hand, your personal life requires patience and understanding — both of others and yourself. You may want to clear the air between you and a loved one, but you have difficulty overcoming your fear of being misunderstood. Or perhaps you are not clear about what you feel. Try putting your thoughts on paper first to achieve a higher degree of clarity.
NUMEROLOGY FORECAST FOR SUN NUMBER 4
Your Personal Year Cycle for 2018 is 6, and Your Personal Month Cycle for March is 9.
Whenever the 6 and 9 team up, it is often emotional because you may have to let go of someone close to you. You experience relationships more deeply and feel greater warmth for others. You reach out for contact and substance. Other people will also be drawn to open up their hearts and minds to you. This reflects strongly in your relationship with family and friends, but also in the work-environment. People will come to you with their problems, seeking an understanding ear and a shoulder to cry on. You feel closer to your fellow man, and because of your attractive disposition you will receive much support from others.
Good news may come from your work that will boost your self-esteem. Move slowly and carefully where romance is concerned, however, because you are not in a position to make long-range plans.
NUMEROLOGY FORECAST FOR SUN NUMBER 5
Your Personal Year Cycle for 2018 is 7, and Your Personal Month Cycle for March is 1.
You may still have a case of the blues on the early days of this month, March soon brings optimism, increased energy, and excitement. You are intellectually sharp and imaginative. You feel that anything is possible and that the sky is the limit. Against the background of self-reflection and soul-searching that's such a major part of this year is this month's sense of spring-time in your heart. This is an excellent time to take on new challenges in your career, to start new endeavors, or, if you are in business or sales, to go out and snare that important new client.
Often, this month brings financial gain, but your attention is more directed towards intellectual accomplishments. Your pride and self-esteem get a boost. A more difficult aspect of this month is your relationship with loved ones. You lack the necessary sensitivity to respond properly to the needs of those close to you.
You are under the illusion that everyone feels the way you do; that problems are only minor impediments that can be taken in stride. However, your optimistic attitude also inspires them, and they grudgingly respect you for the way you seem to be handling things.
A romantic experience brings passion and excitement either late this month or early next month.
NUMEROLOGY FORECAST FOR SUN NUMBER 6
Your Personal Year Cycle for 2018 is 8, and Your Personal Month Cycle for March is 2.
March demonstrates how you can sometimes make more progress and be more successful by staying in the background than by forcing the issue. March gives you ample opportunity to influence others, to make them listen to your ideas, even to inspire them to do things your way. You are tactful and sensitive, yet also driven and motivated. You find better ways to handle challenging situations.
Later this month, you gain respect and recognition and will find yourself taking on a leadership role. Your authority is impressive because you balance force and strength with diplomacy and tact. Romance is favorable and, if you are single, you may meet someone through work or a business meeting who will touch your heart.
NUMEROLOGY FORECAST FOR SUN NUMBER 7
Your Personal Year Cycle for 2018 is 9, and Your Personal Month Cycle for March is 3.
Whenever the number 3 takes center stage, it lightens things considerably. You are not nearly as vulnerable as last month. You are more playful. You express yourself easily and you manage to inspire and motivate others. You receive some positive information about your career and your financial status.
Meanwhile, you are considering some big changes in these areas of your life. You may want to keep your thoughts to yourself, or share them only with one or two of your most trusted confidants. You are not ready to make decisions or take steps that are irreversible, but that time will come soon. This is an exciting time, when everything seems more intense, more alive.
You are more creative and communicative. You should take the time to enjoy yourself. Go on a vacation. Visit friends. Be social. Give yourself a break.
Romance is favorable, but you have to guard against irresponsible and superficial behavior.
NUMEROLOGY FORECAST FOR SUN NUMBER 8
Your Personal Year Cycle for 2018 is 1, and Your Personal Month Cycle for March is 4.
Now is the time to deliver and show yourself and everyone around you, that you are able and willing to do whatever it takes to reach your goals. It is a month to put your nose to the grindstone and to work on all the details. March is also a time when your ability to plan and organize projects is greatly enhanced. So, too, is your clarity of mind. You gain confidence in your abilities, and yourself. It's time to move; to make things happen. Do not procrastinate. Do not avoid work or effort. Slacking would be a serious mistake.
March can also be a little frustrating because so much of your energy will have to be directed to repetitive and routine duties and activities. However, in spite of the detail-oriented, plodding feel, this is a time that brings opportunities and real progress. This could even be a breakthrough time when you overcome an obstacle, real or perceived, that has dogged you for a long time. It may be a little surprising, therefore, that against such a serious and work-oriented backdrop, romance can bloom.
Someone is impressed with your down-to-earth, go-getters approach and your can-do mentality. You may find yourself in demand.
NUMEROLOGY FORECAST FOR SUN NUMBER 9
Your Personal Year Cycle for 2018 is 2, and Your Personal Month Cycle for March is 5.
March brings some relief from last months' frustrating efforts to persuade others and to keep track of the details. This month will be hectic with some unexpected changes. Don't try to plan everything down to its final detail. Instead, be flexible and adapt to whatever comes your way. The expression "being in the flow", is instructive for most of this month, and you will be astonished by coincidences in which timing is crucial.
Don't make financially risky decisions, especially involving business. Checking and double-check all your facts before going forward with your plans. Be skeptical! However, your ability to promote yourself, your plans, or a product is enhanced. There will be many social events and opportunities. Take advantage of them.
The chances of meeting new people who can support you in your endeavors are especially good. A letter or phone call from someone you haven't heard from in a long time may surprise you. It's high noon for romance, but be warned. You may not be as discriminating and cautious as you should be. Allow your rational mind to take a critical look at flattering admirer(s).
Find your Numerology Sun Number on the intersection of your month and day of birth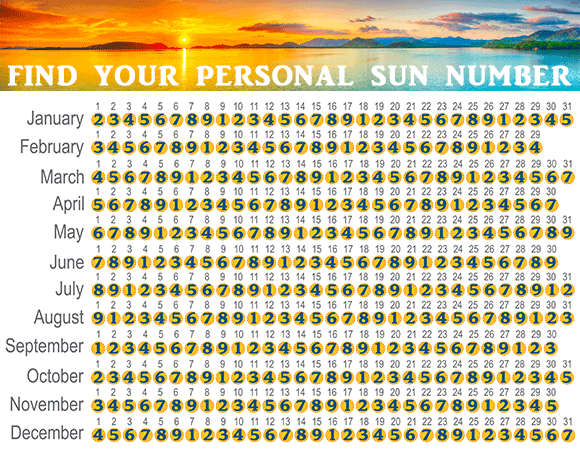 Compare numerology readings by World Numerology and Numerologist Dot Com
Back to the top of the page
or view previous month