NOTE: THE FREE WORLD NUMEROLOGY APP LETS YOU DO AS MANY CHARTS AS YOU WISH
Here is how:
On mobile versions, the app's menubar includes a link to "Switch/Add User." On desktop versions that link is in the top right corner. Clicking it will take you to a page where you can add other people to your app, as many as you wish. You can then do their free reading and free charting systems. Enjoy!!
Proportional Chart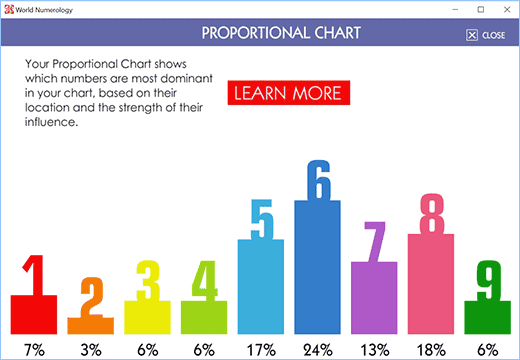 The Proportional Chart is a recent and unique addition to the numerology software tools available to professional numerologists and novices alike. It is the foundation of our Talent Profile.
Numerology Chart Calculator
The Chart Calculator covers every relevant number in your chart, as well as your yearly and monthly cycles for the next two years